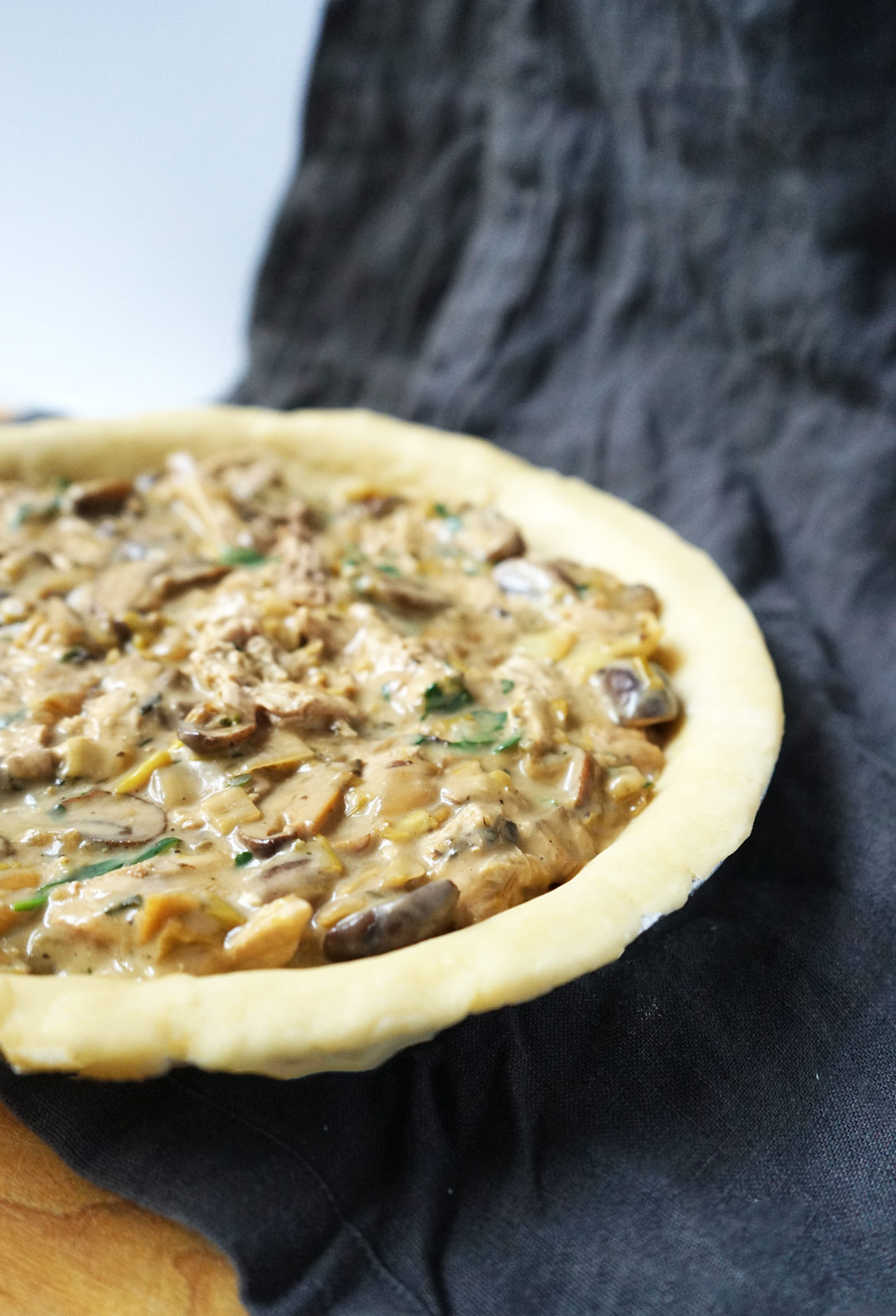 This Pheasant Fricassee Pie is probably one of my favorite recipes of all time. This fricassee recipe has been created by the wonderful and super talented Chef Eliza. This is one of her recipes that is requested time and time again by her clients (and by me!!). This recipe can be adapted in so many ways. If you thin it out with a little more stock and cream it is amazing over rice. Or just served on it's own with a hunk of warm crusty bread. It has also been used as the base for pasta's and even breakfast dishes like coddled eggs 🙌. It really is the absolute bomb and we could eat it every. single. week.
A little history on the Pheasant as a Sporting Bird can be found in this Field Article:
"Pheasants were imported to British shores – and to France – by Roman officers who bred them for the table – the bird having been brought to southern Europe from Asia, possibly with Greek assistance. The first documentary evidence of the pheasant's existence, a starting point for the history of the pheasant, is an order of King Harold who offered the canons of Waltham Abbey a "commons" pheasant as an alternative to a brace of partridges as a specific privilege of their office in 1059." – "Much may yet be written, but one thing is sure – the pheasant is an old immigrant to Britain and one that has enriched our sporting life."
This is a perfect recipe for a first time Pheasant cook or 'eater' as pheasant can often be described as dry. By putting it among these ingredients and this creamy sauce, any trace of dryness is completely erased. It is also a recipe that can be adapted in its ingredients. For example, the pheasant can be substituted with chicken or turkey if you're not into gamey birds. This pie includes mushrooms and leeks, which if you know me at all, you know are my all time favorite ingredients. By putting them in any recipe I am officially, yours!
I cannot sing this fricassee's praises highly enough. I almost feel like I am giving you a family secret that I kind of want to keep to myself! However it would be a disservice to you if I did that, so here it is!
It may not be the super pretty, but seriously, try it, adapt it & let us know your favorite way to serve it! 💚
ps. Julep LOVES Pheasant and Julep turns 2 today! Happy Birthday Puppydog! 🎉
Pheasant Fricassee Pie
2018-01-02 12:01:55
Serves 4
A warming, comforting Pheasant pie with a creamy sauce and deliciously flaky pastry crust!
For the Pheasant Fricassee
3 tbsp. butter
1 white onion - diced
3 leeks - diced
1 clove garlic - crushed
8 oz. mushrooms halved and sliced
0.25 cup brandy
tbsp. flour
1 ltr. stock (chicken)
1 tbsp. thyme,
2 tbsp. fresh chopped parsley
Bay leaf
8 oz. cream
4 pheasant breasts
For the Pastry
3 cups flour
1.5 cup shortening
1 tbsp. vinegar
5 tbsp. water
1 beaten egg
salt
Instructions
Preheat your oven to 400 F
For the Pheasant Fricassee
Poach Pheasant breasts in boiling water seasoned with a few pieces of onion, garlic, bay leaves and some salt and pepper for approx. 10 minutes
Heat butter in a le creuset or dutch oven
Add chopped onion and leeks and cook for 5- 10 minutes until translucent and just starting to brown lightly
Add mushrooms and cook until tender
Add the Brandy and let it reduce
Sprinkle the mixture with flour to coat all ingredients (this will help to thicken your mixture)
Add stock and herbs.
Simmer the mixture until you have a pie filling consistency
Then remove from the heat and add cream
Shred your cooked and cooled pheasant and stir into your mixture
Voila! - your fricassee is made!
Line your pie dish with prepared pastry - fill with mixture - lay over a pastry top and crimp the edges to make sure none escapes during baking!
Cook in the oven for 30 minutes or until pastry is golden brown
For the Pastry
Work your flour and shortening together with a pastry cutter in a large bowl until it begins to change color and turns into coarse crumbs
Add egg, salt, water & vinegar and mix until combined
Create two discs - one 2/3 and one 1/3 then wrap in cling film and place in the freezer for 20 minutes before rolling out and using!
IVGreenhouse - Exploring Food http://www.ivgreenhouse.com/