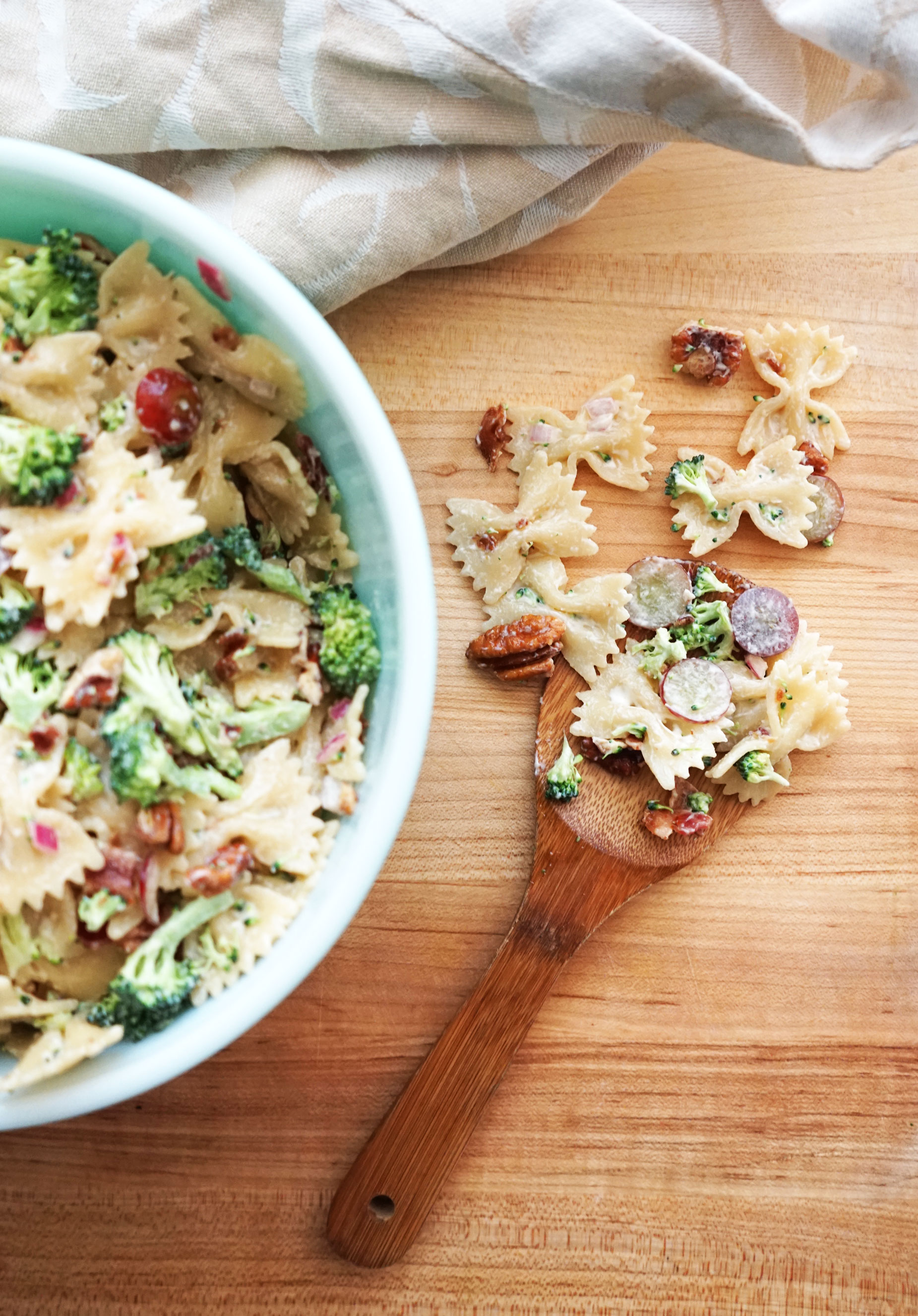 So, this is definitely the only pasta salad recipe you will need…ever! (Or at least this party season!) I have been wanting to create a pasta salad with a bit more oomph than the regular ones you find at the grocery store, not that they're not all good too!
But with this one, we incorporated bacon bits, toasted pecans, raw fresh broccoli florets & the juicy red grapes that are so delicious right now and here we are! Throw in some other amazing ingredients and a package of wonderful farfalle pasta and you have a heavenly salad that you will be proud to take to any gathering or serve to your entire family and be assured that you will have clean plates & happy faces!
Broccoli, Bacon, Grape & Pecan Pasta Salad
2016-07-24 11:53:12
Ingredients
1 16oz. package of Farfalle Pasta
5 slices bacon
1 cup pecans
2 cups red grapes
2 small heads of fresh broccoli (approx. 1/2 lb)
For the dressing
1 cup mayo
0.25 cup aged white wine vinegar
0.5 red onion finely diced
0.25 cup coconut sugar
1.5 tsp. salt
1.5 tsp. black pepper
Instructions
Preheat oven to 350 F
Roughly chop your cup of pecans and put on a small baking sheet - bake in the oven for 8 minutes, stirring after 4 minutes.
Bump your oven temp to 400 F, place your slices of bacon on a rack above a baking sheet and bake for 15-20 minutes
Boil water and cook your pasta to its package instructions (usually 12-15 minutes in boiling water!)
Now to prep your veggies - slice your red grapes, finely chop your broccoli florets and discard any large stems and dice your red onion.
Place the red onion in a bowl and add mayo, coconut sugar, red onion, wine vinegar & salt and pepper - whisk these ingredients together creating a dressing.
Dice your crispy cooked bacon
Add all ingredients into the dressing bowl and stir to combine!
Eat warm (its the best!) or chill for an hour or so before taking it to a party!
IVGreenhouse - Exploring Food http://www.ivgreenhouse.com/