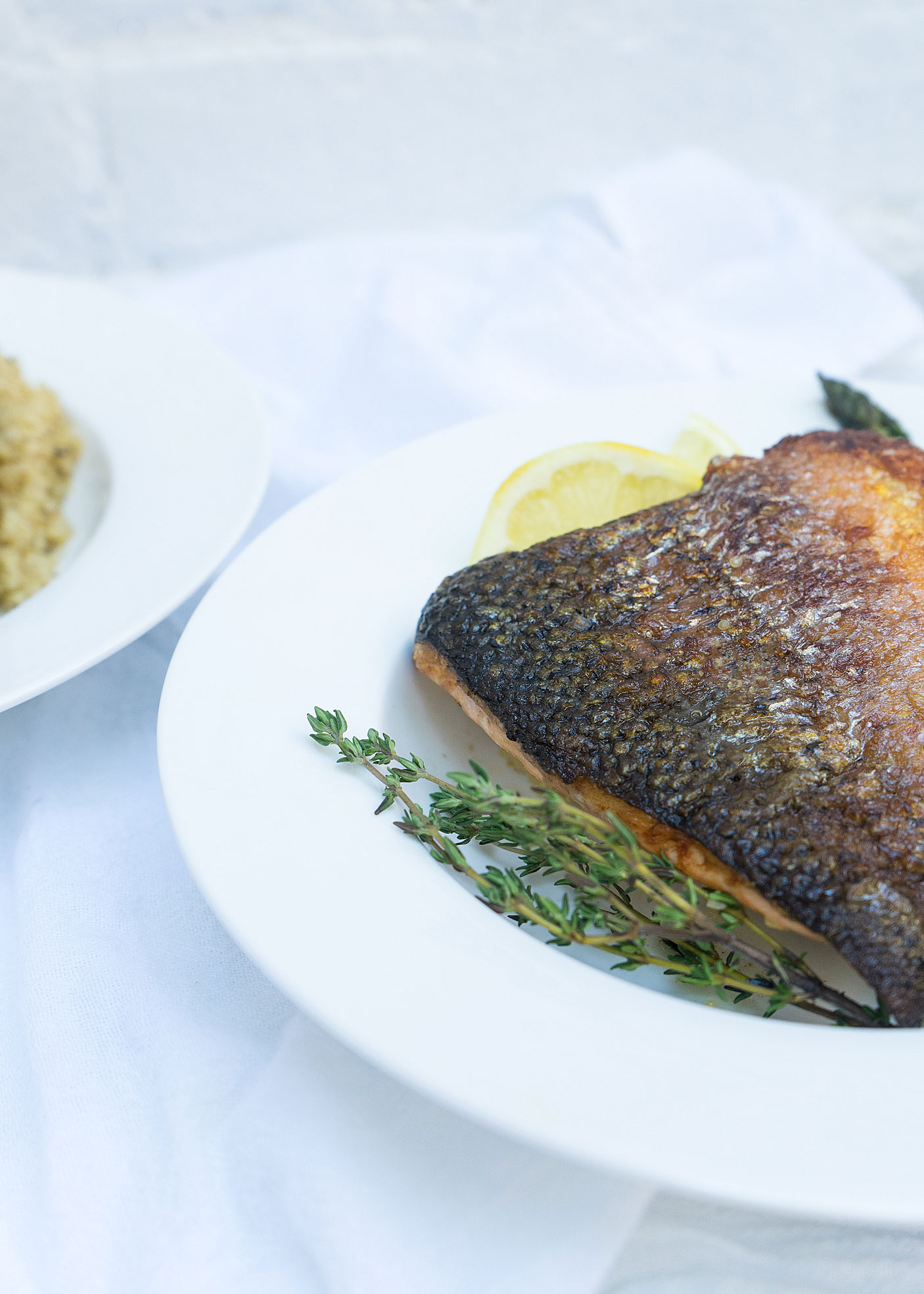 Crispy Salmon 🔥
Probably the biggest love of my life (Food-wise!). Crispy salmon skin makes a world of difference in our opinion! Its so easy to do and you may never want it any other way! We all know how good salmon is for you in terms of Omega's, vitamins & protein. However, it is also known that the skin of salmon contains even more of these benefits so think again next time you want to scrape your salmon off it's delicious bed of goodness!
Let's talk about asparagus for a second 🙌
It's always been a love of mine but roasting it in this way is probably my ultimate favorite way to cook & eat it. Amazingly crispy on the outside and soft and succulent on the inside, and those tips are just to die for! Super addictive so be warned, you'll want seconds! Simply roasted with olive or avocado oil, salt & pepper, they couldn't be easier or more satisfying to both cook and devour!
Last but not least – that Quinoa! 😍
Quinoa, if you've been following along for a while, you know, is a new but HUGE favorite of mine. The ease of cooking it and its delicious texture and nutty flavor really adds so much to dishes. We have pretty much replaced rice with Quinoa in our house, at least for the time being! It offers a lot of nutritional benefits such as being high in protein and full of amino acids, great for your gut which is top of our list! If you also love Quinoa check out this recipe for Roasted Cauliflower Steaks with Quinoa! We actually just cooked that linked recipe for the Vegetarian/Vegan option at a wedding and it went down a storm! So recommend checking that out!
Tip: Cook your Quinoa in Chicken or Vegetable stock instead of water and the taste is elevated to a whole new level of delicious!
So, in conclusion, this dish should be a healthy weeknight staple. It is in our house, mainly due to its high protein value and extra benefits from the omegas, vitamins & Aminos! We think that whenever possible if you can make a healthy choice without sacrificing taste, texture or smell then why the hell not!
Let us know how you like this recipe & the healthy swaps that you use on a weekly basis, we'd love to know!
Love the Greens 💚
Pan Roasted Crispy Salmon with Asparagus & Quinoa
2017-09-12 14:55:19
Serves 4
For the Quinoa
1 cup pre-washed Quinoa
2 cups chicken stock
Pinch salt
For the Asparagus
1 bunch of asparagus (about 20 Stems) - halved lengthwise
Olive Oil
Salt & pepper
For the Salmon
4 Skin-on Salmon Filets (approx. 6-8oz. each)
2 cloves garlic - crushed
Zest of one lemon
4 tbsp butter (or olive oil)
Fresh Thyme leaves
Salt & Pepper
Instructions
Preheat your oven to 400 F
For your Salmon
Prep your salmon by rubbing each filet with butter, crushed garlic, thyme leaves lemon zest & salt & pepper (split the mixture between the 4 filets).
Heat a pan with Olive oil until very hot but not burning - add your salmon filets skin side down and leave them alone! For three whole minutes!
Now if your pan is oven proof just stick them straight into your pre-heated oven for 10 minutes. If not transfer to a baking sheet and place in the oven for 10 minutes.
For your Asparagus
Prep your asparagus and lay flat side down on a baking sheet, pour over some olive oil and a pinch of salt & pepper.
Put in the oven for 10-15 minutes (checking after 10, as they are thin!)
For your Quinoa
Put your Quinoa into a pan with the chicken stock and a pinch of salt and bring to the boil.
Simmer you Quinoa with the lid on for 10-12 minutes.
Remove from heat and fluff with a fork - season if you feel it is necessary!
To Serve
Put a heaping spoon of Quinoa, 9-10 half stems of asparagus and top with your crispy salmon, skin side up! Serve with a lemon wedge or a delicious creamy white wine sauce if you prefer!
IVGreenhouse - Exploring Food http://www.ivgreenhouse.com/
Save
Save
SaveSave
SaveSave
SaveSave
SaveSave
SaveSave
SaveSave
SaveSave