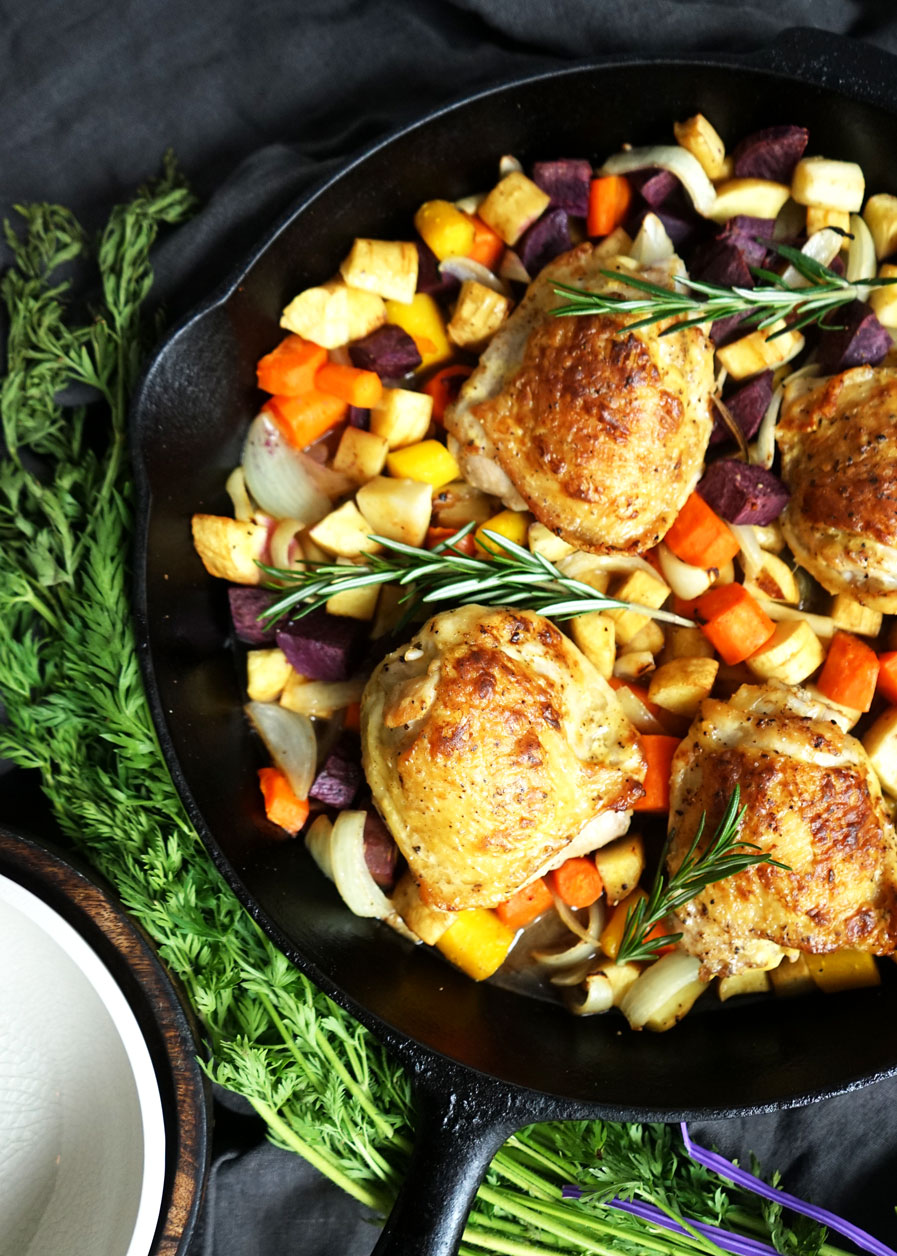 This One Pan Dijon Rosemary Chicken has officially become one of our weeknight staples 🙌. It is so quick, easy and so so delicious (plus the added bonus of way less washing up than usual!!) I was waiting for a friend near the Rockefeller center the other night and wandered into Anthropologie. I was just browsing for a few minutes when a cookbook caught my eye – it was One Pan, Two Plates by Carla Snyder and it looked perfect 👌.
I flicked through it in the shop and bought it immediately. Such gorgeous meals, with simple ingredients yet it all looked so beautiful and was just focussed on REAL food. I have now made a few recipes based from this book and they have all been phenomenal. I couldn't recommend it more for anyone cooking for two (or four – just double it!)
This One Pan chicken dish is so so so irresistible. Ive made it multiple times already and I love it more every single time!! Theres something so special about the dijon mustard and the rosemary mingling together in the pan along with the roasted veggies. The taste is just perfection, to me, anyway! What is also great about this one pan meal, is just that, its one pan and the veg prep can be done at anytime reducing the actual time of this dish to below 30 mins. Also reducing the time of washing up 👍
I hope you make this and enjoy it as much as we have been doing. It's bright, it's healthy & it's wonderful 💚
One Pan Dijon Rosemary Chicken
2017-04-20 09:42:43
Serves 4
Ingredients
Olive Oil
S&P
6-8 medium sized carrots chopped into half inch pieces (We use heirloom because they're colorful!)
1 sweet potato chopped into half inch pieces (we used purple but orange or white will work too!)
2-3 large parsnips chopping into half inch pieces
2 medium onions - halved and sliced into 8-10 wedges each
4 bone in chicken thighs
2-3 fresh rosemary sprigs
4 tsp. dijon mustard
0.5 cup chicken broth
2 tsp. minced fresh rosemary
Instructions
Pre-heat your oven to 400 F (200 C)
Rinse and pat dry your chicken thighs - season generously with salt & pepper.
heat a large skillet with 2 tbsp. olive oil over a medium-high flame until hot.
Add chicken thighs skin side down and cook until browned (about 4 minutes), flip and cook the other side for a further 3-4 minutes until browned.
Transfer the chicken to a plate (it won't be fully cooked at this point!)
Add onions, potato, parsnips, carrots, rosemary and a healthy pinch of salt & pepper to your pan and saute for approx. 5 minutes stirring every minute or so until vegetables are starting to become tender.
brush the skin of the chicken with mustard and lay on top of the vegetables in the pan with skin side up.
Roast in the oven for 10 minutes.
Pour the chicken stock into the pan and place back in oven to roast for a further 10-15 minutes - check the chicken after 10 to check done-ness. Thermometer should read 165 F when inserted into the chicken thigh near the bone.
To serve: Remove rosemary sprigs - divide veggies between 4 plates, top with a chicken thigh and sprinkle with Fresh Rosemary and serve!
Adapted from One Pan, Two Plates - Carla Snyder
Adapted from One Pan, Two Plates - Carla Snyder
IVGreenhouse - Exploring Food http://www.ivgreenhouse.com/