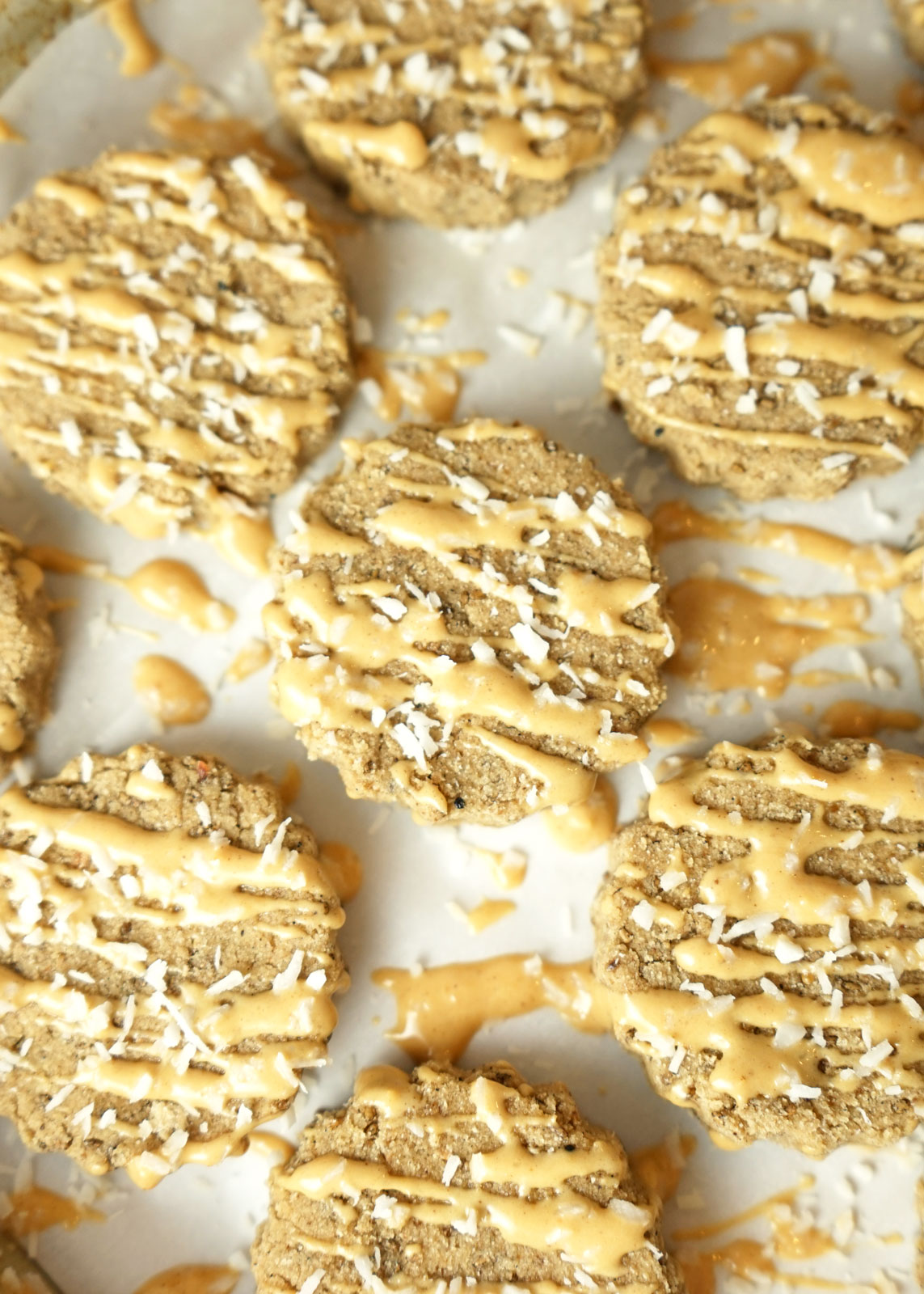 These no bake Vanilla & Coconut Protein bites are just scrumptious bites of greatness!
They are naturally gluten free, full of good fats and proteins and drizzled with an awesome peanut butter & coconut oil glaze. Mixing those two ingredients together is probably my new favorite thing to do – I've drizzled it on EVERYTHING this week. Also, if you remember, last week, I packed these coconut oil peanut butter cups with them too 😋
Another major new obsession of mine is coconut flour – this stuff, it's seriously AMAZING. Plus – it makes the pantry smell so great, I just keep opening the door to breathe in all the coconut goodness! So in these no-bake vanilla coconut protein bites we have; coconut flour, chia seeds, dates and a vanilla & coconut protein powder. When drizzled with a peanut butter & coconut oil glaze and sprinkled with shredded coconut too, you have a delicious and healthy bite! 👌😍
I would never have thought to make these if my sister had not been experimenting at home, making herself some vegan protein bars that she could take to work for the week. She's a Flight Attendant, so she needs a lot of energy and sustenance to keep her going through her very long shifts in the air! She made some bars, using hemp protein powder and the ingredients listed above and she loved them. So she sent me the recipe and I made some using the protein I had in my pantry, which happened to be Vital Proteins Vanilla & Coconut Collagen Whey (not vegan, of course).
So, obviously the recipe is adaptable depending on your dietary restrictions or requirements and what is so awesome about it, is that just by changing the protein powder, you can create a whole new flavor profile. Mine were completely different to Chloe's in taste, but I loved them too! The texture is lovely and you can either eat and keep them at room temperature and they will stay 'cakey' in texture. Or you can place them in the fridge and you get a new element which is kind of chewy in a really good way. I'm a fridge girl with these bites!
Allen came home from one of his training runs, I handed him a freshly made protein bite and he immediately said, where did you buy these? I said, I didn't, I just made them thanks to Chlo's recipe! He thought that they were absolutely perfect for a post run protein quick fix. Allen ate 3 in approximately 1 minute. He thinks they should be packaged and sold right now from outside our house 😬 So we have some fans here for sure!
I need to make some more ASAP as we have almost eaten all of the ones we had in the fridge. If you make them, let us know what protein powder you use and why plus alllll of your thoughts! 💚
No bake Vanilla & Coconut Protein bites
2017-04-26 17:39:53
For the bites
1/3 cup chia seeds (50g)
13oz. medjool dates (375g)
4 oz. protein powder (125g)
7.5 oz. coconut flour (225g)
Boiling Water
For the Glaze
1/3 cup peanut butter
2 tbsp. coconut oil
Instructions
Soak chia seeds in 185ml boiling water for 10 mins
Soak Dates in 25ml boiling water for 10 minutes
Pour both of these mixtures into a blender with the water too (the chia seeds will have created a gel like consistency - use it all)
Blend for one minute or so until you notice the color change and the smooth consistency
Add your protein powder and blend again until fully mixed (scraping the sides if necessary)
Add in your coconut flour and blend again until fully incorporated.
You should now have a thick and fluffy mix to mold into balls, bars or cut into cookie shapes with a cutter!
To make the glaze
Put coconut oil and peanut butter into a blender or food processor and blend until glossy and smooth - drizzle onto your bites with the end of a spoon or spatula.
Get creative and then store either out of the fridge or in the fridge for up to one week.
IVGreenhouse - Exploring Food http://www.ivgreenhouse.com/