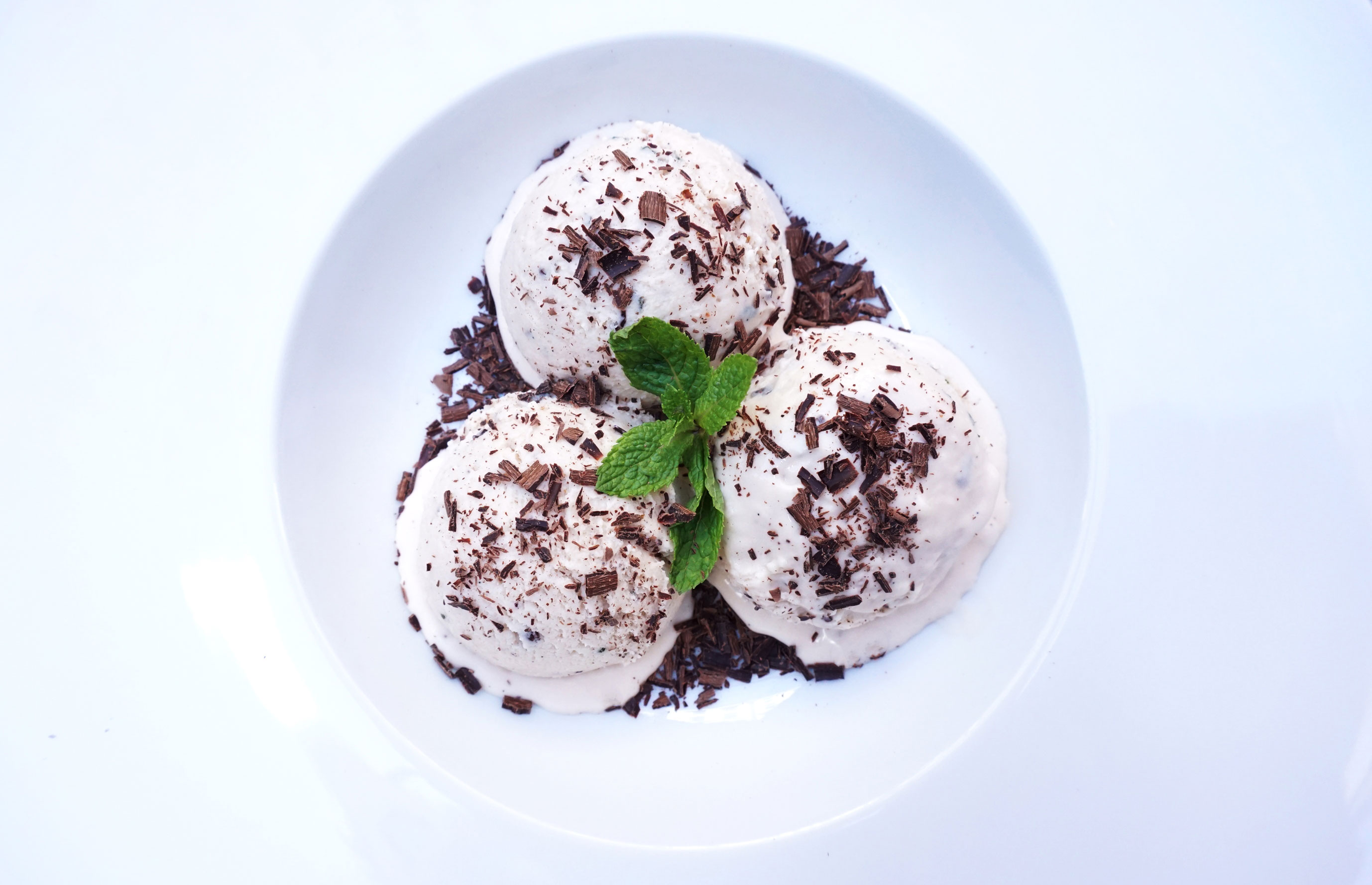 It's Ice Cream Sundae & we are a tiny bit mint obsessed this weekend! Since the race yesterday, we have just been experimenting with all things mint! This Ice cream is a beautiful child of our experiments! It tastes like a frozen mint hot chocolate! With the subtlety of the chocolate in the mix & the sweet mint flavor – it just works! We encourage you mint choice chip lovers out there to try and make this one yourself!
Mint Chocolate Ice Cream
Ingredients:
For the thickening add 1.25 tbsp. of cornstarch to 2 tbsp. of whole milk
1.75 cups Whole Milk
1.25 cups of heavy cream
0.5 cup of sugar
2 tbsp. light corn syrup
1 vanilla bean split lengthwise
0.25 cup filled with mint simple syrup (make ahead – recipe below)
2 tsp grated chocolate & 4 tbsp. of peeled/chopped chocolate for adding in after chilling
2 tbsp. cream cheese
1 tbsp. Greek yogurt
25 tsp salt
mint leaves (approx. 10) – chopped up finely
Method:
In a small bowl whisk together the cornstarch & milk and set aside for now
In a larger bowl place the cream cheese, greek yogurt & salt and mix with a spoon until soft.
Place all other ingredients except bourbon (milk, cream, sugar, syrup & vanilla bean) into a saucepan over a medium heat.
Bring it to a boil and let it boil for 5 minutes.
Take it off the heat and mix in the cornstarch thickening mixture.
Place the pan back on the heat and allow it to boil for a further 2 minutes (it should thicken slightly).
Remove the pan from the heat and take out the vanilla beans – scrape the vanilla bean puree out of each bean (some will have already come out whilst boiling), add it into the mixture in the pan and stir.
Pour the mixture into a Pyrex jug for ease of the next part.
Pour a ¼ of the mixture into the cream cheese bowl and whisk until smooth, keep adding a little at a time until the mixture is smooth and thoroughly mixed together.
Add the Mint simple syrup & 2 tsp of shaved chocolate!! & Stir until combined – color will change slightly.
Pour the mixture into a quart sized container or any container that is temperature safe.
Place the container into a large bowl of ice water and refrigerate for 30 minutes
When you take your chilled mixture out of the freezer – add in your chopped up mint leaves & chocolate chips/shaved chocolate & mix before putting in your ice cream maker.
Freeze the ice cream according to your ice cream maker's instructions – if using the kitchen aid attachment let it stir (marker 1) for approximately 15-18 mins to create the perfect consistency! (tip – have the ice cream maker stirring before adding the mixture)
Pour it from the maker into a freezer safe container & freeze for 3-4 hours or as long as you like!
ENJOY AT LEISURE!