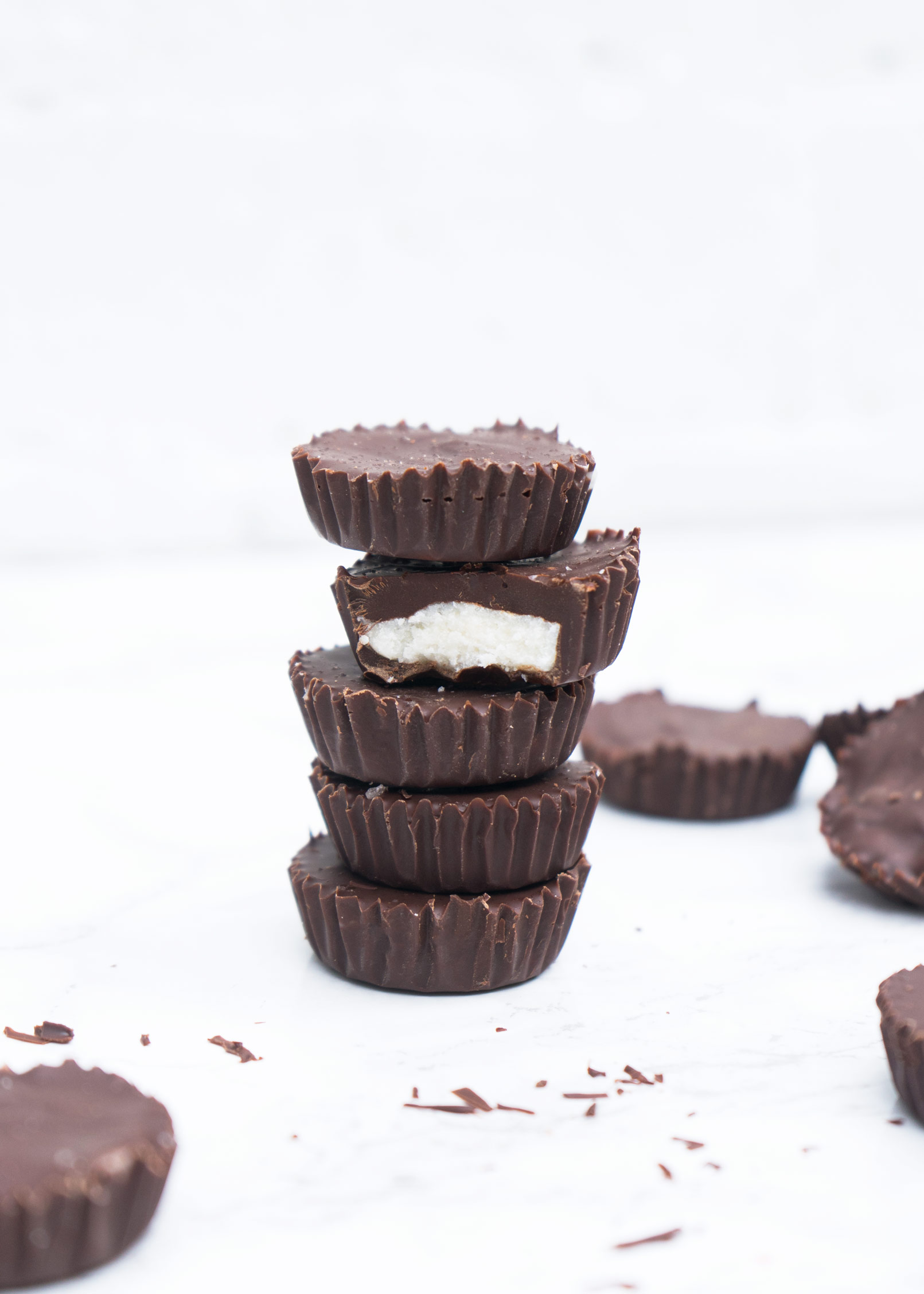 So I recently went to an event in the city & at the end we received goody bags with Eating Evolved's coconut butter cups in them (among many other delicious things!). I had been wanting to try these chocolate coconut cups for the longest time and they had been sold out everywhere. They were just as good as I thought they would be.
So Naturally, I had to try and make my own…🙋
And they turned out AWESOME. Even if I do say so myself!
But really, you can't go wrong with anything in mini chocolate cup form – you could almost fill it with anything your heart desires. Mine desires coconut…pretty much all.the.time. (& occasionally nut butter like this one!) Anyway, just like the Peanut Butter Cups this recipe takes 45 minutes (if that) to complete from start to finish and you'll have little bites of heaven for the week (or two – three days if you have a family like mine!).
I increased the power in these little bites by adding Brain Octane oil in place of coconut oil – but either one is delicious and works perfectly! Also, who knew making your own coconut butter could be so easy? Shredded coconut in a blender for 8 minutes anyone? AMAZING new revelations for me and I could not be happier! These cups are so teeny that you can just pop them in your mouth any time of the day and satisfy any craving you may have, again, covering salty & sweet here! 🙌
So basically, if you like the idea of coconut wrapped in slightly salted chocolate in a healthy one-bite form…this is YOUR recipe now. I urge you to try it and let us know your thoughts! we would love you to 💚
Mini Coconut Butter Cups
2017-05-12 10:40:23
Mini Coconut Butter Cups - Made with all-natural ingredients & oh so tasty!
For the Chocolate Cup
7 oz. dark chocolate (we like 90% or above dark chocolate)
Himalayan Sea Salt
For the Coconut Butter Filling
2 Cups Shredded Coconut
1 Tbsp. Maple Syrup (optional)
1 Tbsp. Brain Octane Oil (Or coconut oil!)
Instructions
Line a mini cupcake tray (24 hole) with paper cases
Melt the chocolate in a dual saucepan (or in the microwave).
Spoon enough chocolate into each paper case to coat the bottom and a little of the sides - approx. 0.5 tsp.
Use a paintbrush to brush the chocolate up the sides of the paper cases about half way.
Place in the freezer for 10 minutes to chill and harden.
Whilst they are in the freezer prepare your coconut butter filling...
Place the shredded coconut in the blender and blend until smooth - about 5-8 minutes.
You may want to scrape the sides and bottom of the blender after the first 5 minutes to make sure it is evenly blending.
When it is a smooth liquid, add the brain octane (or coconut oil) and maple syrup (if using) and stir with a spoon.
Get your cups out of the freezer and place about a 0.5 tsp to a whole tsp. of the coconut butter filling dependent on how full you would like your cups.
Tap the tray on the side to create a flat top. Chill for 10 minutes
Now pour or spoon the remainder of the chocolate over each cup - again, about 0.5 tsp. and bang the tray on the side to create an even layer on the tops again.
Sprinkle with sea salt
Freeze for a further 10-15 minutes
Remove from the freezer and take the cups out of their wrappers and place in an air tight container in the fridge!
IVGreenhouse - Exploring Food http://www.ivgreenhouse.com/