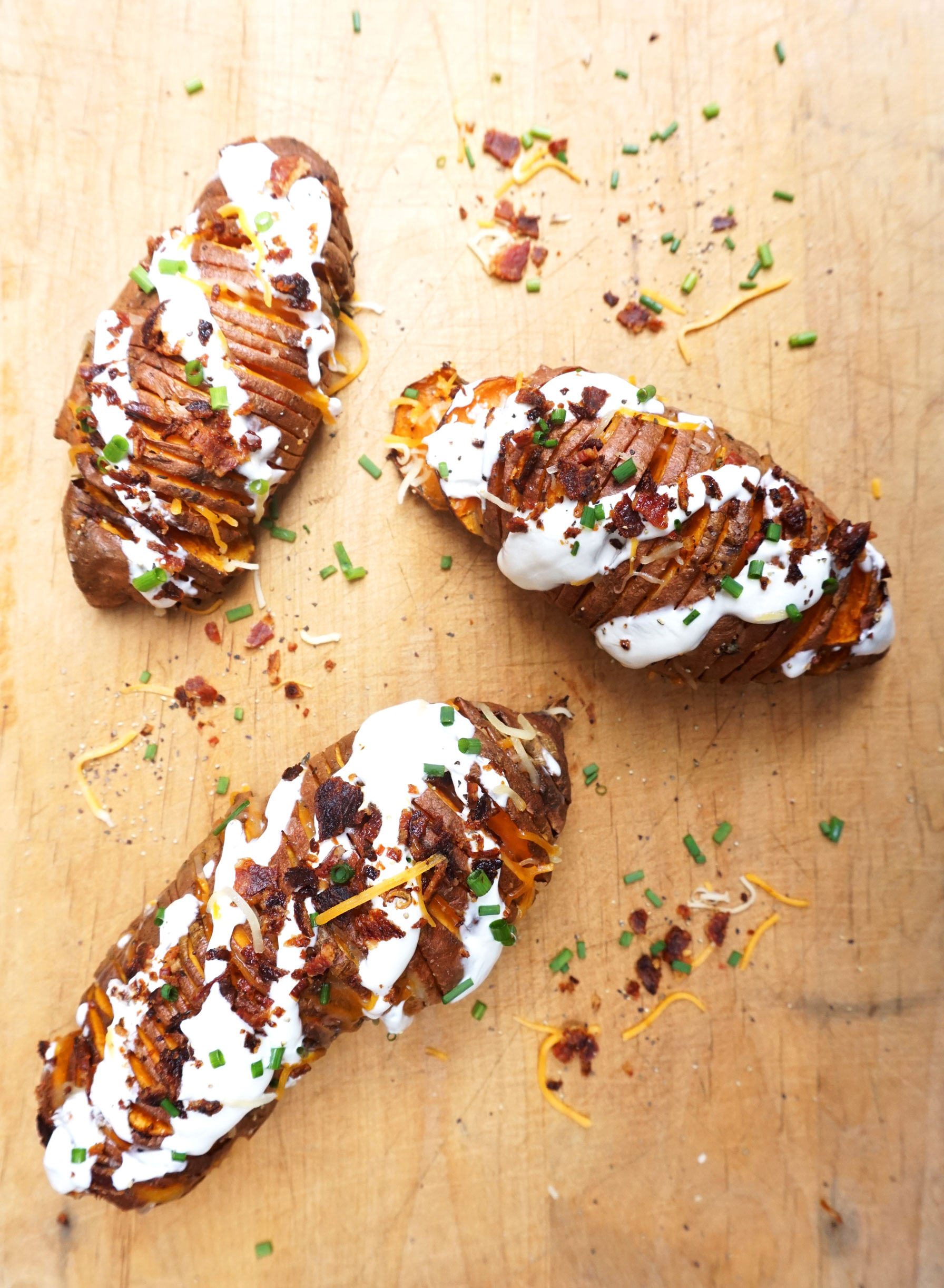 For Allen, if something has sour cream, cheese & bacon involved, he's all over it! As am I, now! – We also love Sweet Potatoes and how filling & delicious they are! (And how they make you feel slightly healthier & better about your decision to eat a loaded baked potato?? – anyone else?!) These are a perfect side at a BBQ, or on their own as dinner or with a salad for lunch! A very versatile little dish! Let me know what you think!
Loaded Hassleback Sweet Potatoes
2016-05-16 15:39:21
Ingredients
Sweet Potatoes
Butter
Oil
Thyme leaves
Salt & pepper
Sour cream
Chopped Chives
Cooked Bacon
Shredded cheese
Instructions
Preheat the oven to 425 F (215 C)
Slice each potato two thirds of the way down with thin cuts all along the potato
Melt the butter and then mix with oil, salt, pepper & thyme leaves (dried & fresh)
Brush the potato all over with the butter mixture – trying to get some down into the slices.
Put the potato's in the oven on a rack over a baking sheet for 1 hour (after 30 mins take the potato's out and go over lightly with a fork to separate the slices)
Whilst the potatoes are in the oven – put the bacon on a rack and place those alongside the potatoes for 20 mins, bring out to cool.
Remove the potato's from the oven & put cheese in between the slices whilst they are still hot (I used a grated blend)
Garnish with sour cream, bacon bits & chives (with extra on the table for people to help themselves!)
Enjoy with your hands – or cutlery!!
IVGreenhouse - Exploring Food http://www.ivgreenhouse.com/