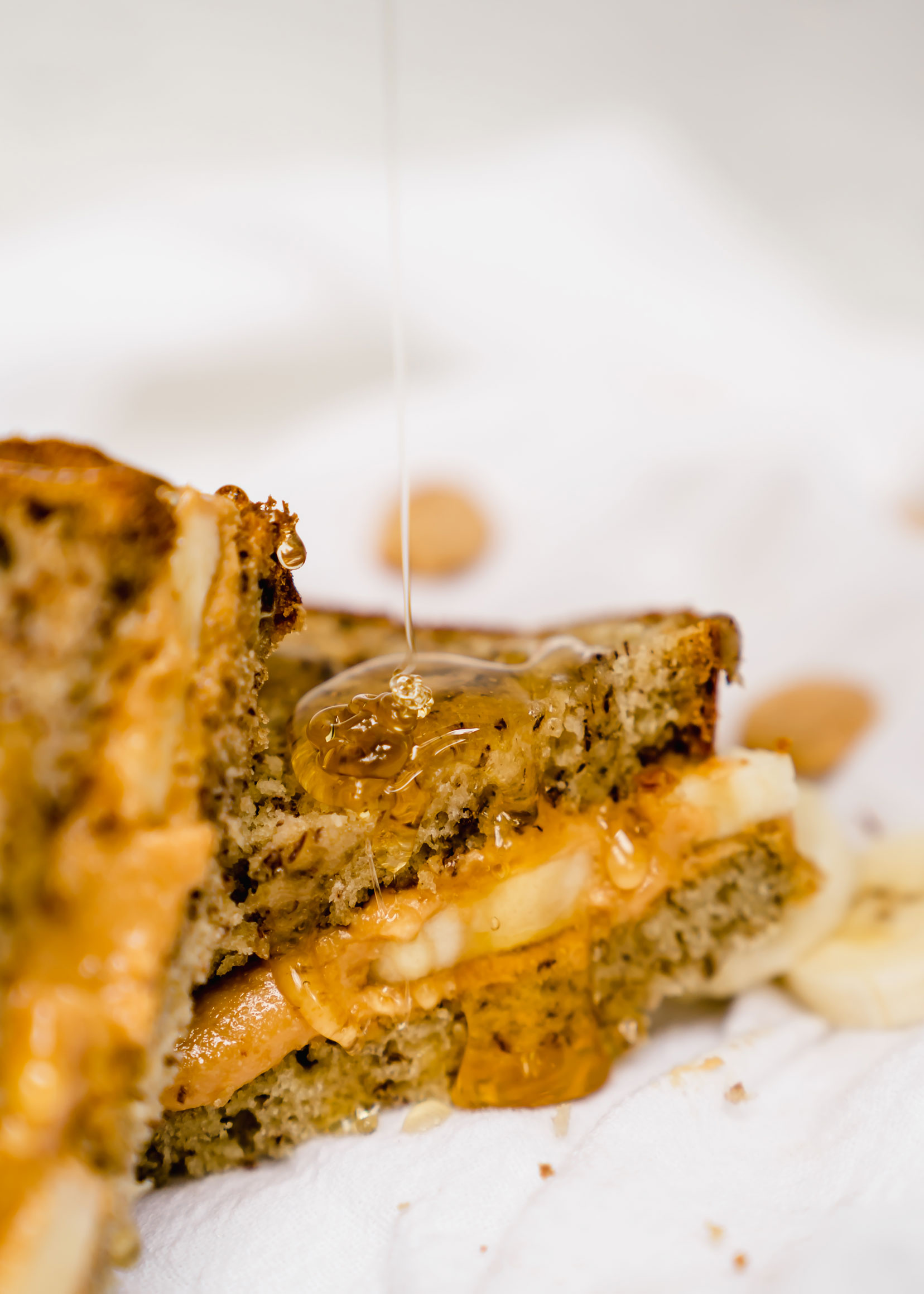 I wasn't going to write this post. I mean its probably the most simple idea/recipe in the world. However, Allen wanted me to as he LOVED it so much. So, here it is! Enjoy!
This is also affectionately called the 'Runners Sandwich' 🏃🏃‍♀️
This is because it all came about the day before the NYC marathon this year. Allen was reading some articles and came across one by the runner Meb. It was about what he recommends eating before a Marathon based on what has given him huge success over his 26 elite marathon career!
He recommended two breakfasts, so naturally Allen was all in! 😂
The first breakfast was to be at 5 AM (As the transport leaves at 5:30 AM for the NYC Marathon), we made Breakfast Cups the night before with sweet potato, onion, sausage & egg so that he could just heat them up at the crack of dawn and eat them on the way to 42nd Street! Then we wrapped up this sandwich for his second breakfast which was to be eaten at 7 AM on arrival to Staten Island. Meb talked of a honey almond butter banana sandwich and Allen decided he wanted to take it a step further and add our fool proof banana bread to it as well! We did and I have to say it was pretty darn good! Here is our Almond Butter Recipe too!
Allen said it kicked in at Mile 18 🙌
I think it's different for everyone, but Allen always says for him, Miles 15-18 are the most difficult. You've got over that half marathon point but you're not yet close enough to be excited about the finish line. Its that awkward middle ground where your grit and determination are the only things that are going to help you get there. Plus of course a nice sugar infusion from a banana bread sandwich doesn't hurt!
He also took some of these energy balls too as snacks are SO important in long distance running! He said he felt so much more prepared this year but he still missed the salty potatoes & orange slices from the 50 mile he did upstate! Maybe next year we'll incorporate those into this sandwich too 😂 haha!
He Completed the Marathon in 3hrs & 17mins! 💥
A cause for a celebration – we think so! Let us know if you try this & if it boosts your next run! 💚
Honey Almond Butter Banana Bread Sandwich
2017-11-06 13:42:50
Ingredients
2 slices Homemade Banana Bread (Recipe linked in text)
Approx. 2 tbsp. homemade honey almond butter (Recipe linked in text)
Half a banana - sliced
tbsp. honey to drizzle.
Instructions
Put Honey Almond Butter onto one (or both) sides of your bread
Place sliced banana in rows
Drizzle with honey & close up your sandwich.
Enjoy!
IVGreenhouse - Exploring Food http://www.ivgreenhouse.com/
SaveSave
SaveSave
SaveSave
SaveSave
SaveSave
SaveSave