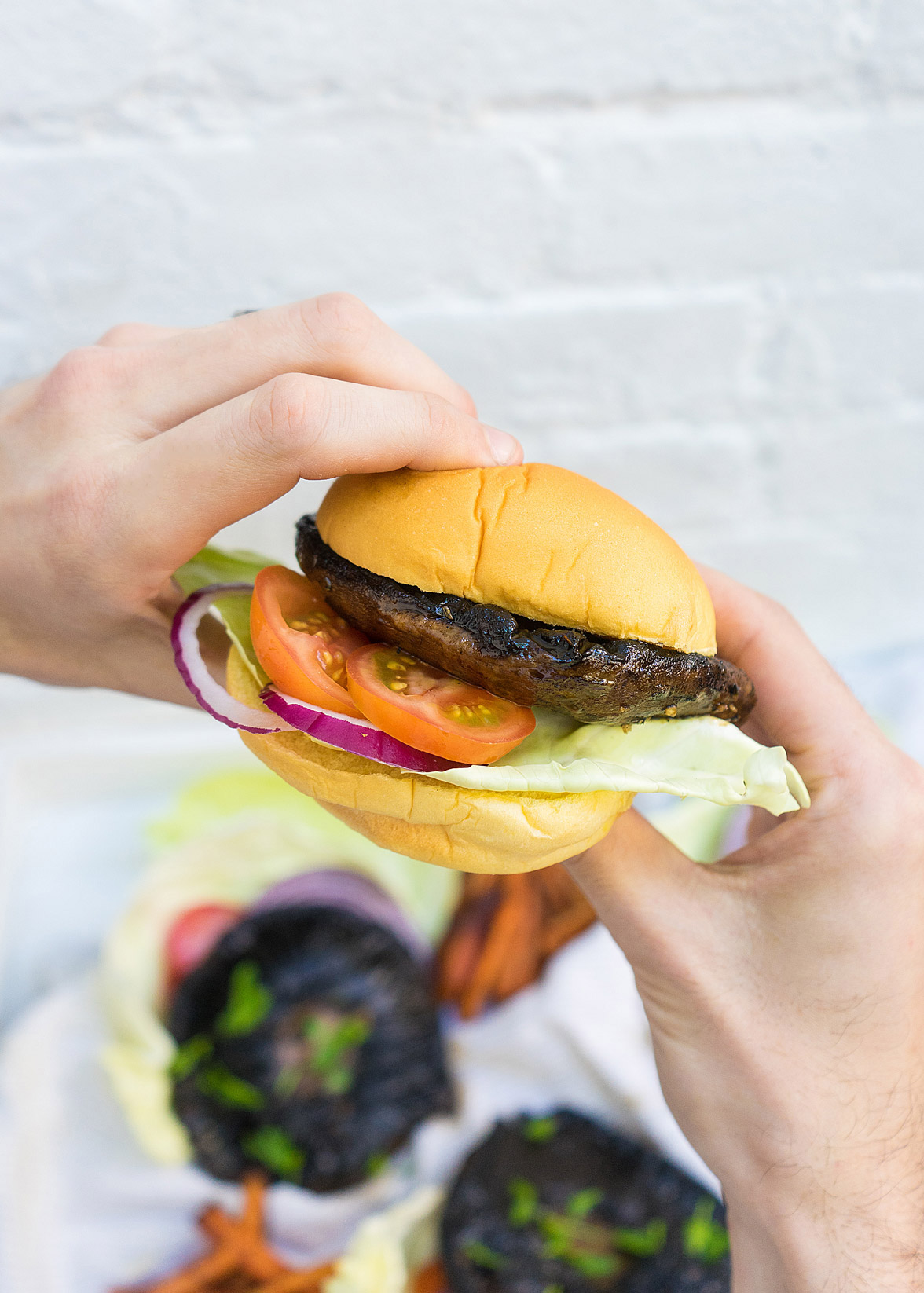 Who LOVES Mushrooms? 🙋 Me, me, me! I DO!
Someone once said to me, "I don't think mushrooms taste like anything"… I think thats the most stunned I had been at the time. 😳. Mushrooms are EVERYTHING. Or to me they are. I feel like we grew up on mushrooms! Garlic mushrooms were a staple at every roast dinner. Give me a creamy mushroom pasta or mushroom pizza or anything really – I will probably add more mushrooms to it if thats on offer! I think you may all think I am officially crazy now but I could not love mushrooms more! So…
Enter the Marinated & Grilled Portobello Burger 😍
Seriously such a fun alternative to a beef burger on days you're feeling like something just a little different! The mushrooms are marinated in a mix of balsamic vinegar, olive oil, lemon, dijon, garlic, maple syrup & thyme. I could pretty much put this marinade on a whole bunch of different things that's for sure! Oh and the friesssss! Oh my goodness, sweet potato fries are just so great! It took me a while to get into the sweet potato fry trend…mainly because I love my sweet potatoes whole and served with a load of toppings 😍. However, I am ALL IN on cutting these beauties into matchsticks and baking them to seasoned crispy perfection!
This is a pretty awesome vegetarian/vegan meal and also a perfect dish if you participate in the meatless monday challenge! We just LOVE that grilling season is truly here and we expect to be grilling up a lot more meats and veggies very very soon! So Stay tuned for some more awesome grilling goodness! 💚
Grilled Portobello Burger with Sweet Potato Fries
2017-06-26 17:09:59
Serves 4
For the Mushroom Burger
4 Portobello Mushroom Caps (Large)
1/8 cup balsamic vinegar
1/4 cup olive oil
1/2 lemon juiced
1 tbsp. dijon
1 tbsp. maple syrup (optional for a sweeter finish!)
1 tbsp. dried or fresh thyme
2 cloves minced garlic
For the Sweet Potato Fries
3-4 sweet potatoes (dependent on size) - We LOVE them so 4 it is!
1/4 cup olive oil
pinch salt, pepper and a fresh thyme sprig stripped of leaves
Instructions
Mix the marinade for your mushroom caps and set aside (vinegar, oil, juice, dijon, syrup (if using), garlic, thyme)
Wash your mushrooms and de-stem.
Place all 4 into a large ziploc bag or dish ready to marinade
Pour over your marinade and let it sit at room temperature for 30 minutes.
Whilst your mushrooms are marinating make your sweet potato fries.
For the Sweet Potato Fries
Preheat your oven to 400 F
Peel and cut your sweet potato fries into equal lengths - about 1/2 an inch thick by 2 inches long.
Toss with olive oil, thyme, salt & pepper until evenly coated
Spread onto a parchment lined baking sheet - making sure not to overcrowd the sheet otherwise they will steam and not crisp!
Bake at 400 F for 15 minutes, flip and cook for a further 15 minutes.
Then turn the oven off and allow them to sit inside while you prepare the rest of your meal - 15-30 minutes.
To Grill the Burgers
Remove the Mushroom caps from the marinade and heat your grill up on high.
When grill is ready, grill your mushrooms (face down) for 3 minutes, flip and grill for a further 3 minutes.
To Serve
Place each mushroom cap on a lettuce wrap or in a burger bun with your choice of accompaniments, lettuce, tomato, red onion, sauces etc.
Serve with a side of Sweet Potato Fries and DIG IN!
IVGreenhouse - Exploring Food http://www.ivgreenhouse.com/