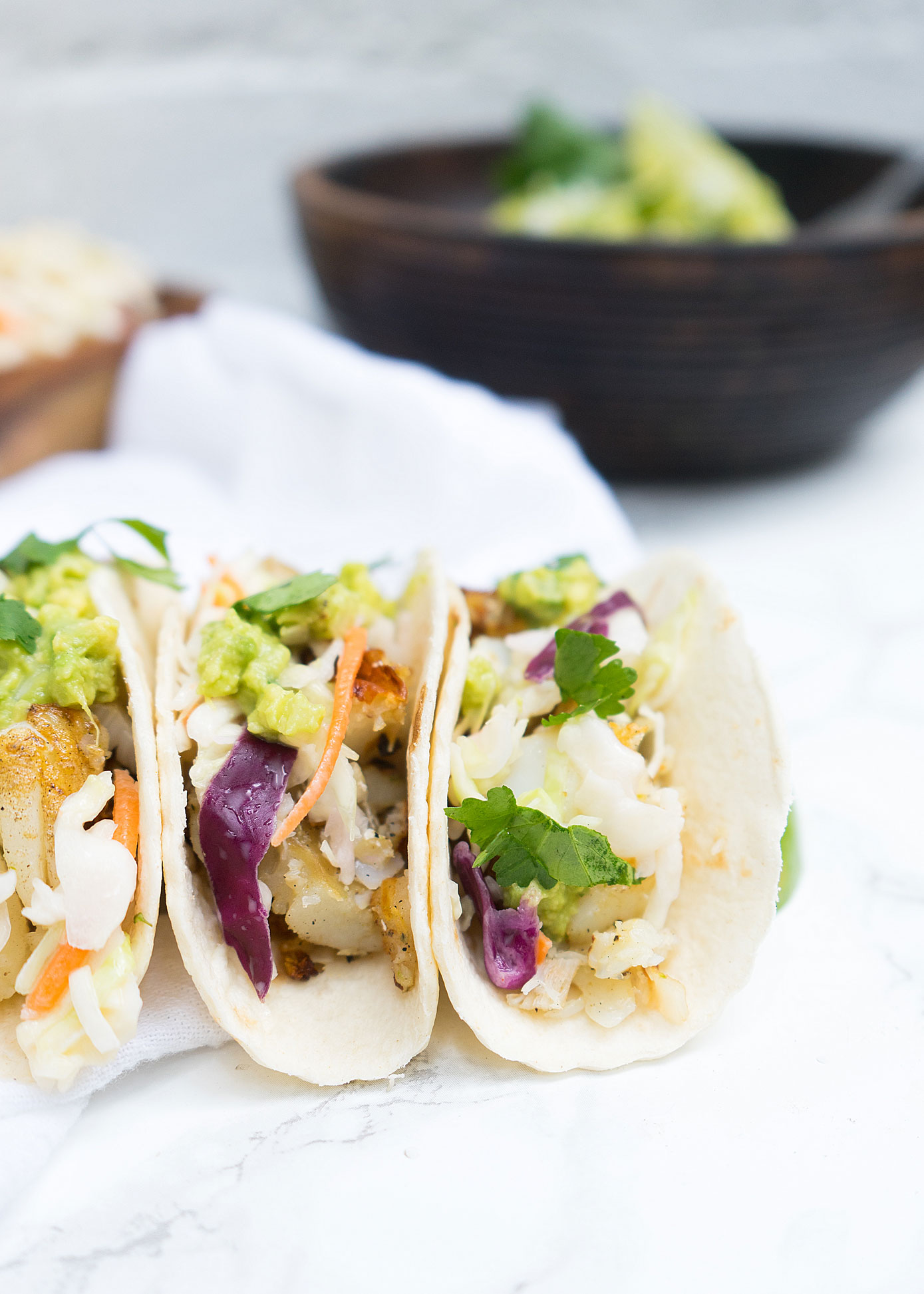 I think it's Taco Tuesday again…am I right??!! 💃🌮
Well this week we're feeling very tropical, just like our Mai Tai post might suggest!
It may be because we're on a MAJOR countdown to vacation (read about 2016's epic adventure here!) or just because we seem to be sweating it out in the 90's here in New York…either way, we are NOT complaining! 3 days till Shut down people! Oh and it just so happens to be my birthday that day too! Roll on FRIYAY this week!
These fish tacos are SO simple and SO delicious. I feel that they sound way fancier than they really are. When we first moved to New York, everyone talked about fish tacos and where the best ones were located in the city. Yet, I am a true carnivore and if Lamb Barbacoa was on the menu or Pulled Pork (Carnitas) … that would have my heart every time. However, I love the lightness of a fish taco and of course the benefits! All the benefits of beautiful fish and its healthy oils.
Pair this simple, zesty fish with homemade guacamole & coleslaw and you've got yourself another AMAZING taco bar for your next family meal, gathering or event!
Oh and don't forget the margaritas! These Spicy Jalepeno Margs pair perfectly 🔥
Let us know what adventures you've got planned this sumer and if these fish tacos or something similar will be making an appearance! We'd love to hear from you, as always! 💚
Grilled Fish Tacos
2017-07-17 13:47:51
Serves 4
To Marinade the Fish
1.5 lbs. White Fish (We chose cod as it is affordable and delicious!)
2 tbsp. Light Olive Oil (or Avocado Oil)
Zest of one lime
1 tbsp. chilli flakes
Salt & pepper
To Serve
Cilantro sprigs
Flour Tortillas (or tortilla of your choice!)
Margaritas, Guacamole & Coleslaw (Recipes all in text!)
Instructions
Place the marinade ingredients in a bowl and set aside.
Prep your fish. There are two ways you can do this depending on preference. We cubed ours into 1 inch or so cubes as we wanted crispy fish along with lovely tender flakes. However you can also just cut them into filets (or have the fishmonger do it for you) and marinade as whole filets.
Put your fish into your marinade, toss to coat and place in the refrigerator for 30 mins or so.
Prep your grill or grill pan - oil your grill and when its hot and beginning to smoke a little, throw on your fish and grill for a few minutes on all sides. Approx. 3-5 minutes per side depending on the thickness or size of your pieces.
Remove your fish from the grill and allow it to break up and become flakey and begin to stuff your tacos!
We suggest adding guacamole, then fish, then coleslaw and a bit of extra guac and cilantro to finish!
IVGreenhouse - Exploring Food http://www.ivgreenhouse.com/