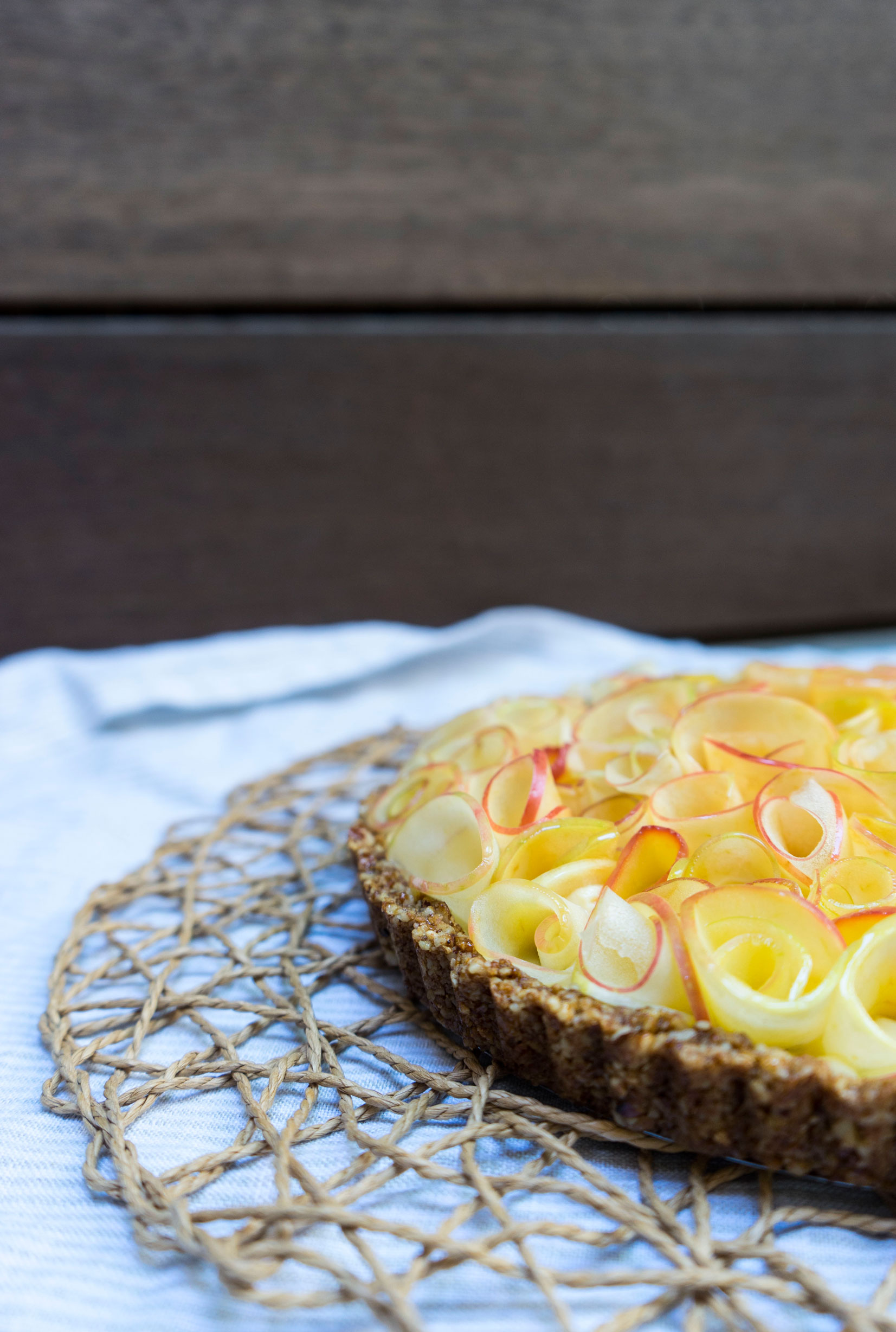 This Apple Tart is possibly the most beautiful thing I have ever made – but don't be fooled by its innocent looking appearance, it is no easy feat! But once complete it really is worth it to look back and admire its beauty! Huge bonus is that it is a gluten-free recipe that everyone can enjoy, so no one has to make a choice between the GF option and the non GF option at your next event! I have also totally fallen for this pecan & coconut sugar crust, it screams Autumn and it may be the base for many more tarts & pies to come this season! This tart may test your patience, but you'll hardly remember that when the compliments are flying in later on! Let us know what you think!
Gluten-Free Pecan Apple Rose Tart
2016-09-13 16:41:02
Serves 8
For the Pecan Crust
2 cups pecans (Blended until fine)
2 teaspoons of melted butter
4 tablespoons of coconut sugar (or brown sugar if you don't have coconut)
1 tablespoon water
For the Custard
1.5 cups milk
6 egg yolks
0.25 cup agave syrup
0.25 cup cornstartch
pinch salt
0.25 tsp vanilla extract
For the Apple Roses
3 Apples (of your choice depending on what color you want!)
Lemon water (so that your apple slices don't go brown while you work)
Honey (warmed with a little water for a glaze)
For the Pecan Crust
Blend your pecans until fine, add butter, sugar & water and mix with a spatula until it all starts to stick together
Grease a spring form 9 inch tart shell and press your pecan mixture into the shell creating an even thickness throughout
Bake this in the oven at 300 degrees farenheight for 15 minutes
Set aside to cool.
For the 'no bake' Custard
Heat the milk in a pan until it is just about to simmer
Whisk together the egg yolks, cornstarch, agave syrup & salt in a large bowl
Pour the warm milk into the egg yolk bowl slowly to warm them whilst whisking (so that you won't cook the eggs!)
Pour the whole mixture back into the pan and stir, make sure you keep stirring because it will get thick quite quickly - once very thick (don't worry if it looks funny and lumpy, its supposed to!)
Push the mixture through a fine mesh sieve and transfer to a temperature safe container and let it chill in the fridge for about an hour. (It will look like pudding once chilled)
For the Apple Roses
Use a Mandoline (carefully!) or a sharp knife to slice the apples as thinly as possible.
Put slices into lemon water (large bowl with cold water and the juice of one lemon) whilst you work.
Then use the microwave to heat up a few slices at a time (I would recommend only 10-15 seconds per batch) This will make them pliable and easier to roll into rose shapes.
Start from he middle and work your way out to the edges until you have a rose-like pattern.
Heat the honey and water and brush onto the finished tart to create a gloss effect.
Notes
This is not an easy dessert, unless of course you are an experienced apple roller, which I am not! But when you see the finished article - it is worth it! So if you have a special occasion and you want to wow someone, definitely put in the time to make this!
Adapted from Baking a Moment
IVGreenhouse - Exploring Food http://www.ivgreenhouse.com/
Oh and if you need inspiration on what to do with all those egg whites after you've made your custard…head over to http://www.ivgreenhouse.com/mini-pavlovas/ where we show you how to make delicious meringues & pavlovas! You can be the dessert master at your next event for sure!!