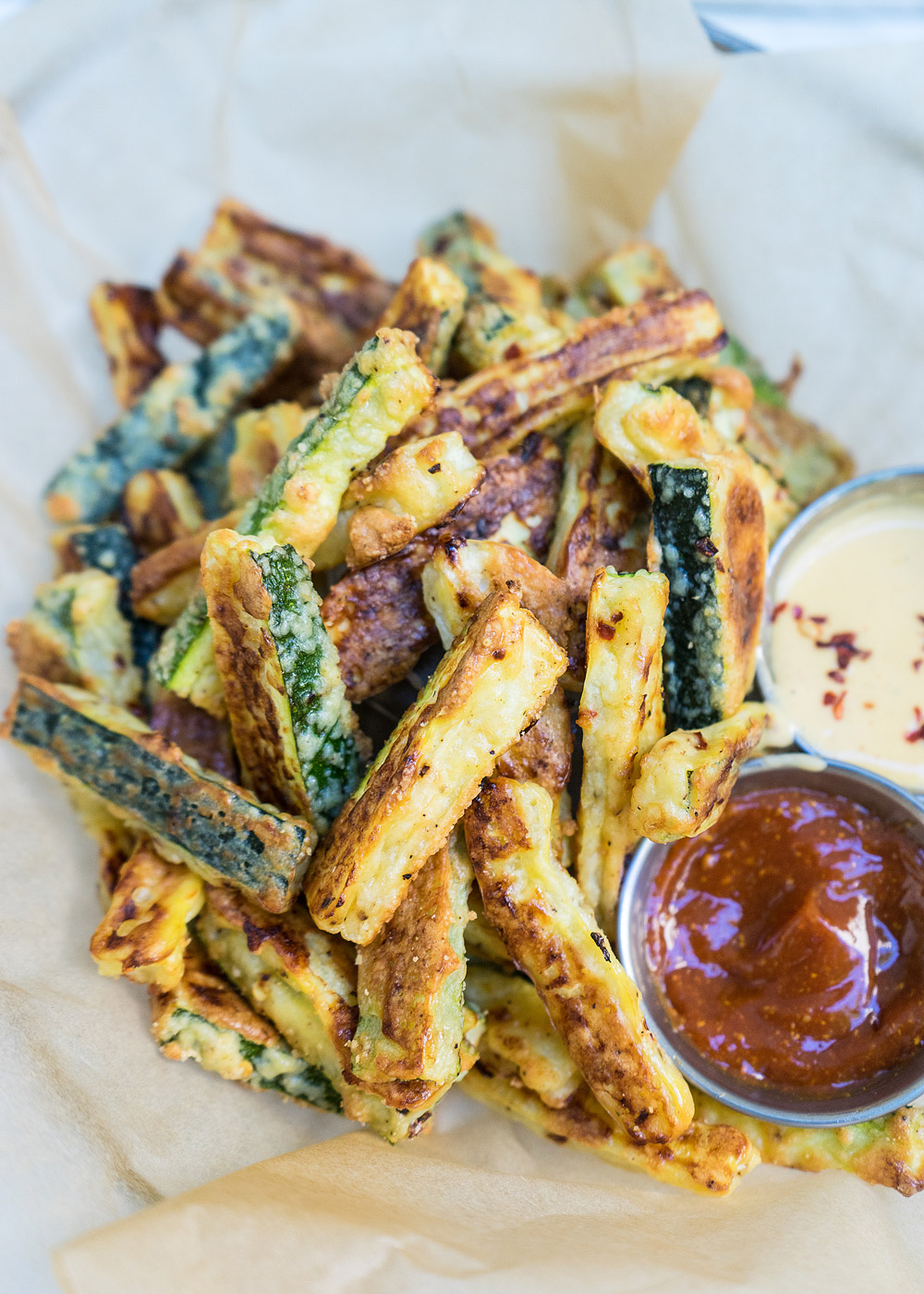 OH.MY.GOODNESS 🙌
I don't think I've been this in love with veggie fries in a long time! But this week, I am on the vegetable train!! As you can see from this Sweet potato fry post from earlier this week and then here I am again with some Zucchini fries!! You just can't stop me! This recipe is so great, its pretty easy and produces the most scrumptious crispy, cheesy zucchini fries that are still so ooey gooey in the middle.
Zucchini fries in New York are sort of offered on their own as an appetizer or as a 'share plate' for the table. This is a perfect use for them but we also like them as a side dish to some of our favorite meals such as this Juicy Burger Recipe or this Portobello Burger! Because really, what's a burger without fries?? 🍔 🍟
We have been obsessing over 'fancy' sauces recently too. It seems every restaurant has their own ketchup or mayo or bbq sauce. Basically branding their own table condiments and it seems pretty smart to us! We recently went to one restaurant and they had a sort of 'curried' ketchup which may sound strange but it was SO SO GOOD. Like, SO GOOD. It added this warmth and zing to regular ketchup – so you'll find our version below (yes, its exactly what you're thinking it is!) We also love a good spicy mayo too, especially when it is made with our Healthy Homemade Avocado Oil Mayo as a base! 👌
We added a little heat to this recipe because, why not? Allen's Momma LOVES chili flakes and honestly, so do we! So we shook some up into this garlic parmesan mix and wow did it make a punchy difference! We love spicing things up in our house! 💥
So read on to get this recipe and maybe follow the links to a couple of others and make yourself and your family a delicious dinner tonight! OR, add them to your holiday weekend menu & impress your guests with Healthier fries!! 💚
GF Parmesan Crusted Zucchini Fries
2017-06-26 16:46:32
Serves 4
Ingredients
4 medium sized zucchini (sliced into fries with skin on - about 1/2 inch thick by 2 inches long)
1 Egg
3/4 cup finely shredded parmesan
2 tbsp. garlic powder
1 tbsp chilli flakes
1 tbsp black pepper
For the Sauces
Curry Ketchup - 1/2 cup ketchup, pinch cayenne & 2 tsp. curry powder
Spicy Mayo - 1/2 cup homemade mayo & a few drops of your favorite hot sauce (ours is Louisiana!)
Instructions
Preheat your oven to 425 F & line a baking sheet with parchment paper
Lightly beat your egg in a small bowl
Stir parmesan, garlic powder, chilli flakes & pepper together in another bowl
Coat your raw zucchini in the egg mixture and then in the parmesan mixture - using separate hands or forks in each bowl so as not to mix too much.
Place zucchini pieces on your parchment lined baking sheet evenly spaced apart (like in the photo above!) - don't overcrowd the baking sheet otherwise they will be soggy and won't have those crisp edges!
Bake in the oven for 10 minutes.
Whilst these are baking, make your sauces - mix the ingredients listed above!
Flip your zucchini after 10 minutes and then bake for a further 10 minutes.
Remove from the oven and allow to cool a little before serving with your two delicious sauces!
Notes
You can use any sauce you like, these are just our favorites!!
IVGreenhouse - Exploring Food http://www.ivgreenhouse.com/