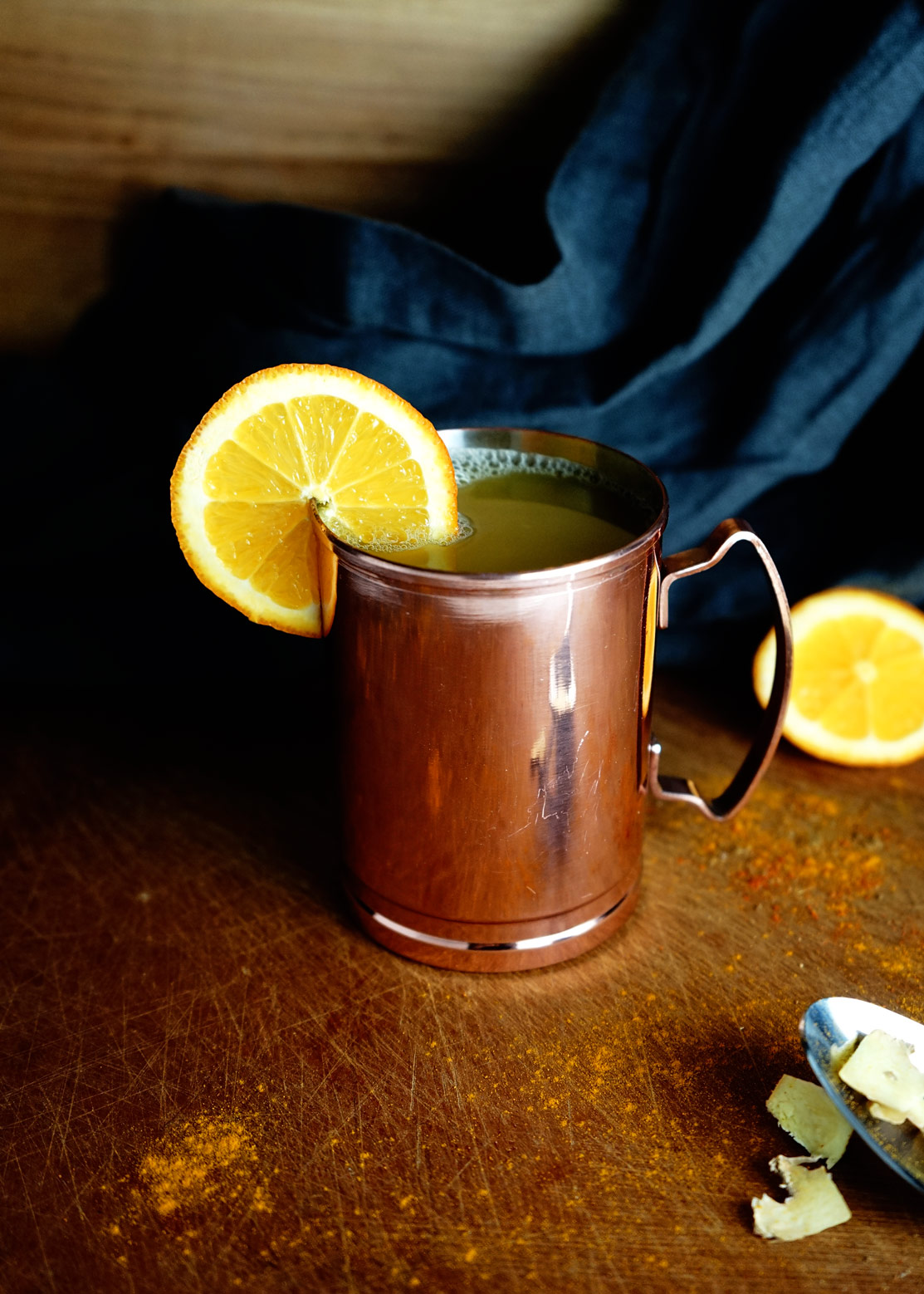 This Drink 🙌 So many benefits in such a delicious cup of warmth! So excited to share this recipe with you all. The Flu Remedy Drink was inspired by one they make at Juice Generation here in NYC which we love. We used to run down the road to get our hands on one the moment we felt a cold coming on. (That and a ginger shot which is fire!!) Then we began thinking, we have all of these ingredients in our fridge 99% of the time, why don't we try making our own version! What is great about this drink, is that you can make a large batch (double, triple!) and keep it in the fridge ready to heat up anytime you feel a sniffle!
Lets take a minute to talk about the benefits of this drink, we'll start with Fresh Squeezed Orange Juice. Maybe an obvious one but VITAMIN C – this stuff is seriously the best! However some of you may not be aware of the high levels of magnesium and potassium also found in Orange Juice. Ginger is a natural digestive aid that boosts your immune system and it is a great anti-inflamatory, among other things! Echinacea, just like ginger, boosts your immune system and has long been used for curing cold and flu symptoms. We all know that green tea is packed with antioxidants that pretty much help all parts of our bodies from the inside out. Top this magical drink off with some turmeric for an extra boost of antioxidants and anti-inflamatory properties and you have the wondrous flu remedy!
Amazingly good for you and seriously tasty..who can resist!! We have it daily during the colder months!! We hope you enjoy the benefits and the taste, let us know in the comments!
Ps. we hope you feel better soon if you've been caught by the nasty colds and flu's going round! 💚
Flu Remedy
2017-01-23 17:02:55
Serves 2
Ingredients
2 cups orange juice (fresh squeezed if possible)
2 cups water
Green Tea Bag (or fresh leaves in an infuser)
A finger sized piece of ginger root peeled and then grated or micro-planed (more if you like the spice!)
2 tsp. echinacea powder
1 tsp. turmeric
Instructions
Put all ingredients into a saucepan and let simmer for 10 minutes at least!
Strain liquid into mugs (or don't if you like the pulp!) and enjoy!
IVGreenhouse - Exploring Food http://www.ivgreenhouse.com/