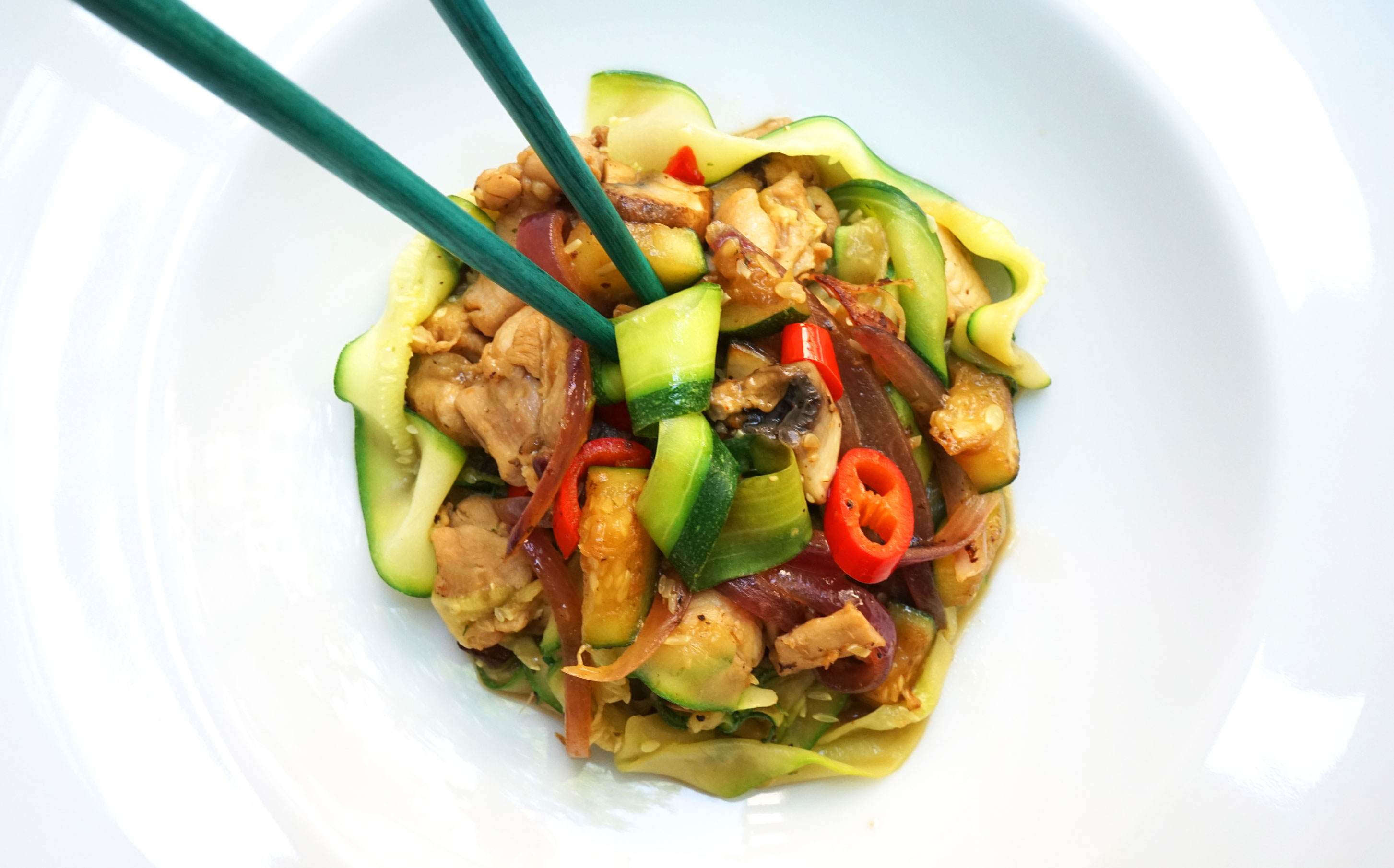 Drunken Zoodles! – A healthy take on the drunken noodles found in Asian establishments here in the city! – They get their name for two reasons – firstly, its a meal that is supposed to be eaten with a Beer in hand (probably to calm the spices if you put too much in!) and secondly its supposed to be a great dish to cure a hangover! Whilst I have never tried it for a cure, I'm sure it would work as it is delicious! But for us, this dish is a new favorite and it will definitely become a weeknight staple! Go try it now…yummmmmm!!
Drunken Zoodles
2016-06-07 13:01:48
Serves 4
Ingredients
5 Zucchini (4 peeled into strips) (1 chopped into pieces)
3 Hot Finger peppers chopped and deseeded.
6 mushrooms sliced or quartered
Half a Red Onion sliced into strips
4 chicken thighs chopped into bite size pieces
For the Sauce
2 tbsp toasted sesame oil
1 tbsp fish sauce
3 tbsp soy sauce
1 tbsp sweet rice wine
0.5 lime squeezed
1 clove garlic crushed
1 tsp finely chopped ginger
1 tsp fresh black pepper
Instructions
Mix all the sauce ingredients together and let it sit while you prep your veggies.
Prep all veggies ready to sauté.
heat a large pan or skillet with 2 tbsp sesame oil and throw in your chicken pieces, stir with wooden spoon.
When these are half cooked, add in your zucchini pieces (not strips!) & red onion, let this cook for another 30 seconds, then add in your mushrooms & red hot finger peppers.
Stir so that all are cooked evenly.
In another saucepan heat a tbsp butter and a tbsp sesame oil - add your zucchini strips and move them about with tongs until evenly cooked and turn off the heat.
Add your sauce (3/4 to the chicken & vegetables pan & 1/4 to the zucchini noddles pan)
Combine until thoroughly mixed and then plat it up and serve!!
Notes
You can use less peppers for less spice!
IVGreenhouse - Exploring Food http://www.ivgreenhouse.com/