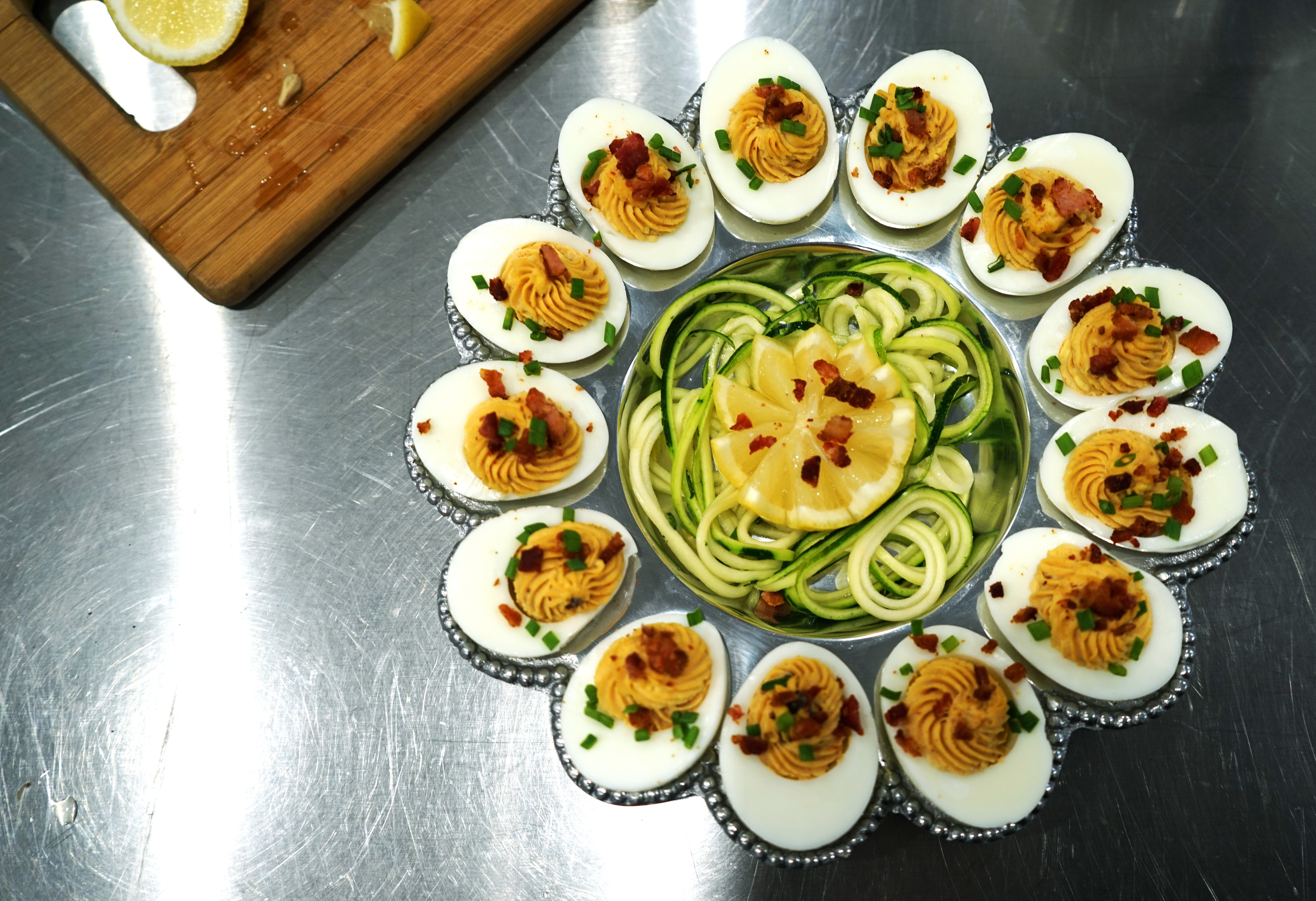 These Deviled Eggs will Knock your socks off – promise! 💥
Before I met Allen, I wasn't a huge fan of Deviled eggs and boy did that change quickly. It seemed to also be around the time that deviled eggs were making their come back on the cocktail party scene (working, not attending of course…🙄!). Everyone was ordering them, they began popping up on all the menus around the city and so many cool variations. Beet pickled deviled eggs for instance 😳! They are next on my list of recipes to try!
Anyway, back to Allen and deviled eggs and how they intertwine! Allen's Grammy used to make deviled eggs for all family holidays and Allen and his cousin would eat them all or so the story goes! So, my first visit to Grammy's I wasn't sure of many things before I arrived except that there would be deviled eggs on the table for sure. I wasn't disappointed! They were sat there on the table on a beautiful deviled egg platter waiting to be devoured.
Grammy's Deviled Eggs 😍
We did just that – I think I ate about 5 in one standing. Allen was shocked and so was I, but there clearly was something special about Grammy's deviled eggs. Maybe it was a mixture of everything, the family, the day, the holiday or just the eggs themselves! But something about them made my opinion change there and then. When we returned home, I thought about deviled eggs so differently and often craved them!
When we moved jobs and apartments, we came into contact more and more with deviled eggs, like I said, they were popping up everywhere we went! So of course, we had to make our own recipe! Most recipes have a relish in them and I have to say, relish is one thing that I can't quite learn to love (I'm talking about the strange green burger relish…). SO we replaced it with the world's best pickle (am I biased??) … Branston Pickle! We topped it with bacon bits and traditional chives and Voila! We had our very own deviled eggs with an english twist.
We hope you try this recipe and when you do you'll let us know what you think of the twist! 💚
Devilled Eggs with an English Twist
2017-06-13 17:49:08
Ingredients
12 Eggs (Hard Boiled)
4 tablespoons Mayonnaise
3 teaspoons Dijon Mustard
1 teaspoon Lemon Juice
2 teaspoons Branston pickle
1 teaspoon Paprika
Handful of Chopped Chives
3 slices of cooked bacon (crispy & chopped)
Instructions
Bring a large pot of water to a boil and add your eggs, boil for 20 minutes and then turn off the heat and cool immediately under cool running water.
Peel & cut 12 hard boiled eggs in half and remove yolks - place yolks into a bowl.(I then rinse out the white parts of the egg to get a clean look & feel.)
Mix Mayonnaise, dijon Mustard, lemon juice, branston pickle, paprika & all yolks together to create a smooth paste.
Place yolk mixture into a piping bag with a nozzle tip of your choice!
Pipe Mixture into the hard boiled egg whites.
Sprinkle chopped chives & crispy bacon onto each deviled egg.
Serve Immediately (or keep in fridge for up to one day)
ENJOY THE DELICIOUSNESS!!
IVGreenhouse - Exploring Food http://www.ivgreenhouse.com/