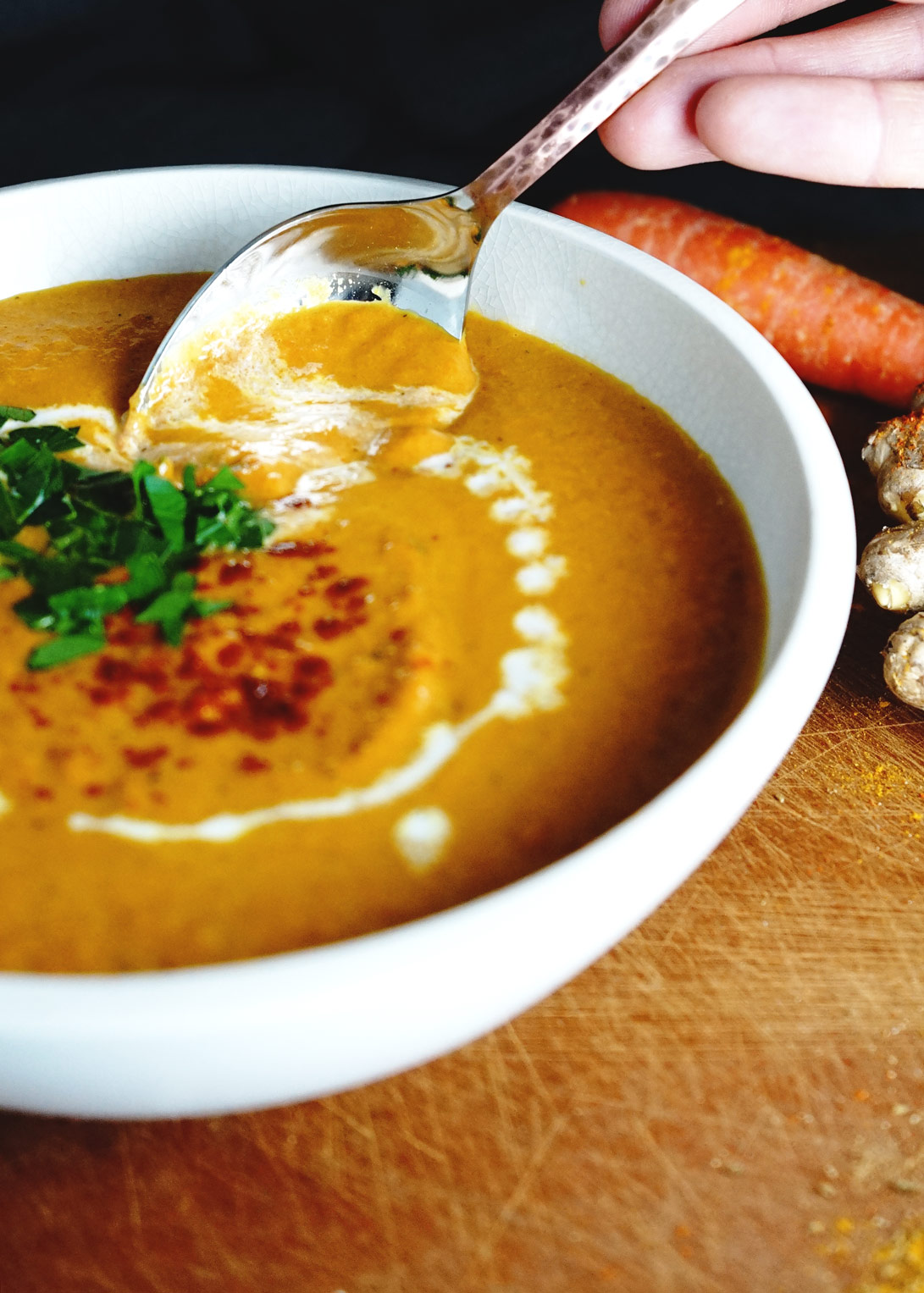 So, this curried carrot soup was developed for many reasons, but mainly due to the fact we had NO onions in the house – this was super strange. Allen usually tells me off for always buying a bag of onions or two whenever I go to the store. We always have a ridiculous amount of onions rolling around the kitchen!
So, in the morning, I had got this idea in my head for a soup, that (as most of my soups do) was going to start with onions! Anyway, after I began breathing again…what was created was so so delicious that the next day I went on to make other soups without having the foundation of onions! This is a new revelation!! … to me anyway!
(disclaimer – i still LOVE onions and will continue to use them in most things when we have them in the house!)
This curried carrot soup is the perfect amount of sweet, spicy & warming. Perfect for warding off any colds or flu's that may be coming your way due to the cold weather! It has such a creamy smooth taste to it from the addition of coconut milk. This soup is vegan & gluten free so can be enjoyed by everybody! It has nudged its way into the number one spot on my favorite soups of this winter and I will be making it at least once a week for the foreseeable future!
We hope you enjoy it as much as we do!! Let us know in the comments!! 💚
Curried Carrot Soup
2017-01-23 17:33:35
Serves 2
Ingredients
2 tbsp. coconut oil (or butter if no dietary requirements)
6 Carrots - sliced into coins
3 cloves of garlic, sliced
1 finger sized piece of ginger grated
0.5 tsp. ground turmeric
0.5 tsp. ground cumin
0.5 tsp. ground cilantro
0.5 tsp. ground cayenne
3 cups vegetable broth
half a lime - juiced
1 can coconut Milk
Instructions
Melt the butter in a saucepan
add in the carrots, spices, ginger & garlic and make sure all is coated with the butter or oil.
Let this simmer for 10 minutes
Add the stock and cover and simmer for 20 minutes
Either use an emersion blender or let the carrots cool and then put them in a stand blender and puree until smooth.
Add in the can of coconut milk and the lime juice and stir to combine
Add salt & pepper to taste
Gently reheat and serve! Garnish with any extra coconut milk, cayenne pepper and cilantro.
IVGreenhouse - Exploring Food http://www.ivgreenhouse.com/