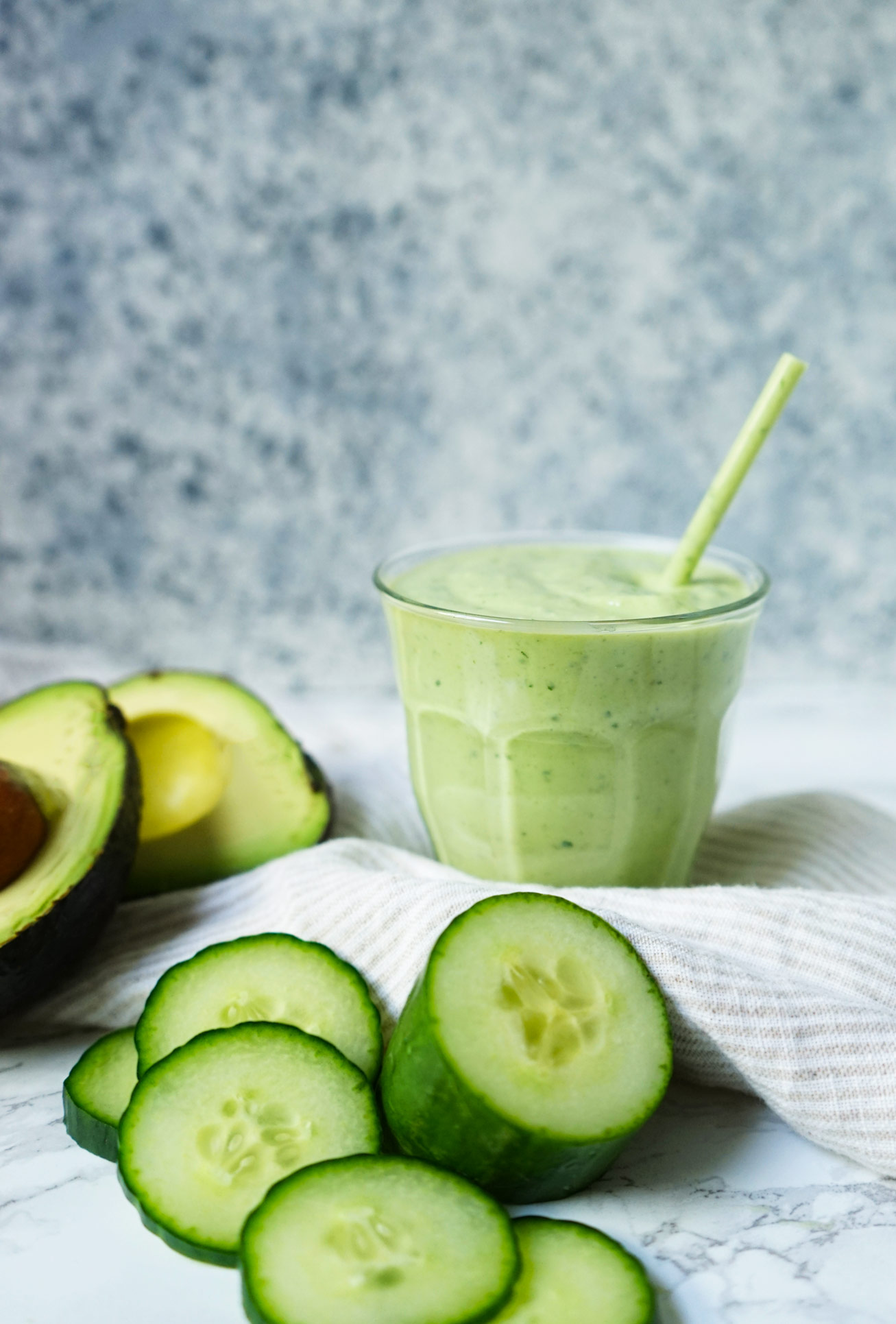 This Recipe for a delicious, healthy & refreshing Cucumber Avocado Smoothie came from a real feeling that we needed far more veggies in our diet right now. I'm not saying we don't usually eat a lot of veggies. I think its obvious from this Ratatouille post that vegetables are the top of our list…BUT you know when you just feel like you need a few more? Well this is how we are rectifying that…
It's Smoothie Week People!! 🙌🌈🎉
Every day this week we will post a new smoothie recipe & we want to know your favorites too!
Putting Avocado in a smoothie makes for such a smooth and creamy result and I mean AVOCADOS…ammiiright? Can you believe that they contain over 20 different vitamins and minerals? They also have 2 grams of protein & 15 grams of healthy fats PLUS tons of fiber on top of that. A seriously good fruit! I was kind of shocked to learn that they have more potassium than bananas too! (I always thought the banana was the King (or Queen) of Potassium!)
Onto the mighty cucumber…it is for sure, my NUMBER 1 vegetable. (Or wait did I give that spot to Mushrooms already?! 😆) Well cucumber is my all time favorite refreshing vegetable then! It makes gin and tonics that bit more delicious, it makes every salad worth eating and in this case it makes for a super refreshing smoothie! Enough about my personal love for cucumbers, their benefits are almost as endless as the Avocado! They are high in antioxidants like Vitamin C and they also help fight inflammation throughout your body. Cucumbers are made up of the two main elements needed for healthy digestion…water & fiber…that's pretty darn cool! It is also said that due to its high amount of B vitamins, cucumbers can help ease stress and reduce anxiety! This is something I am sure everyone can appreciate.
So, if you're feeling stressed, in need of more fruits & veggies or just wanting a refreshing healthy beverage…make this smoothie recipe and let us know how it makes YOU feel. 💚
Cucumber Avocado Smoothie
2018-01-02 12:19:10
Serves 1
Ingredients
1 cucumber (Diced)
1 Avocado (sliced & peeled)
1 greek yogurt pot (7 oz.)
0.25 cup maple syrup
Instructions
Put all ingredients into your blender and blend until smooth!
(If you have a puree or smoothie setting, now's a good time to use it!)
IVGreenhouse - Exploring Food http://www.ivgreenhouse.com/