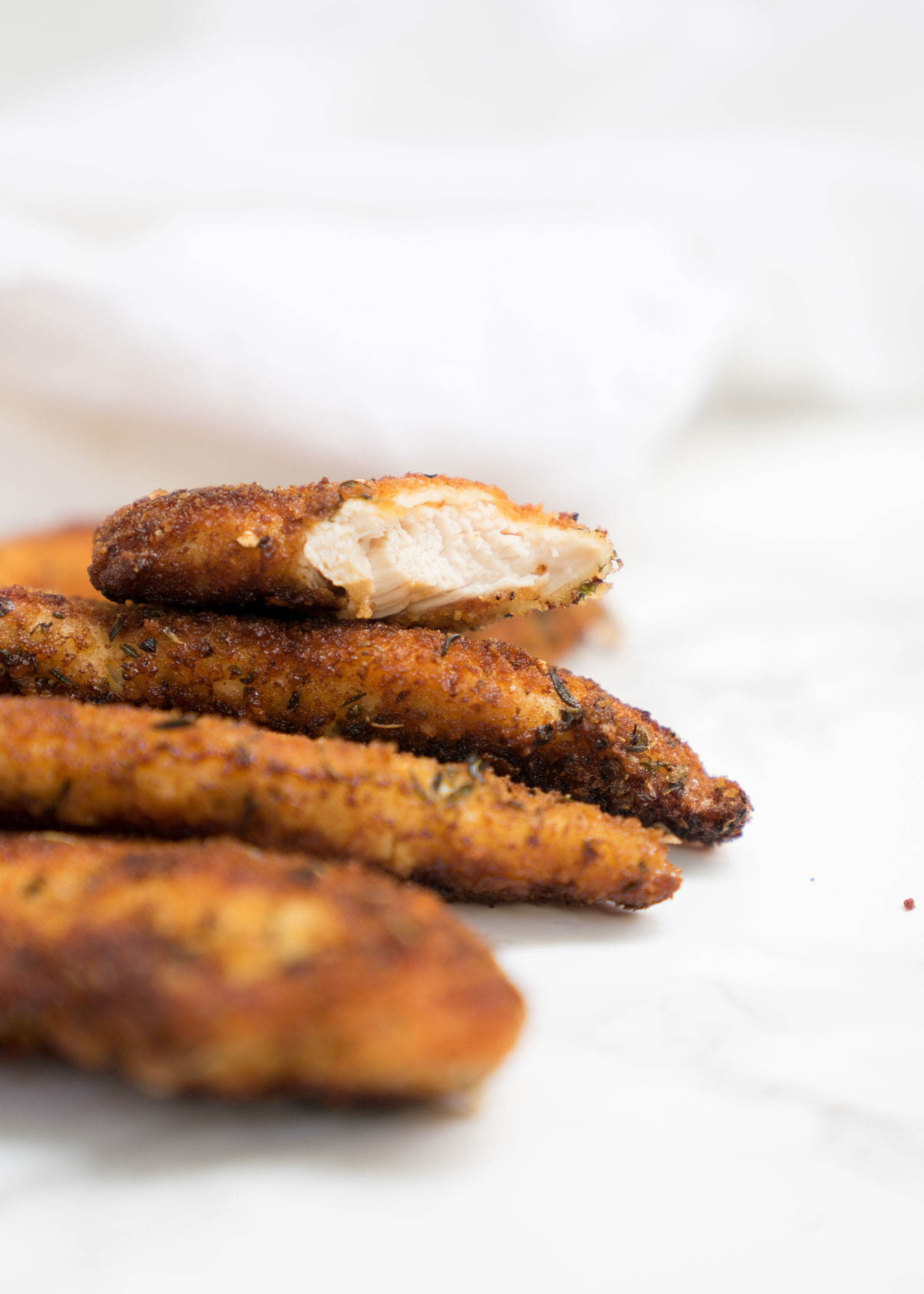 Happy 2018 Everyone! 🎉
Can you even believe it's 2018 already?? I feel like 2017 just got started, time really did fly by this past year! We're going to be making a conscious effort to notice more & enjoy all of the little (& big) experiences and opportunities that 2018 has to offer! We're excited to get started! How about you? 😃
Let's Kick off the New Year with some FOOD shall we? 🙌
So, these Crispy Chicken Tenders are an easy and much healthier version of the ones we know and love! I'd never really had a chicken tender (or finger) before my first internship in the states. They truly are addictive aren't they?!
I love to make these for a few reasons…
Firstly…making your own means you know exactly where your chicken is coming from (especially when you use Sehnandoah Valley Organic's awesome feature on their website here where you can find out the actual farm it has come from!!)
Secondly, you know what they're being cooked in and hallelujah its not a big vat of dirty oil! It's beautifully sourced butter and/or olive oil 😍.
And lastly, it reminds me of one of my favorite families! I love when food takes you somewhere when you make it! Making these awesome crispy chicken tenders takes me to the Singh family Apartment in NYC, a family I loved working with. Simi taught me the secret to these crispy chicken tenders and I could not be more grateful. They are the ONLY ones I would want to eat and have my family eat, for sure! YUM. Another bonus of their house was that Simi's Mom would make Ghee and they'd have huge mason jars full just ready to cook with at all times 🙌 Heavenly!
Plus, any meal that can be mostly ready in under 10 minutes has my heart! 💚
Especially coming out of such a busy season, dishes that are simple to prepare, easy to cook and delicious to eat are my absolute FAVORITE's. So get ready for quite a few of them coming your way! Lot's of one pan dinners and simple fresh ingredients will begin to flow ASAP! Promise! In the meantime, here's a one pan chicken dinner & here's another delicious crispy chicken recipe!
Now, it's back to the kitchen to prepare for the Weekend! We hope you have a wonderful one whatever you're doing and if you can squeeze these Easy Crispy Chicken Tenders into your plans, we suggest that you do! You won't regret it!!
If you feel like pinning this recipe, we'd love for you to share via the easy to pin button underneath the recipe! 👋
Easiest Crispy 10 Minute Breaded Chicken Tenders
2018-01-05 10:49:06
Ingredients
10 x Chicken Tenders (We use Shenandoah Valley Farmer Focus Chicken Tenders!)
2 eggs
2 cups plain bread crumbs
1 tbsp. dried thyme
1 tbsp. garlic powder
2 tsp. salt
2 tsp black pepper
Instructions
Rinse and dry your chicken tenders.
Set up your dredging station -
One bowl contains - Two beaten eggs and a pinch of salt.
2nd Bowl contains - Breadcrumbs, garlic powder, thyme, salt & pepper
Dredge each chicken tender in the egg & then the breadcrumb mixture and place on a lined baking sheet or cutting board until all chicken tenders are dredged in both. (We recommend using one hand for the egg and the other for the breadcrumb...less messy!)
Heat a tbsp. oil or butter in a frying or sauté pan over medium high heat (sometimes we use a little oil and a little butter for taste)
Arrange your chicken tenders into the hot pan with a little room in between each (we do two batches usually) - fry each side for 3 minutes until golden brown on the outside and fully cooked on the inside. 6 minutes total should be perfect. If not, add a minute to each side.
Let them rest while you complete your second batch.
Serve with sauces & fries! Sweet Potato fries & Salad are our favorite sides with 'special sauce' (Every family has one!!)
IVGreenhouse - Exploring Food http://www.ivgreenhouse.com/