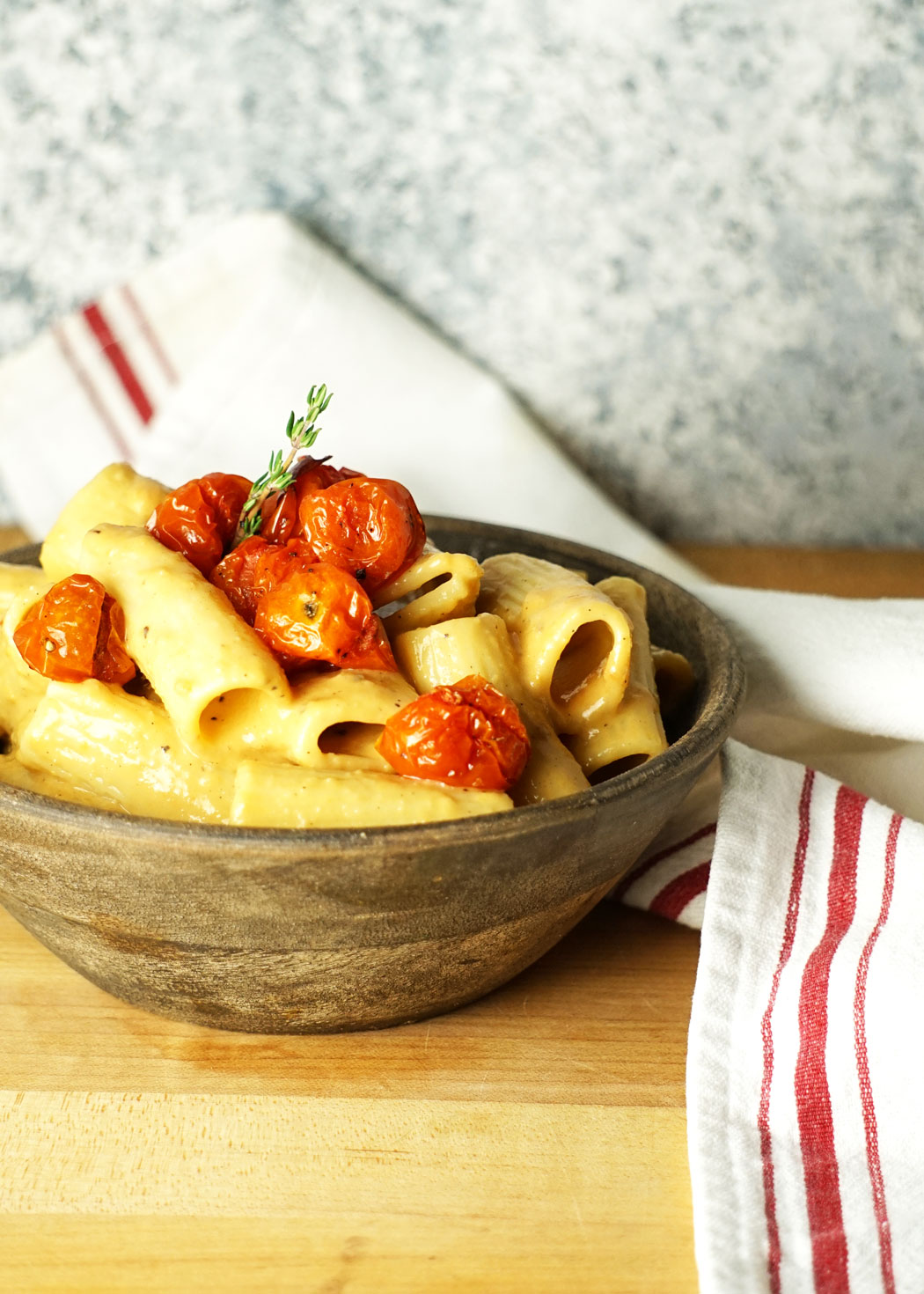 Yes, that's right, I did say CREAMY VEGAN TOMATO PASTA! 🍅
In our house we are definitely becoming more open to all these different diets, researching the benefits and the many pros & cons of all diets. It has all become extremely interesting to me in particular. I love to understand why people make the choices they make and what the driving force is behind people making these huge life changes.
For me, I can see the benefits of becoming Vegan, Vegetarian, Paleo, plus everything in between. Im the everything in between I believe – we love alternating our meals throughout the week. We like to incorporate a couple of purely plant based or vegetable based meals into our weekday lunch & dinners. Equally, we love meat. I don't think there will ever be a day where we don't. I think I should add that we only, ever, purchase meat that is local and from farms or butchers that we trust. (We also only purchase bones for our pups from these local sources too!!)
Before finding out or doing any research on veganism, I really thought that vegans ate dry, uninteresting food with no variation. How wrong was I? However I feel that that's a lot of people interpretation until they figure out there is WAY more to a plant based lifestyle than those delightful attributes I listed. Plant based meals are fast becoming my favorite lunch & snack options. (Not that I would ever be able to give up eggs or butter mind you!!)
Anyway, I love following vegan/vegetarian/carnivorous etc etc. bloggers as I feel everyone is all about sharing their own methods and it is all so interesting. This recipe was inspired and adapted from an awesome blogger, behind the blog, Minimalist Baker (Here's a link to her original recipe). I have followed Dana's blog for a while now and all of her recipes are amazing and have less than 10 ingredients – so go check that out if you haven't already!!
I initially found this recipe whilst I was frantically searching for a vegan recipe to serve a newly vegan friend. I also knew they were having a hard time giving up their pasta & pizza addictions! This recipe jumped out at me and I knew I had to make it! I made some changes here and there to adjust to my friends tastes (& mine!) and it turned out gloriously!! So creamy, so flavorful – If I was served this at a restaurant I would not know that it was plant based and that it didn't include dairy!
If you're plant based, thinking about going plant based or just like us, love exploring all foods – give this one a try and let us know what you think! 💚
Creamy Vegan Tomato Pasta
2017-03-24 15:41:38
Serves 4
Ingredients
1 Pint of cherry or small tomatoes
1 tbsp. dried thyme
A few fresh thyme sprigs
50g pasta per person (we used rigatoni)
Olive Oil
2 shallots diced finely
6 cloves of garlic crushed
1 tbsp. tomato paste
3 tbsp. flour
2.5 cups almond milk (plus more to thin out sauce to desired thickness)
Instructions
Preheat the oven to 400 F
Put your tomatoes onto a baking sheet with olive oil, fresh thyme sprigs, salt & pepper (toss to coat) and roast in the oven for 25 minutes (until browned)
While the tomatoes are roasting, boil water & pasta according to the package.
To prepare the creamy tomato sauce
Heat a frying or sauté pan over medium flame with 3 tbsp. oil in for a few minutes and then add your shallots and garlic, sauté for about 4-5minutes until translucent.
Add 3 tbsp. flour and stir until combined.
Begin adding among milk slowly, making sure to mix thoroughly in between each addition! We don't want lumpy sauce!!
Add tomato paste, dried thyme & 5-6 roasted tomatoes from the oven
Season with Salt and Pepper to your taste
Transfer to a blender and blend until smooth and velvety.
Adjust seasonings if necessary (you can add a little garlic powder or nutritional yeast too!)
Mix sauce with pasta and serve into bowls
Garnish with roasted tomatoes & a fresh thyme sprig and serve!!
IVGreenhouse - Exploring Food http://www.ivgreenhouse.com/