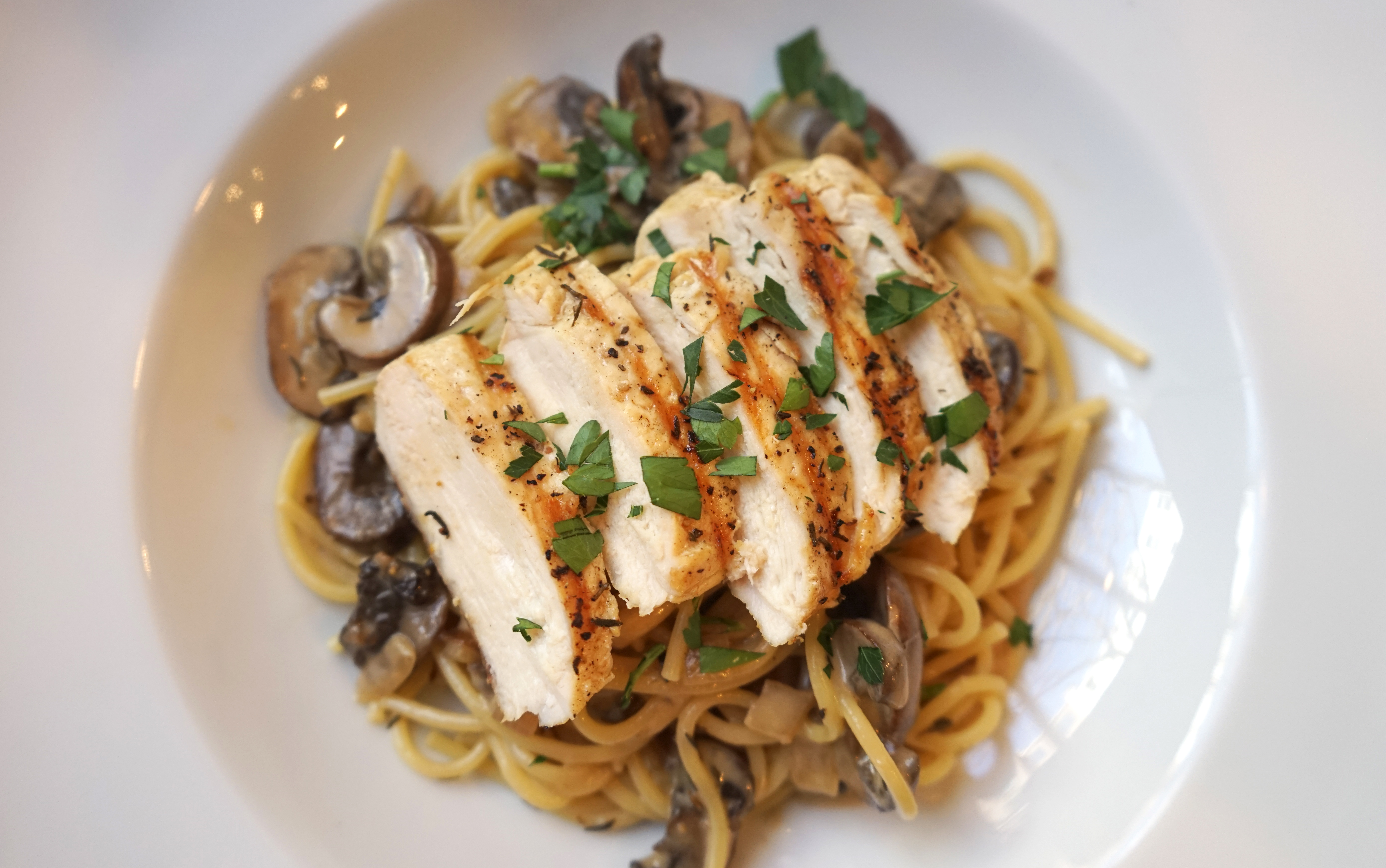 We LOVE Mushrooms!
So for us, this quick and light pasta dish is a go to for a quick dinner!
So as I said earlier, we LOVE mushrooms! – Any dish with mushrooms is a winner for us! This dish combines white wine, thyme, cream, mushroom and chicken to create a surprisingly light pasta that will leave you wanting more!
INGREDIENTS:
Recipe will serve 2-3 people (2 people with some leftovers really!)
Prep time – 15 mins
Cook time – 10-15 mins
2 boneless skin-less chicken breasts – we tenderized ours slightly prior to cooking
Pasta (8 oz should be sufficient for 2 large or 3 medium portions)
salt, pepper & dried thyme
one small onion
1 tsp of garlic powder (or 2 crushed cloves)
1 lb Mushrooms (sliced) – we used baby bella's.
0.5 tbsp of all purpose flour
1 cup chicken stock or broth
0.5 cup white wine
0.5 cup single cream
handful of fresh parsley (roughly chopped)
Parmesan (optional)
METHOD:
Put a pan of water onto boil (ready for the pasta)
Spray griddle pan with cooking spray and heat
Season chicken breasts on both sides with salt, pepper & dried thyme
Place on griddle and flip half way through (about 12 mins)
Whilst the chicken is cooking, place the chopped onion into a large frying pan with some olive oil, cook until translucent and then add the mushrooms, cook until most of the mushroom liquid has evaporated.
Add a pinch of salt to the mixture and then add the flour, stir and make sure the flour does not burn to the pan! – (don't worry too much as any stuck to the pan will be released once you hit the next step!)
Add Chicken stock, white wine and a sprinkle more thyme (heavy or light as you prefer!)
Let this simmer until it thickens slightly (about 5-7 mins)
Place pasta (we used spaghetti) into boiling water and cook for 9 mins (or according to package guidelines)
Take your thickened sauce off the heat whilst you add the cream, then return to heat & let it simmer until desired thickness has been reached. Taste the sauce and add Salt & pepper (maybe a little more thyme?!! – we LOVE thyme too!)
Add pasta to sauce and combine, spoon or tong out onto your bowls.
Slice the chicken and top each bowl with 4-5 slices.
Sprinkle the fresh chopped parsley (& Parmesan if desired) and…
ENJOY!