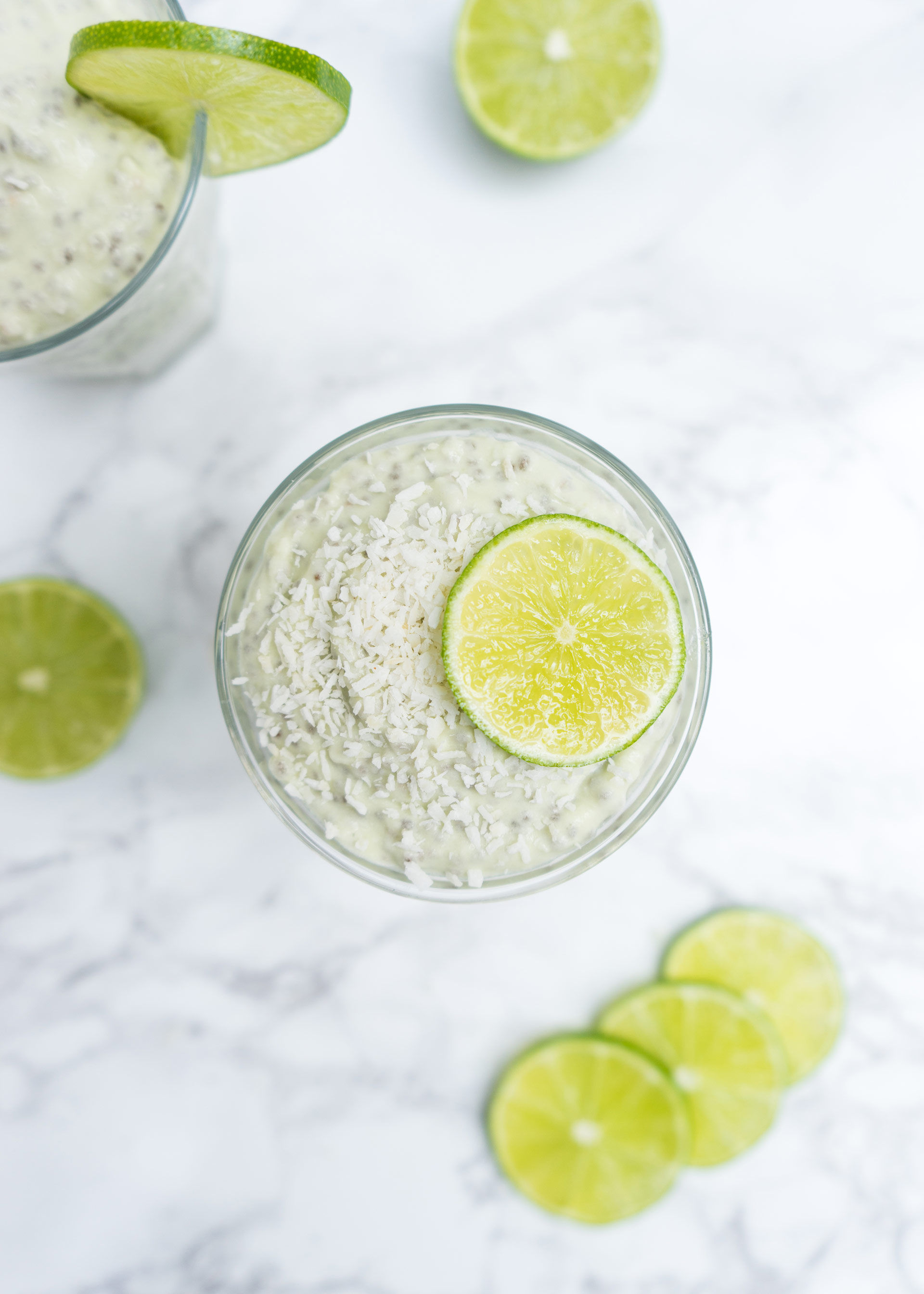 Chia pudding was a whole new concept to me until a couple of weeks ago…
When my sister was in town, she hit up Juice Press every day for her Chia Pudding fix. She let me try some and it was SO much better than I thought it could be. It was their vanilla, date flavor – I can't remember the specifics but it was delicious. So, that day I decided to try my hand at making some – I guessed all the amounts and it came out pretty well, it was just a little bland for my liking (coconut milk, maple syrup & chia seeds). I definitely needed to experiment with more flavor additions and such.
I carried on experimenting and trying out a few different recipes. Whilst researching flavor combinations, I came across a recipe for a key lime pie chia pudding. It was on the Blissful basil blog website. I was in LOVE with this idea. What is better than lime and coconut? Maybe lime, coconut & avocado all wrapped up in a little healthy pudding snack?! We think so! 😋
This is a PERFECT chia pudding recipe for first timers!
Chia seeds are AMAZING little tiny things packed with SO MUCH GOODNESS! In one little seed there is so much protein, fiber, calcium, potassium & omega! You can read more about Chia seeds and their amazing benefits here. This snack or dessert is healthy enough for you to eat anytime, feel full and it will knock your sweet cravings (if you have any!) out of the park! I'm a huge fan and this is definitely my favorite so far. I can't wait to continue my experimentation into all things Chia!
This recipe for Coconut Lime Chia Pudding has nothing but natural ingredients and therefore is completely vegan, gluten free & refined sugar free!
We urge you to try Chia Pudding if you are new to it like we were, or if you're a seasoned chia pudding lover and you haven't tried this flavor combination – you need to! It will change your Chia Pudding loving life! We Promise! 💚
Coconut Lime Chia Pudding
2017-05-10 15:01:38
Serves 4
Coconut Lime Chia Pudding - vegan, gluten free and refined sugar free! This is the perfect chia pudding for first timers or for dessert lovers!
Ingredients
1 can of unsweetened coconut milk
0.25 cup plus 2 tbsp. fresh squeezed Lime juice
0.25 cup maple syrup
0.5 ripe avocado
2 tbsp. coconut oil
2 tbsp. unsweetened natural shredded coconut
0.25 tsp. sea salt (we use pink Himalayan salt)
0.25 cup chia seeds
Instructions
Put all ingredients (apart from the Chia seeds) into the blender and blend or puree until smooth - takes approx. one-two minutes
Once blended, pour into a fridge-safe container and whisk the chia seeds in.
Cover and place in the fridge for 5-6 hours until the chia seeds have expanded and soaked up most of the liquid.
You can distribute into 4 containers for serving or keep it in the larger pot and just keep going back for more!
Eat within 2-3 days, the fresher the better!
Notes
Make it look a little fancier by adding a lime wheel and some shredded coconut if desired!
Adapted from Blissful Basil
IVGreenhouse - Exploring Food http://www.ivgreenhouse.com/