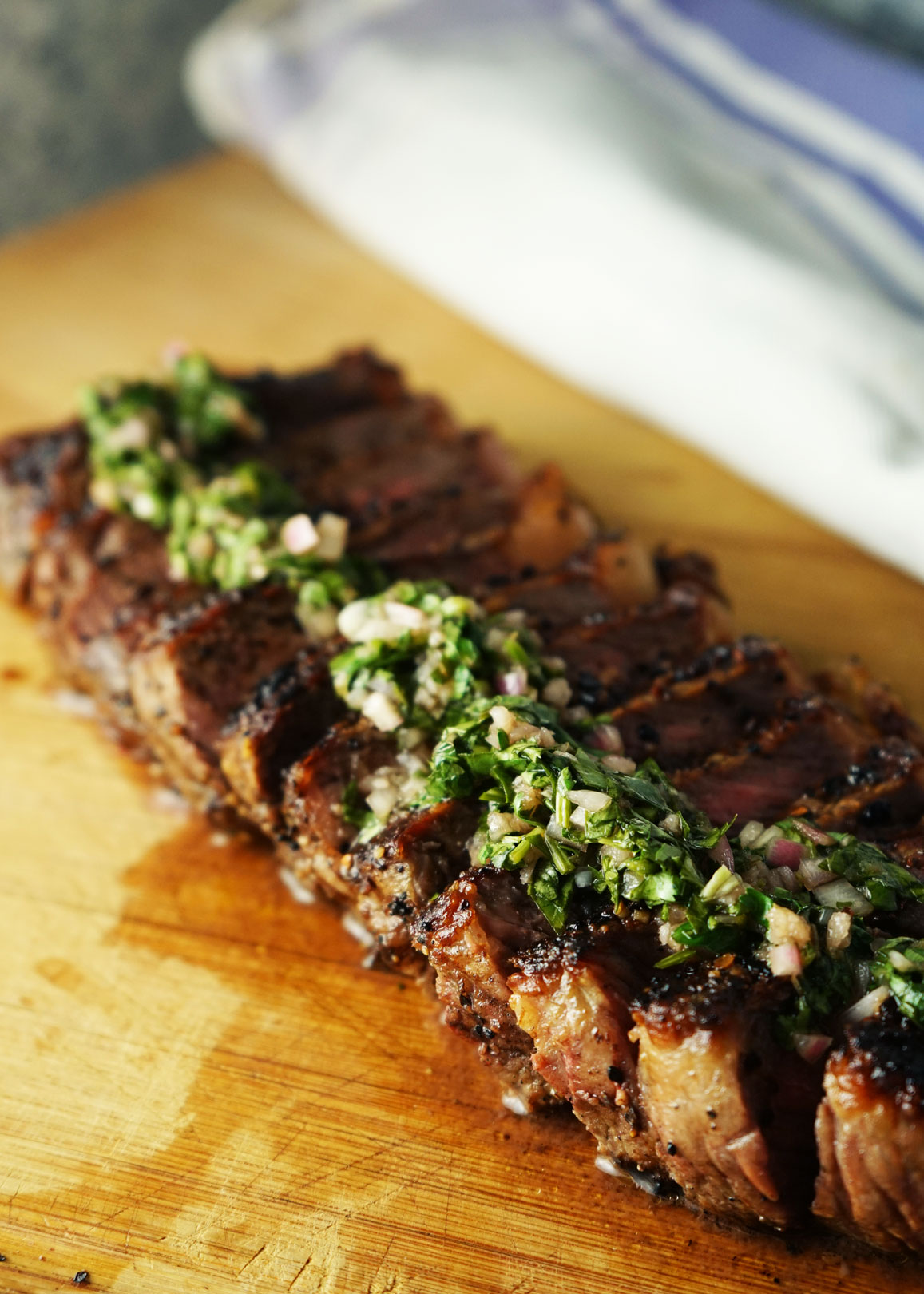 We feel that Chimichurri Sauce just screams SPRINGTIME.
I mean, in the winter, we want heavy, buttery & rich steak sauces, but in the Spring & Summer there is nothing better than a tangy, bright & herby Chimichurri Sauce in our opinion! It's green, it's vibrant & it's light – perfect for any outdoor bbq/party! It also goes perfectly alongside this Summer Corn Salad for a deliciously light steak dinner. We have a real affinity for NY Strip Steak. The flavor is just so good & pretty much lends itself to all seasoning choices whether simple or elaborate.
We're getting to that time of year again when Grill Nights are a frequent staple, it FINALLY feels like Spring is on it's way and we couldn't be happier! There's nothing better than dusting the outdoor grill off and getting those steaks going! We're very lucky to have an awesome grill & outdoor area which is pretty unheard of in NYC. So we really put it's through it's paces whenever we get the chance!
Chimichurri is a delicious green, herb loaded sauce made with parsley, oregano & cilantro. There are many versions out there but ours uses balsamic vinegar & red wine vinegar to really amp up the tang whilst keeping a little sweetness for the steak. You could even marinade your steak beforehand in this awesome marinade, the flavors would be just heavenly with the chimichurri 😍 !! Let us know how you like your steak! 💚
Chimichurri Sauce
2017-03-24 16:05:46
Ingredients
0.5cup red wine vinegar
1 tbsp. balsamic vinegar
0.25 cup sliced shallot
2 garlic cloves crushed
0.5 cup parsley
0.5 cup cilantro
1 tbsp. fresh or dried oregano
1 tsp. salt
Instructions
Put all ingredients in a bowl and mix to combine
Let it sit for 30minutes or longer to allow the flavors to mix together.
Serve over steak or veggies
IVGreenhouse - Exploring Food http://www.ivgreenhouse.com/