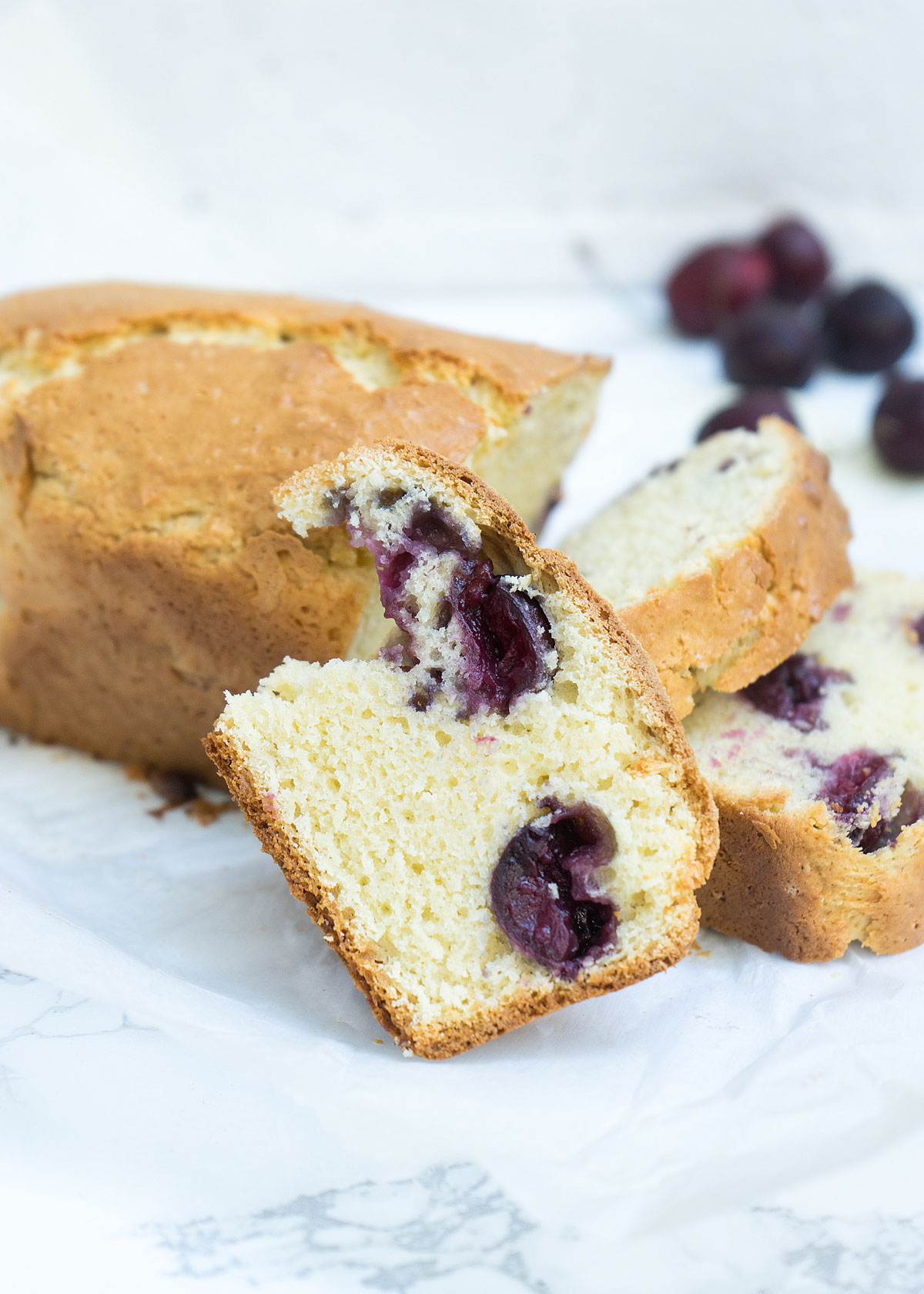 YUM 😍
This is probably one of the most delicious little loaves to have around. It was a sort of happy accident how this recipe came to be! I just really really wanted to use all of our beautiful fresh cherries!! 🍒 This started a whole wave of research on cherry recipes and nothing was grabbing my attention. I mean, don't get me wrong they all sounded delicious, but just not for me at that particular moment! Then I remembered my LOVE for anything loaf shaped/baked in a loaf tin!
And so, the Almond Cherry Loaf was born! 🙌
This recipe is FOOL-PROOF. You know how I said happy accident, yeah, that's how fool-proof it really is. It was perfection straight from the oven and as I type this, there is only one slice left sitting on the counter that has not been devoured yet. It got all the seals of approval. 💯
This would be a perfect loaf to make last minute for any occasion and would make an adorable house-warming gift! Or if you're not into almonds & cherries for any reason then take it back to basics with this delicious fool-proof banana bread recipe! This recipe tastes like a wonderful mix between the American Pound cake & a British tea loaf! It is airy and fluffy and not too sweet and the fresh cherries just give it that moist bite that you're looking for! The texture and flavor are incredible.
This Cherry Almond Loaf can be served any way you like! With tea, coffee, on it's own, with butter, with jam! You name it – it can take it! This loaf is perfect for this amazing cherry season we are in currently and I can't wait to bake another loaf.
We hope you love it as much as we do! Let us know in the comments! 💚
Cherry Almond Loaf
2017-07-05 14:48:20
Serves 8
Ingredients
4 oz. almond paste
2 tbsp. butter, softened
0.5 cup sugar
1.5 beaten eggs
10 fresh pitted cherries (halved after pitting)
1.5 cup all-purpose flour (1 tsp. seperate)
2 tsp. baking powder
pinch salt
3/8 cup milk
Instructions
Pre heat your oven to 350 F.
Prep a loaf tin with greaseproof paper, parchment paper or heavily grease it with butter.
In your kitchen aid or food processor, combine almond paste and butter; beat until well blended.
Add sugar slowly, making sure to fully blend.
Add eggs, half at a time, beating well after each half.
In a small bowl, gently toss cherries and 1 tsp. flour and put aside for now
Combine the rest of the flour, baking powder & salt in a bowl
Add into the creamed mixture slowly, alternating with the milk.
Put a third of your batter into your prepared loaf tin, sprinkle half of the cherries (5) put another third on top of these and smooth the best you can, sprinkle remaining 5 cherries onto this, top with a final layer of batter.
Bake at 350° for 1 hour (test with a toothpick - if it comes out clean, you're good to go!)
Cool for 5-10 minutes, slice & serve!
Notes
We used an 8.5 x 4.5 inch loaf tin!
This loaf can serve up 8-10 nice thick slices!
IVGreenhouse - Exploring Food http://www.ivgreenhouse.com/