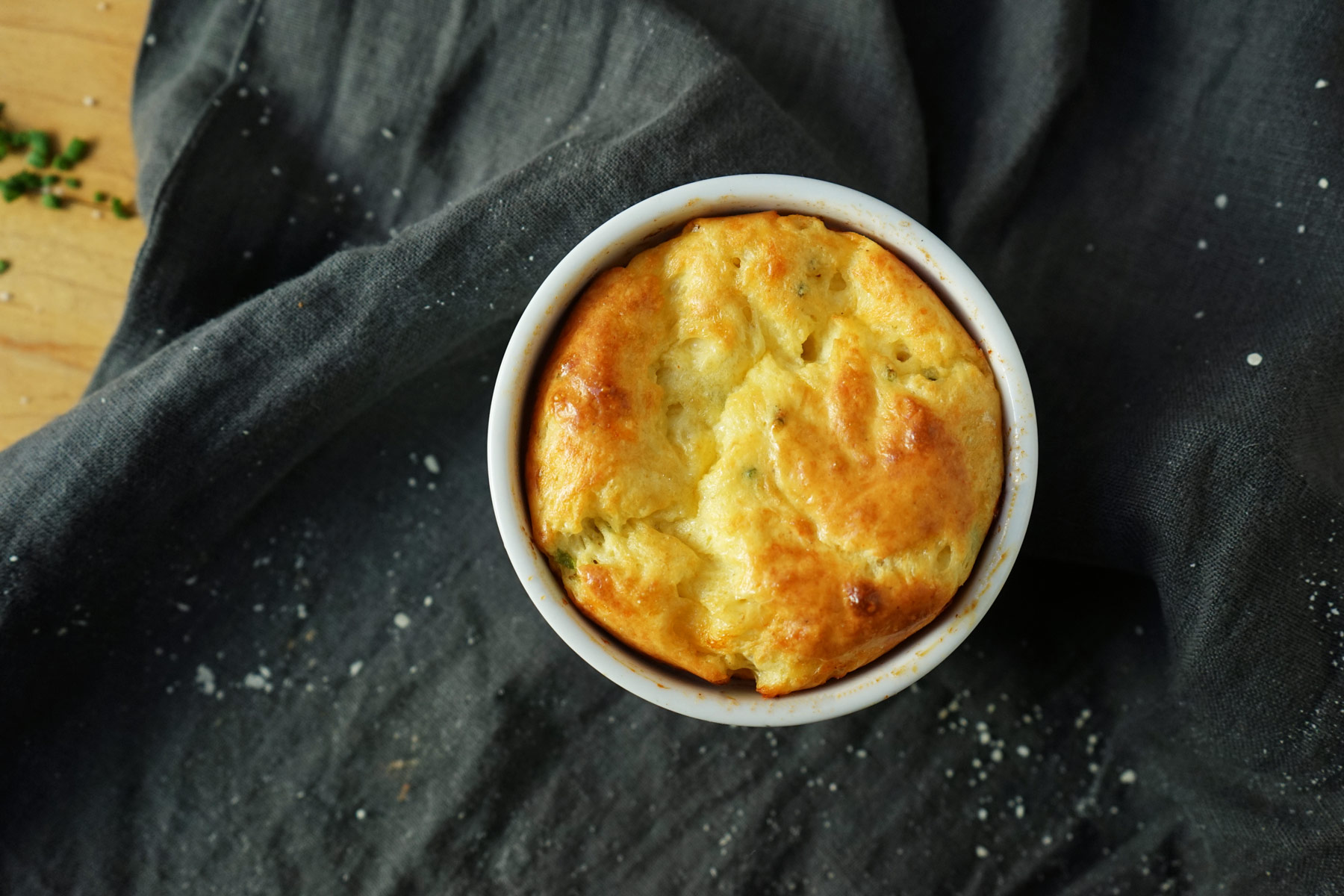 So, this past weekend we got the Sunday paper – as always, but this time the New York Times had an awesome insert by Melissa Clark about the "New Essentials of French Cooking – Ten classic dishes for the modern cook to master." This article really inspired me to jump into some dishes that I haven't mastered and I really had fun experimenting with them.
One of these dishes was a Cheese & Chive Soufflé. I have always wanted to master the soufflé but I feel it is a dish that intimidates people (including me!). It is completely reliant on perfect timing & temperature, as well as a solid base to work with. However, other than a little arm ache, this recipe is not anywhere close to as tricky as I originally thought! A savory soufflé is such a wonderful addition to any meal, this one goes amazingly well with our Ratatouille! Another great thing about soufflés is how versatile they are. They can be adapted to accompany main meals or as a stand alone desert with a delicious sauce!
Another reason soufflé's have been on my mind is that Minetta Tavern (where we went for our Anniversary Dinner this past weekend), has the BEST soufflés. I am not exaggerating. Their Grand Marnier Soufflé is so so so good. We have been dreaming of it since our last visit to Minetta and is among the many reasons why we will always return! FYI, it didn't disappoint and neither did their unreal bone marrow appetizer 👌!
This recipe makes 4 small soufflé's or one large soufflé. They are full of fluffy, pillowy, creamy goodness that you won't be able to resist! Play around with your ingredients and let us know your favorite flavor combination for your family! 💚
Ingredients
3 tbsp. butter
3 tbsp. finely grated parmesan
1.25 cup whole milk
3 tbsp. flour
0.5 tsp. paprika
0.5 tsp. sea salt
Pinch ground nutmeg
4 large egg yolks
5 large egg whites
0.5 tsp. cream of tartar
1 cup (115g) coarsely grated gruyere cheese (or similar)
3 tbsp. finely chopped chives
Instructions
Preheat your oven to 400 F and place a baking sheet directly onto the bottom of your oven (removing any wire shelves that may be too low (not to hinder the rise))
Grease your soufflé dishes or dish with the butter and then coat with the finely grated parmesan, tapping out any excess
Heat your milk in a small pot until just beginning to simmer.
Melt butter in a large skillet, whisk in flour and cook until the mixture thickens - then add your hot milk and whisk for approx. 3 minutes or until the sauce thickens again.
Remove from the heat and stir in paprika, salt and nutmeg.
Whisk egg yolks into the mixture one at a time - making sure to blend each one fully before adding the next.
Transfer this mixture to a large stainless steel bowl
In your kitchen aid or stand mixer - whisk your egg whites and cream of tartar until stiff peaks.
Whisk a quarter of the egg white mixture into your yolk and flour mixture to lighten the dish.
Continue to fold the whites in slowly without allowing them to loose too much air. Make sure to also sprinkle your gruyere and chives in slowly at this point too.
Once everything is fully combined - split the mixture evenly into your dish or dishes.
Place your dish onto the baking sheet in the bottom of the oven and reduce the temperature to 375 F and bake for 25 minutes (You can check how they look after the first 20 minutes of cooking and asses if you will need 5 minutes more or less.)
Serve immediately once out of the oven as they drop in minutes.
http://www.ivgreenhouse.com/cheese-chive-souffle/