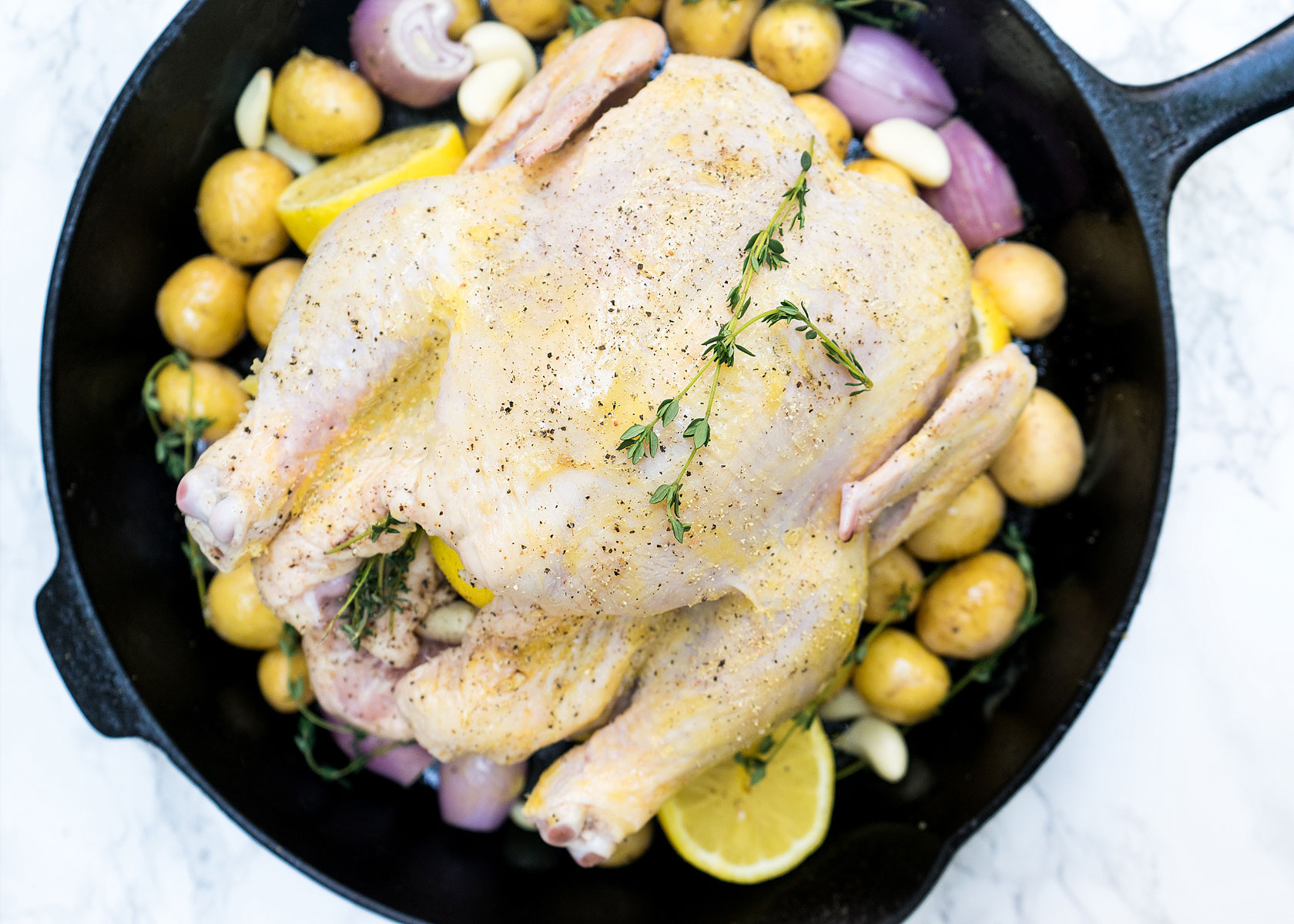 This Cast Iron Ghee Roasted Whole Chicken is definitely the easiest and best way to 'Meal-Prep'. I say this because what is easier than cooking your chicken and vegetables simultaneously & in the same pan?? Also, If I say Roast Chicken, what's the first day that pops into your head? Sunday…Am I right? So, its another match made in heaven. You can really push the boat out and roast two (one for now and one for the week's lunches!) if you have two cast iron skillets (or baking pans if all else fails!)
But let's just take a minute or two to discuss the awesomeness of this Ghee Roasted Chicken. 👇
Ghee has so many benefits, it is safe for lactose intolerant people and actually helps the digestion of those with IBS, Celiac, Crohns & leaky gut. It is said that it even attracts other fats and toxins and breaks them down within your body which is pretty amazing. The main reason we chose ghee to roast our chicken this time is that Fourth & Heart have an amazing range of infused ghees and we were desperate to try the roasted garlic one on this chicken, as we usually rub a little garlic onto the skin anyway!
It worked BEAUTIFULLY. It also has a much higher smoke point than butter and therefore allowed the skin to get super crispy without burning 🙌. YUM. However as I have said before, you NEED to start with a good foundation. So in this case that means…
Great Chicken!!
You know we love our organic, farmer raised chickens from SVO and if you haven't checked them out or tried their products, you really need to get on this train with us all the way to the Valley! You can check out our other recent chicken recipes here: Grilled BBQ Chicken and Crispy Chicken Wings with Super Herb Sauce! We just love knowing the exact location that our chicken has come from and the stories behind the farms, farmers & families that are so important in creating these natural, sustainable products.
Cooking a whole chicken can seem daunting I think sometimes. But this is SO simple, we promise! Brush with ghee, stuff with lemon, garlic & thyme, place on a bed of veggies and roast for at least one hour. BOOM. Dinner served. 💥 In our opinion it is a super stress-free Sunday meal or a perfect way to end your weekend whilst prepping for the week ahead!
Don't forget the Stock!!
Also, don't forget to check the notes for our stock making tips! Never let your chicken bones or giblets go to waste again! They make the most delicious, natural & salt free chicken stock. perfect for soups, rice, quinoa etc. etc. The possibilities are endless! 😍
As the great quote goes – preparation is everything!
Let us know what you enjoy for Sunday dinner or if you use this recipe for a little weekly meal prep! We'd love to hear from you! 💚
Cast Iron Ghee Roasted Whole Chicken
2017-07-06 09:28:34
Serves 4
Ingredients
1 Whole Chicken (Our favorite is from Shenandoah Valley Organic)
1 lb mini/new potatoes
3 lemons (halved)
6-8 shallots (peeled and halved)
8-10 cloves garlic - peeled
2 tbsp. (Fourth&Heart) Roasted California Garlic Ghee (or you can use garlic butter).
bunch fresh thyme
Salt & pepper
Instructions
Pre-heat your oven to 450 F
Melt 1 tbsp ghee in your cast iron skillet (large enough to fit whole chicken).
Add potatoes, shallots, 2 lemons (halved) plus 5 cloves of garlic into the pan with salt and pepper and toss to coat.
Rinse your chicken, remove giblets ( reserve for making stock!) and pat chicken dry with paper towel or kitchen towel
Melt your other tbsp. ghee in a pot and brush your chicken all over, paying extra attention to inside wings and legs.
Sprinkle with salt and pepper and rub into the skin.
Place one of your lemons and 5 (ish) cloves of garlic inside the chest cavity of the chicken and add half of your thyme too.
Place your chicken, breast side up (shown in photos) on top of your vegetables in your cast iron skillet.
Finish with your remaining sprigs of thyme nestled around the chicken.
Put your chicken in the oven and turn the oven down to 400 F.
Roast for 1 hour (check it reaches 175 F) - if not place it in the oven for a further 10-15 minutes.
Serve with a side of salad or just as is with the potatoes and shallots!
Notes
Our chicken was about 4 lbs. and took about 1 hour and 15 minutes FYI!
To Make Stock
Add giblets & Chicken Carcus to a nice big stock pot with 4 quarts of water.
Allow to come to a boil and then simmer for about 2 hours.
You should have 3 quarts of delicious natural chicken stock ready to use in soups or to make extra flavorful rice!
IVGreenhouse - Exploring Food http://www.ivgreenhouse.com/