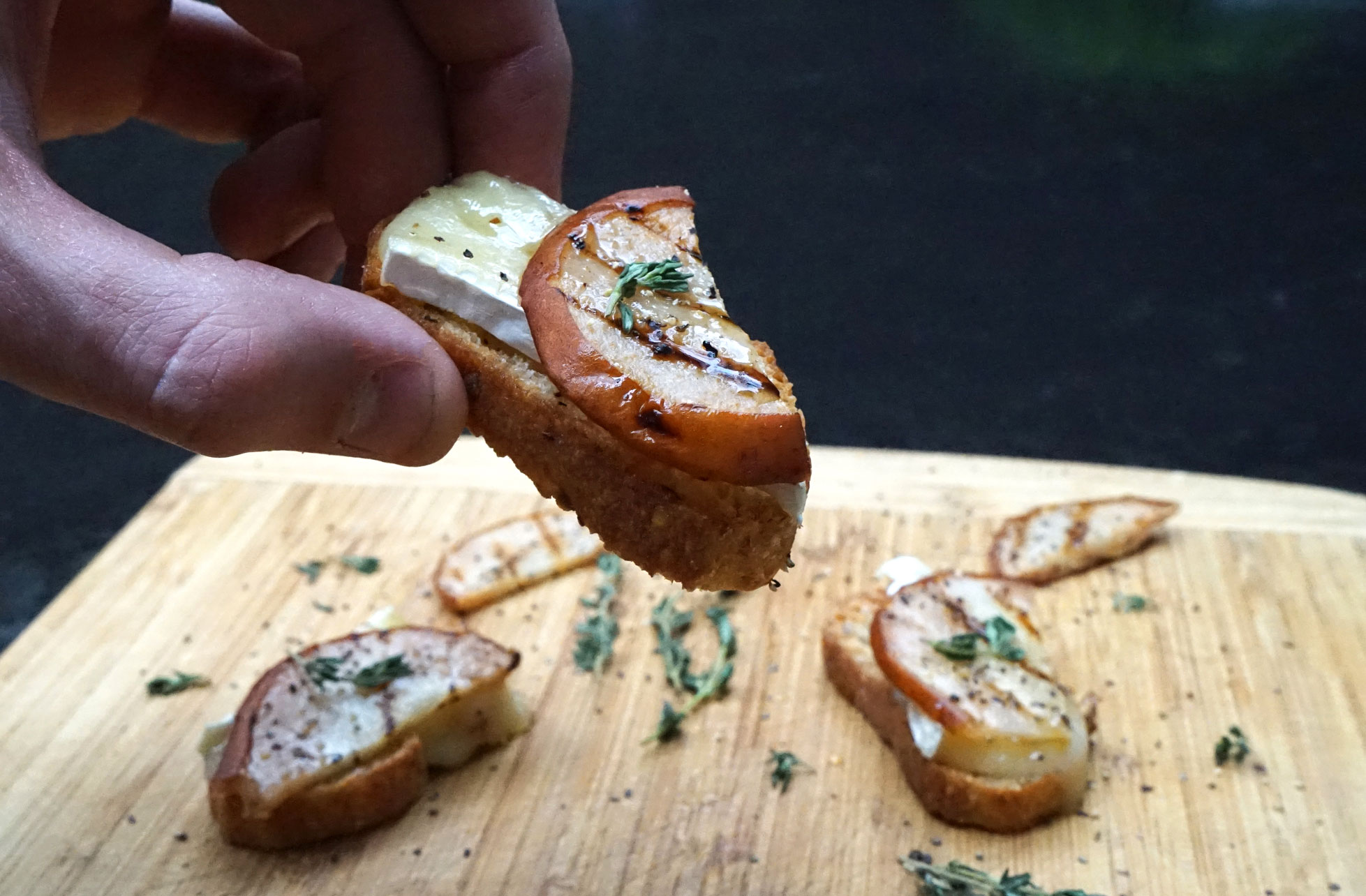 I think I have always been Brie's biggest fan. We used to have cheese for Dinner a lot in my house! I think my sisters boyfriend thought we were crazy…he was always confused by the fact that cheese, meat & crackers was an acceptable dinner for us! But I have to say it was a big favorite for us! So thus, I have a terrible cheese habit. One of my best friends favorite things about me is that I always have a cheese board ready for her anytime of the day or night! So, experimenting with cheese is high on my list of things to do with my time! This is by far one of the most delicious experiments yet, and it happens to be rather pretty!
Brie, Pear & Honey Crostini
2016-05-19 11:28:33
Serves 6
Ingredients
One French Baguette (I used whole grain)
olive oil
thyme
salt & pepper
Honey
Brie (about 0.5 lb should be more than enough)
3 pears
Instructions
Preheat the oven to 400 F
Slice baguette into thin slices (about 0.25 inch thick)
Place on a baking sheet & drizzle with olive oil and sprinkle with salt & pepper
Put in the oven for approximately 7-10 mins (keep checking though as you don't want burnt crostini!)
Whilst these are baking, halve your pears and slice thinly
Heat up your griddle or griddle pan and place the slices on and sear for approximately 3 minutes on each side - (or until you get beautiful little sear marks!)
Slice your brie thinly - I then cut mine into triangles to make the final product pretty
Pick your thyme leaves/sprigs.
Assemble your crostini!
Place a piece of brie on each and place in your warm (but off) oven for 1 minute so that your Brie slowly melts.
Place a slice of grilled pear on top, drizzle with honey & top with a sprig of thyme (I add a dash more pepper too!)
Serve & enjoy!
IVGreenhouse - Exploring Food http://www.ivgreenhouse.com/