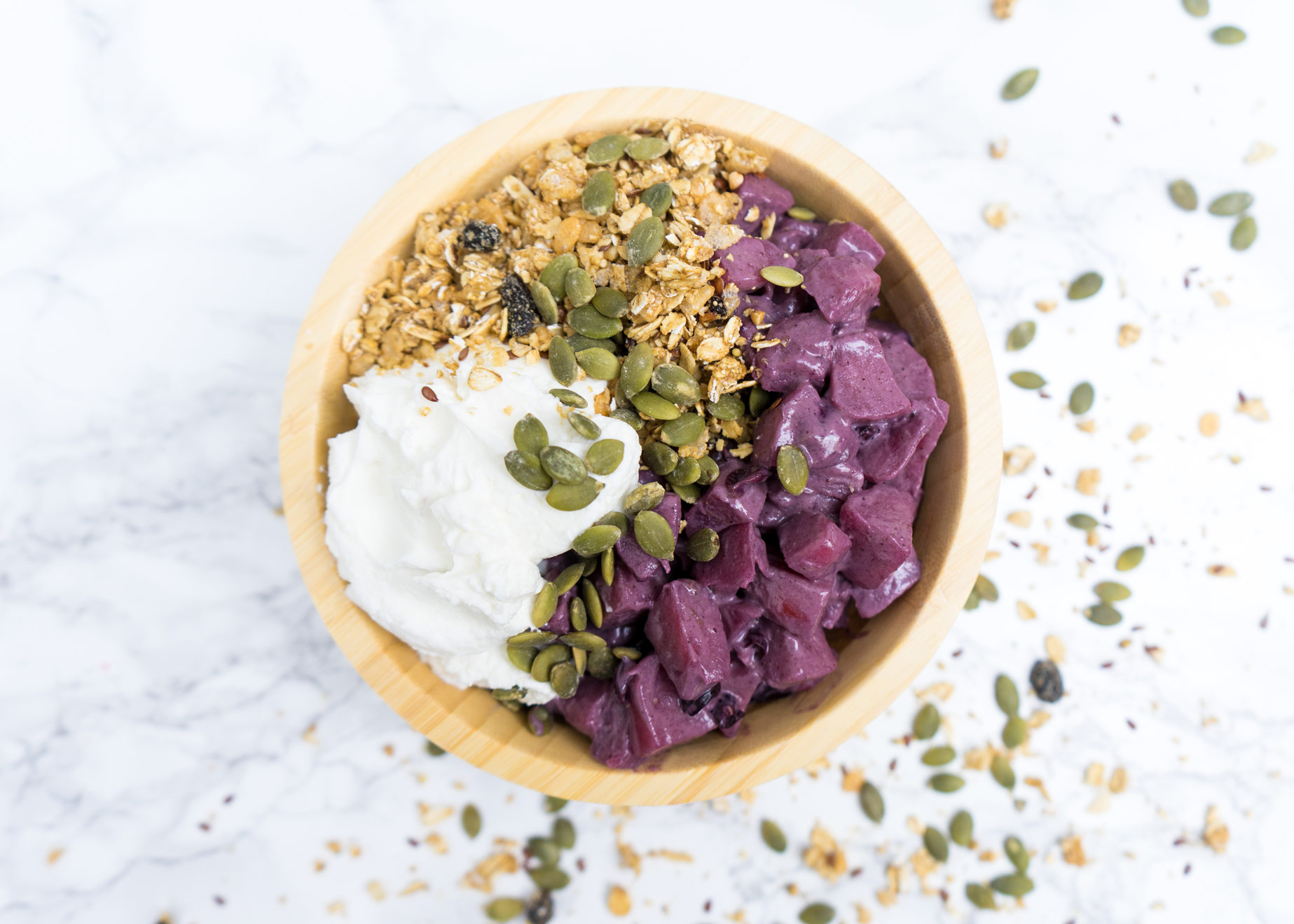 These Apples 🍏🍎
This recipe for Blueberry coconut stewed apples is SO good. I love stewed apples (usually in the form of crumbles or cobblers) but I don't really like watching the vat of sugar get poured into the pan, no matter how delicious they are! So I started researching and looking into ways to still enjoy these beauties, but without all the sugar. I don't want to rot the precious teeth! Our teeth are so important, and they can really make or break our eating habits as I am beginning to realize more and more as I get older. I want to be able to eat ALL the food All of the time.
Lets take a moment to appreciate THAT COLOR (colour!!!) 🙌. Thanks Blueberries, you rock! 💜
I have to say, I love pretty food, well really, who doesn't? But seriously, the prettier or more vibrant the better! This color just makes me want to eat these apples all of the time – for breakfast & dessert. That's exactly what you should do! They make a perfect breakfast dish with some home made granola & greek yogurt. They also make an equally show stopping dessert with home made ice cream like this one!
The coconut milk adds a delicate sweetness and the only other sugar involved is in the form of maple syrup. To me, it is the perfect amount of sweetness whilst not being overpowering, it lends itself so well to all flavors and it is so quick and simple to make. If you're doing brunch this weekend – make this an option, we guarantee it will get the conversation going thanks to its vibrant color & deliciousness!
This recipe was completely inspired by the healthy recipes of Deliciously Ella. If you haven't been there yet, go there!
As always, let us know what you think & when you make them! 💚
Blueberry Coconut Stewed Apples
2017-05-12 11:25:56
Serves 4
Ingredients
4 apples (peeled, cored and chopped into bite size pieces)
0.5 cup blueberries
2 tsp. ground ginger
1 tsp. cinnamon
1 tbsp. maple syrup
0.75 - 1 can of coconut milk
Instructions
Put your apple pieces into the bottom of a saucepan, add blueberries, cinnamon & maple syrup and toss to coat.
Add 0.75 of a can of coconut milk and allow to simmer on low for about 10 minutes - if it dries out too quickly, add the remaining 0.25 of coconut milk.
Add in your ginger now and allow to simmer for a further 15 minutes until the apples have soaked up most of the coconut milk. (leave a little longer if there is still a lot of liquid.)
Either serve immediately with vanilla/coconut ice cream OR have them for breakfast hot or cold with greek yogurt & granola!
The possibilities are endless!
Adapted from Deliciously Ella
Adapted from Deliciously Ella
IVGreenhouse - Exploring Food http://www.ivgreenhouse.com/