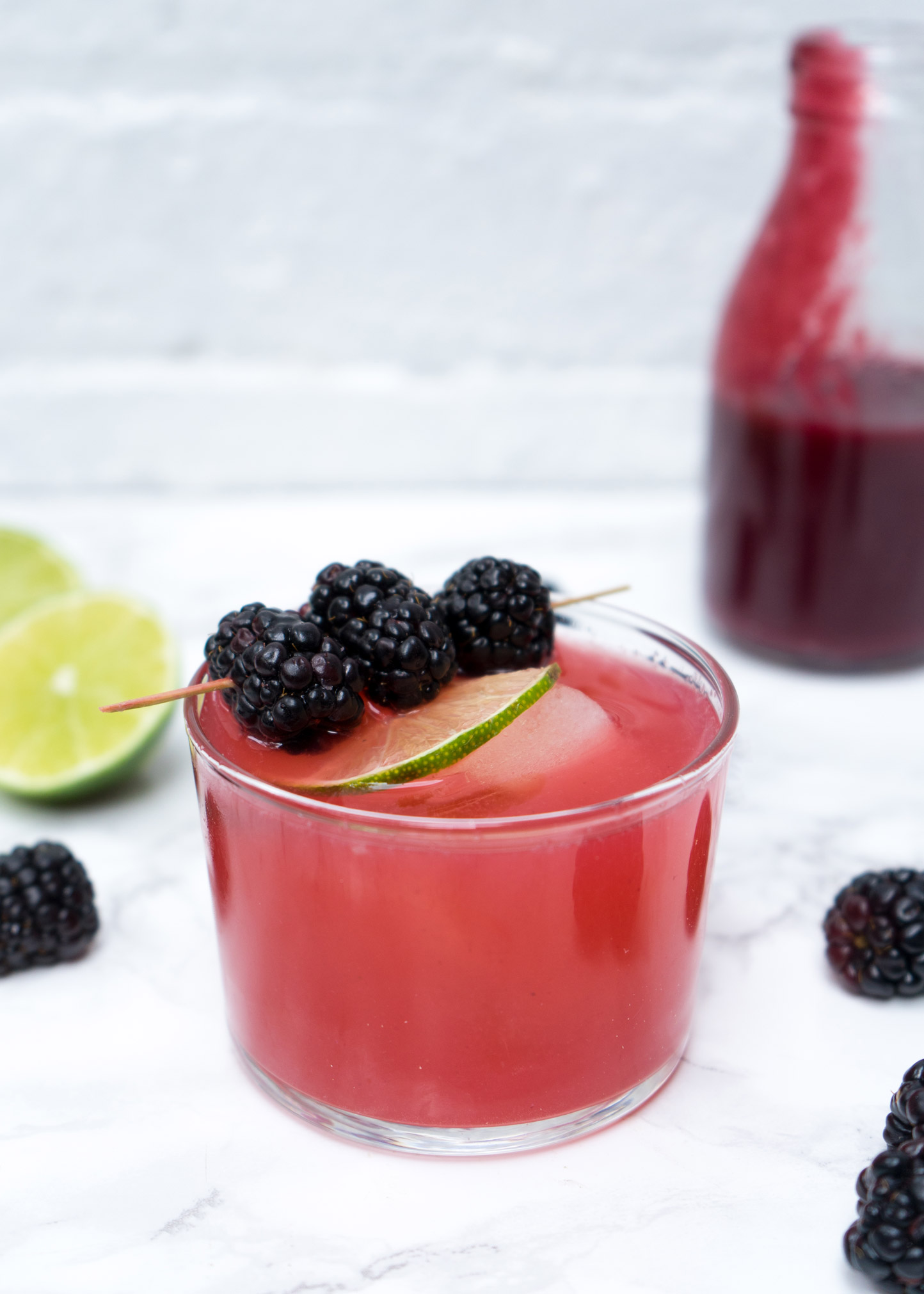 This Blackberry-Lime Spritz needs to be on your list of drinks to try this weekend! 🙌
Find the recipe for the 10 minute healthy blackberry syrup we use HERE.
This cocktail was almost a happy accident! I was desperate to use all the huge juicy blackberries that we had got in our grocery shop and I wanted to use them in all the ways I could think of. One thing I really wanted to do was to make a healthy blackberry syrup for a fun springy cocktail. Enter the Blackberry-Lime Spritz! This cocktail is so, so delicious that even I, finished my 'test' cocktail in a few minutes flat. Whoops!
I'm pretty picky when it comes to vodkas (I mean first and foremost I am a gin drinker (closely followed by tequila)). However when we came across this Fair Quinoa Vodka in the store last week we were very intrigued and had to try it. We were so impressed! The flavor is subtle and smooth and has none of the sharpness that a lot of vodkas contain. It is a winner for us and will be on our shelves for the foreseeable future!
Fair is a Spirits company that are dedicated to high quality products that are ethically and sustainable sourced and in today's world, that's pretty special in our book! They have an amazing view on equality and their fair-trade principles are just 👌. We love supporting and sharing fair companies like this one and we think you should check them out too!
PS. Blackberries fight infection, boost your immune system & reduce inflammation…so get mixing!
Let us know when you try this recipe! We can't wait to hear what you think! 💚
Blackberry-Lime Spritzer
2017-06-07 08:03:21
Serves 1
Ingredients
Half a lime - juiced
1.5 oz. Vodka (We love the Fair Quinoa Vodka!)
0.5 oz. blackberry syrup (find the recipe here)
Seltzer (to top)
Instructions
Shake the first three ingredients in a shaker with ice.
Strain over a large ice cube in a 10 oz. rocks glass and top with seltzer.
Garnish with a lime wheel and some blackberries
Notes
You can also strain into a chilled coupe glass and top with seltzer
IVGreenhouse - Exploring Food http://www.ivgreenhouse.com/