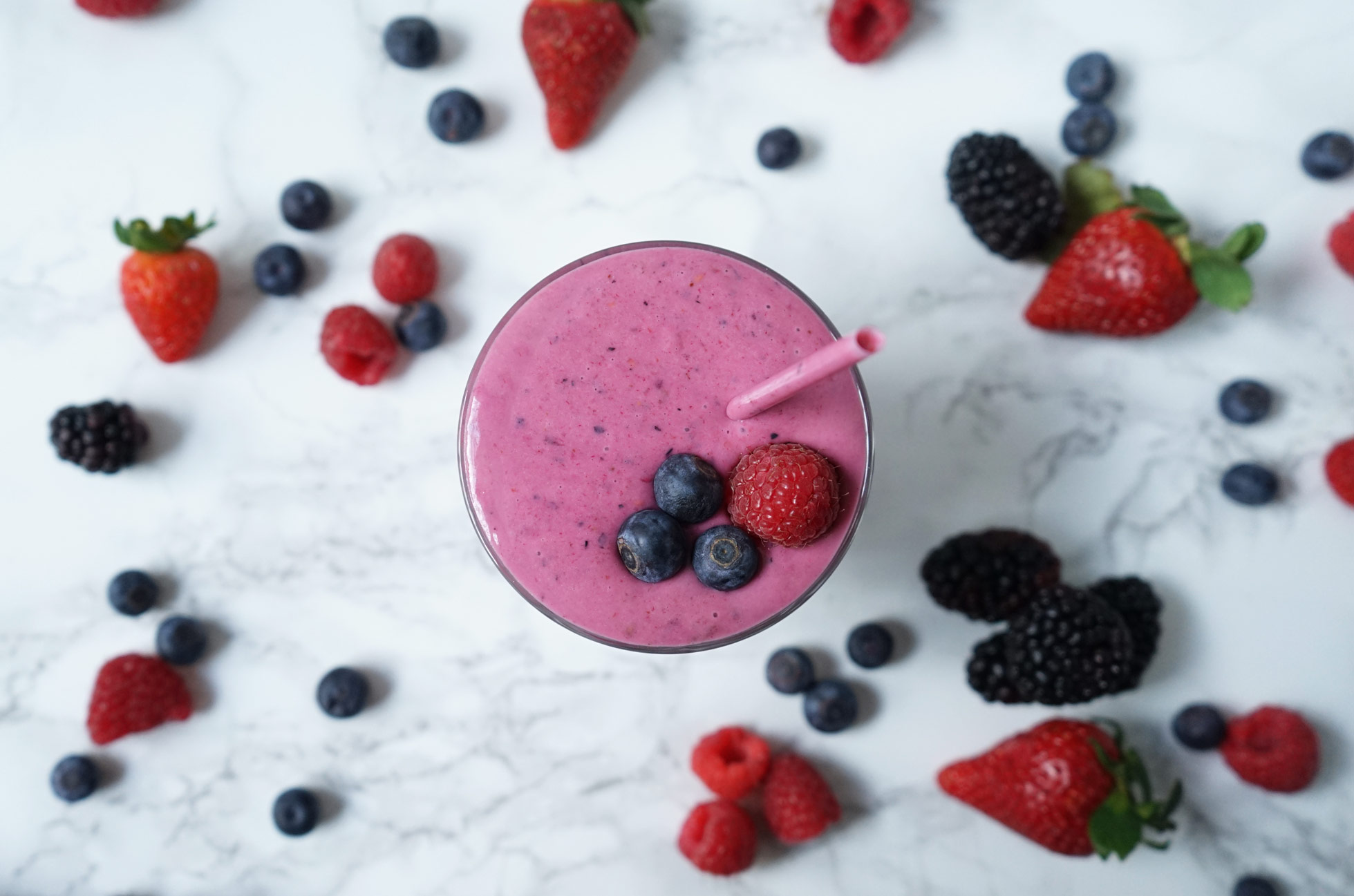 We hope this Very Berry Smoothie allows you to be transported to warmer climates on this chilly Saturday!
Smoothie Week – Day 6 👍
This may be my second favorite color – can you tell I love deep pinks & reds? 💕 This is a perfect smoothie to end this awesome week with – it is light, refreshing and full of FRUIT!
It is Saturday and I sure hope most of you are enjoying a well deserved relaxing one! We have enjoyed this one for breakfast to energize our day with all those delicious berries. This one is probably everyone's 'first smoothie' or one that is easily thought of and super simple to make – just berries, banana, greek yogurt & maple syrup! It is probably the first flavor combination I ever tried on my own – and it holds up as one of my all time favorites!
I have a weird problem whereby I always order waaaaay too many berries. More than anyone can possibly eat in a week, I manage to this repeatedly. So, this one is a GREAT way to use up any berries that are on the verge! It almost looks as if I order too many on purpose 😉 sneaky! This one is also amazingly thick and creamy and would be perfect for a smoothie bowl or mixed with your favorite morning Granola!
As always – try it and if you like it, let us know – even better, if you have suggestions or other flavor combinations we would LOVE to hear them! We hope you enjoy this wonderful weekend with your family! 💚
Very Berry Smoothie
2018-01-02 12:44:28
Serves 1
Ingredients
1 cup strawberries (halved)
1 banana broken up
0.5 cup blueberries
0.5 cup raspberries
0.5 cup blackberries
1 pot of greek yogurt (7oz.)
1 tbsp. maple syrup
Instructions
Place all ingredients into your blender and blend until smooth!
IVGreenhouse - Exploring Food http://www.ivgreenhouse.com/