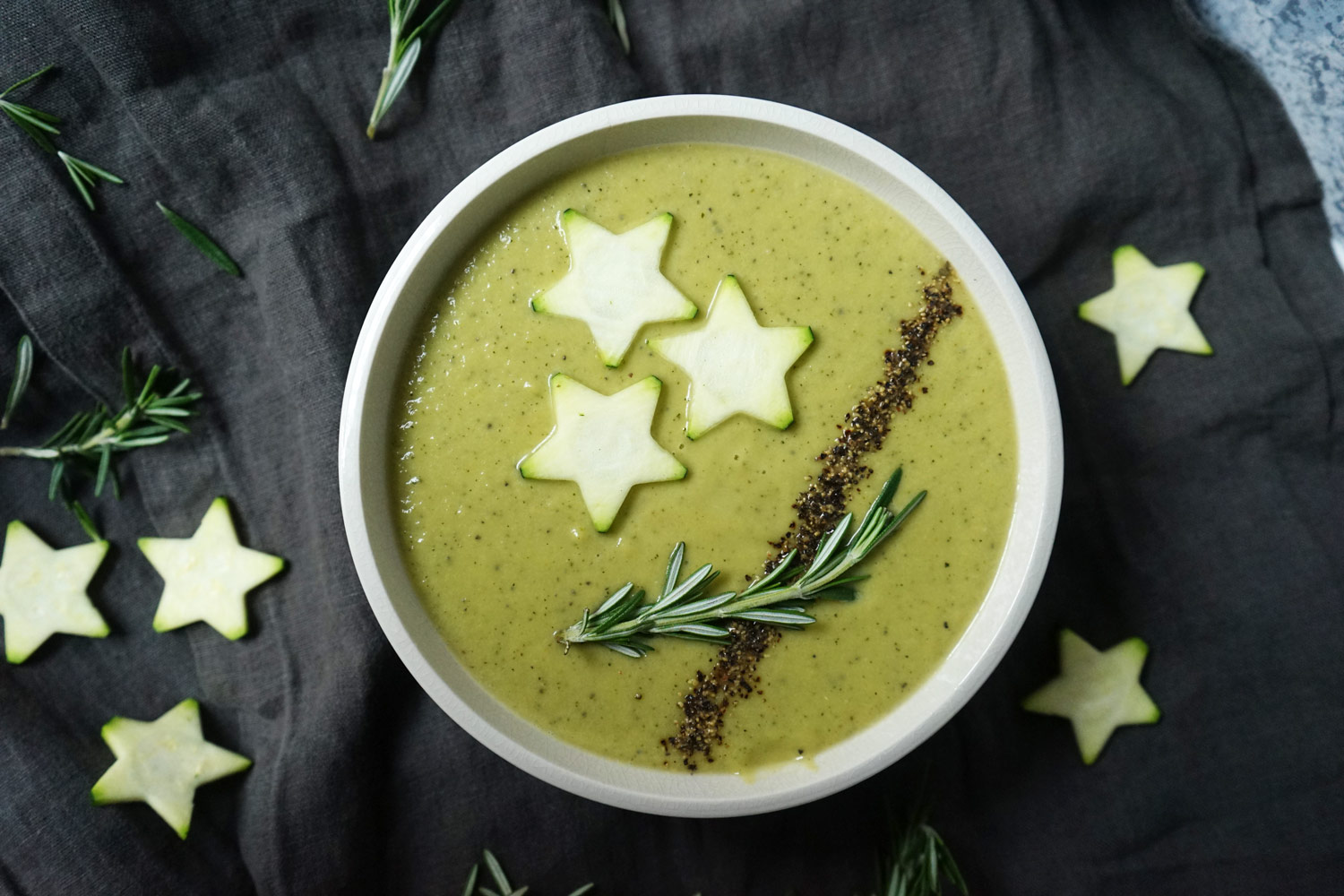 Hiiiii Monday, I would say we've missed you…but I feel like the past weekend was two seconds flat. Time does fly when you're (working) having too much fun!
However, if anything is capable of putting some pep in your Monday step, this citrusy Avocado, Zucchini & Leek soup will certainly do the job!
This soup is completely Vegan & Gluten Free, so another recipe perfect for most dietary requirements which is always a bonus! Using coconut milk & avocado to create that velvety texture. The Lemon Juice gives it such a light & refreshing taste which is perfect for Lunch! I Sometimes find a purely avocado soup a little rich, so adding in the zucchini & leek makes for a much lighter option. We loved it and it got great reactions from friends too – A very different soup with lots of personality and a huge flavor profile.
If you're like me, you're kind of obsessed with pretty food. I hugely recommend cutting your zucchini into stars because, well… STARS!! (Or all your veggies and make Star Soup!!) … ⭐️ It adds even more personality to this already outgoing avocado, zucchini & leek soup! It also adds a little conversation starter to any dinner party!
Adding stars to this soup may also have something to do with the fact I was maybe a little star struck last week when I attended the Ed Sheeran TODAY show concert at the Rockefeller plaza. I even managed to get a sneaky autograph too thanks to a super awesome friend! 🎼🙌
We would love to know any of your avocado based soup recipes and/or any variations you make to our recipe! Let us know in the comments! We hope you all had a wonderful start to your week! 💚
[amd-zlrecipe-recipe:11]