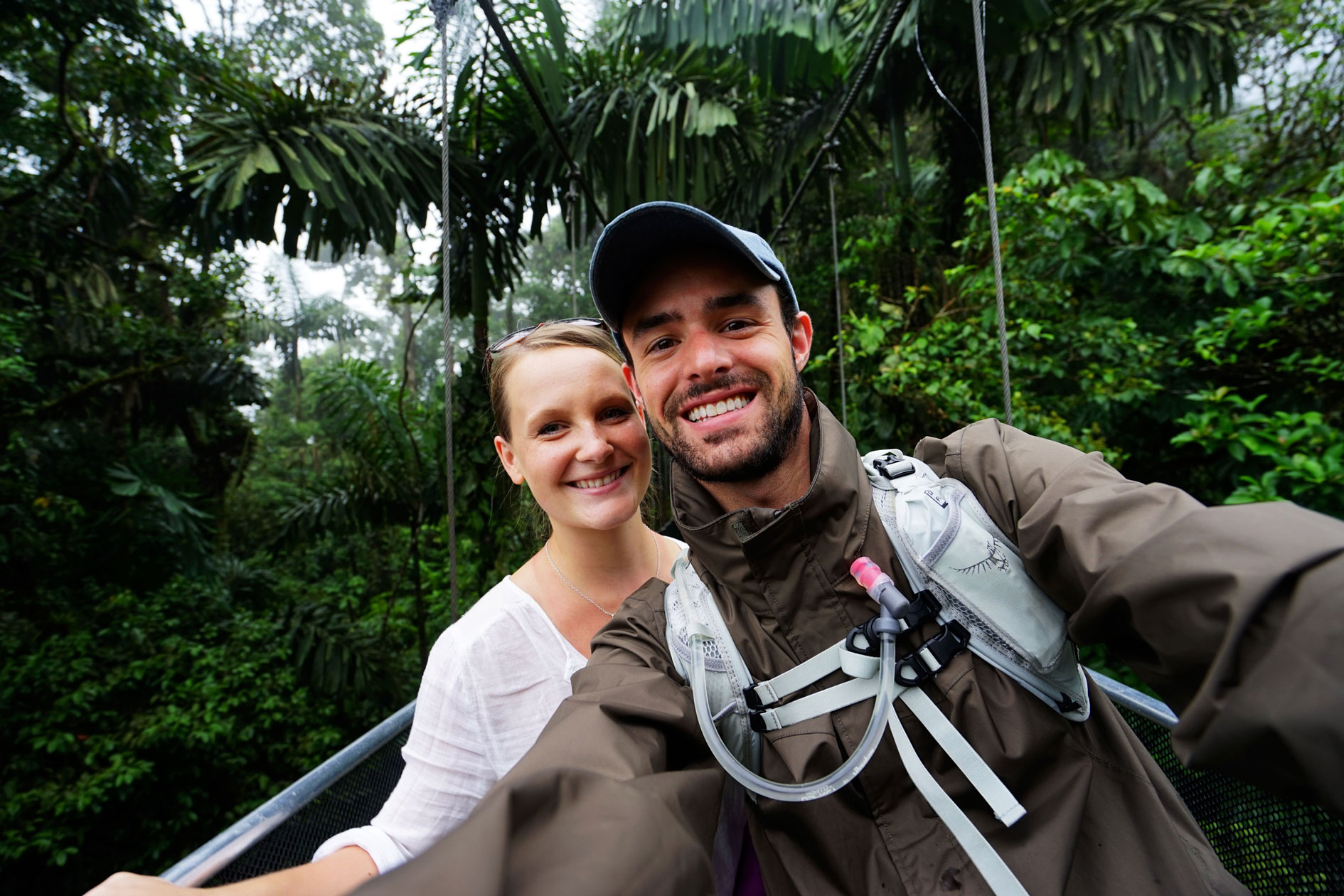 Okay, so we have this amazing full time job that allows us the entire month of August off…as you can imagine, we could not be more grateful! Not only do we have a job we love, a place where we work together every day & a place that allows our pups to hang out all day too…but also a place that allows us vacation time like this?? Unheard of. We are officially the luckiest hospitality workers. Ever.
So we wanted to write a roundup of sorts to let you know how we spent our wonderful month of August. In order Niagara Falls – Manchester VT – Fredericksburg VA – Costa Rica.
To start with, we enjoyed a little staycation in our city, we spoiled ourselves and went out for dinner most nights & hung out with friends in the daytime. We then headed up north to Niagara Falls! This part of the vacation was part of an IOU from 2012! – Allen had taped a sheet of paper into a valentine's card in 2012 that said IOU a trip to Niagara Falls, at the time we thought this would happen in the same year but hey, you know the drill – life doesn't pause! We finally cashed in that IOU and hung out in Niagara for a few days. The falls are unreal & all the attractions that they have built up around it are breathtaking. We loved it! But don't be fooled it is a tourist destination and is packed!!! We also spent a lovely afternoon in downtown Buffalo which was a super cute town filled with unique shops & great restaurants!
We then drove south just a little bit to Manchester Vermont which is one of our favorite places since two of our friends got married there last year! (We picked up our pups who had had their own mini vacation at a farm in Cambridge NY.) We had booked a stay at the Taconic hotel – which opened pretty recently – through a friend because it is super dog friendly and so beautiful! We hiked and played in creeks, lakes & waterfalls and just had an all-around great outdoorsy time with the whole family! We visited the Southern Vermont Arts Center also and loved the Sculpture park, definitely worth a visit! We also have to give a shout out to the amazing Copper Grouse restaurant (Taconic) which also allows your pups to have dinner on the front porch with you which was ideal and as a huge bonus the cocktail list is INSANE – you're sat there reading it and thinking wow these ingredients all sound delicious, then they bring it to you and it is even better than the list sounded which is something that doesn't happen too often! We thoroughly reviewed each cocktail over the 4 days that we stayed and we can assure you you can't go wrong!! (Recommend: War of the Roses & the Mai Tai)
Next we headed further south to Fredericksburg Virginia! This is where Allen's family is from and we love to go hang out at his childhood house with family & friends. The pups had such a great time with their own backyard and pool and fountains & we had such a great time being looked after and enjoying all those home cooked meals!! Allen's Dad also owns The Copper Shop which is definitely the coolest place in town! If you're ever in Fredericksburg, you need to pay a visit asap, if you live there – you already know about its history & greatness!
We then headed to Dulles Airport to take our flights to San Jose, Costa Rica! Before we get started – this vacation was unlike any other we've ever taken together, it was unreal, every minute was just so amazing! We visited three locations whilst there. We started with One night at the Xandari resort in Alajuela which was ridiculous – one of the best places we've stayed anywhere in the world. We wanted to start with a little luxury so we booked this place and it was more than we expected! We arrived early at about 12 PM and only had to wait about 30 mins for our villa to be ready, so in the 30 minutes we tried out the local cocktail – in the bar area with crazy amazing views – the Guaro Sour (which we will be showing later on in the blog!) this cocktail was delicious and came with a small stick of Sugarcane to chew on and stir your drink with which was just so great! We then headed to our villa which was beyond beautiful with breathtaking views of San Jose & the surrounding volcanos. We only had one night at this place and we had heard that they had waterfalls and hikes on property and we had been told it was recommended to complete them before 4PM due to it getting dark much earlier in Costa Rica – So we quickly headed out to see how much we could get done before 4 PM! The hikes were beautiful & there were 5 waterfalls that we were able to see and walk to! We then walked back up and jumped right into the infinity pool & Jacuzzi before heading back to our villa. We realized we still had a couple hours till our dinner reservation so decided to really spoil ourselves, we got a couple's package at the spa which we couldn't recommend more!! The next day we woke up to an amazing breakfast and we had just enough time to go plant a tree on property – a program they have had in place since 2006 – during which 800 trees have been planted by their guests! A stake is placed next to it so that whenever we go back, we will be able to see our tree's progress!! Such a wonderful idea!
We then headed back to San Jose Airport and checked in with Nature Air, Costa Rica's domestic airline. We boarded our tiny 15 seater plane (which was so pretty on the outside!) and headed to La Fortuna/Arenal Volcano Region, where before heading to our hotel we decided to walk to a chocolate farm we had heard about somewhere! Granted, we got lost a few times walking from the airport through El Tanque to Don Olivio's farm, but we got there in the end – bear in mind it was about 100 degrees at this point of our day! When we got there the tour started with us hanging out on their porch, cooling down in the hammock and playing with Jaco their dog – who we loved. Then we were joined by two others who were also taking the 1pm tour. We started by walking around their front garden and Minor and his father cut down fresh fruit from their trees and cut it up and handed it to us. (Papaya, mango, butter avocados, original bananas (not the hybrids we are used to!)) sweet lemons and lychees. (You don't need to have lunch before taking this tour!!) Then we went back to the porch where they showed us how to extract sugar cane juice from the sugar cane – we then all had a glass or two of sugar cane juice/water which was delicious! Almost tasted like a milkshake!! We then started on the chocolate tour – Minor started by showing us the chocolate trees, and showing us the chocolate fruits which then we were able to harvest and try the fresh (& sweet) fruit that encases the cocoa bean. which was such a fun experience! he then explained about the processes of being a chocolate farmer – it has been in their family for 85 years & still going strong! Everything he told us was so educational and interesting and most importantly it was fun! We then went on to see the workshop area where they ferment the fruit and dry the bean. They then go on to heat it up before hitting the beans to remove the shells and letting the wind do the job of separating the beans from the shells! We were able to grind up the chocolate and try it just like that with a spoon! We were able to try 90% chocolate mixed with 10% sugar cane which created these beautifully moist squares which were amazing! We then had hot chocolate together and chatted and asked any questions we needed or wanted to! Also as a bonus we met his wife and daughter (who were both adorable!) and found out that their family also created beautiful bracelets and other items so we had to buy two which we are still wearing now that we are home, and we love to tell the story of how we got them! One of the best things about this tour is that they really make you feel a part of it, the family & the work, as you are able to help with every step of the process and you spend the whole tour smiling and laughing (and eating!!). The stories and the facts that he tells you are so informative & interesting. The sign on the way in says 'the most delicious tour of your life' and we could not agree more! It really was the most wonderful & delicious tour we have been on. It was the kind of place where you wanted to either stay with them or at least join them for Dinner!!
After the tour we headed to our hotel, we were staying at Lomas Del Volcan, a hotel with a perfect view of the Arenal Volcano and we had our own gorgeous bungalow with a hot tub on the balcony terrace which we took full advantage of, even in the rain storms in the evening!
The next day we decided to explore La Fortuna on foot, our hotel was about 2km from the town, so we walked in and around and found an adorable coffee shop, so we stopped to get our fix for the day before continuing through La Fortuna. Before we knew it we were halfway up one of the largest hills we have walked up in a while and we were exhausted, but we met a few puppies and got a coconut to drink from so we were happy! We made it to the top where the famous La Fortuna Waterfall was, a waterfall with a glorious pool that you can swim in! We enjoyed this so much & it was so refreshing, we then had to make it all the way back up the stairs and treated ourselves to a late lunch at the Lounge which was delicious! We continued to walk on from the waterfall to complete a circle back to our hotel for dinner & a swim!
On our last full day we had decided to plan a few different tours with ecoterra, we headed to the Hanging Bridges first which were AMAZING! We also saw lots of smaller wildlife on the way to the first bridge which was really interesting – like the blue jeans frog & some small but deadly snakes! After this, we headed to do the Volcano hike, this hike was very interesting and Julio, our tour guide taught us all about how the area was before the volcano erupted and how it has changed since. Also he informed us that Costa Rica is always run on 85% renewable energy only, which is amazing! We then found out after returning that the months of July & August, CR was running solely on 100% renewable energy from Water, Wind & Solar power! We got to the lookout point closest to the active volcano and he explained that in a few years people won't even be able to see the volcano and therefore the hike may be pointless. The forestry that you walk through that was still growing was very young, about 48 years old! We then headed to the hot springs at The Springs resort which was beautiful and a lot of fun, especially when Allen completely missed a step after a few mojitos and fell sideways into a hot spring! We had a gorgeous dinner and headed back to our Hotel for our last night before heading back on another Nature Air plane!
We headed this time to Los Quepos/Manuel Antonio, this location looked like paradise – the paradise you think of when you close your eyes and are told to think of a peaceful place! We stayed at the Karahe Hotel which was comprised of 43 bungalows, it was just our luck that we got the one at the top of what felt like 500 steps! We decided that Allen was very good at booking places with amazing views but not very good at looking at how far you had to walk to get there!! But once we got to the top, after saying hello to a few huge Iguanas on the way, we turned around to see a breathtaking view and it made the 500 steps worth it! We headed straight down to the beach to have lunch and relax – due to the sun setting so early in CR, we were able to stay on the beach and watch the sun go down around 5:30 PM and it was beautiful! Just before the sun set completely, all of a sudden about 6 monkeys descended in the trees above us and started hanging out! We then headed back up to our bungalow and went to sleep as we had a super early start the next day – we had to be at the Pier for 6AM for our day of Catch & Release Sport fishing, this was an awesome day – We had never been sport fishing before and the whole experience was unlike anything I had ever done for sure! We headed out at speed for around one and a half hours before putting the lines down for the first time, Eric & Javier were our captain and first mate and they were great! They were so quick and had the lines down in no time, we then started trawling and we had an amazing surprise, hundreds of dolphins started swimming alongside us on all directions! We had never seen dolphins like this in their natural habitat, it really was beautiful! Then began the Reeling, The first fish caught was a large Tuna, we then went onto catch a couple 40-50 pound tuna & Allen then surprised everyone by pulling in a Sailfish which was amazing to look at, and also amazing that Eric was able to safely unhook and pull the 60-70 lb. fish into the boat without injury and throw him back in afterwards! We went onto catch one more sailfish, and a couple more tuna and then headed back to shore! It was a great day, with just a little sickness caused by a delicious piece of pineapple which I now cannot look at … just for a little while! Ha-ha. We then had dinner at the Marina and headed back to camp.
The next day we went to Manuel Antonio National park, trying to get in was a little tough as there were hundreds of guys trying to sell you scam tours! But once you got past them and headed into the park it was well worth the time to get in! The amount of wildlife was incredible! We saw a 3 generational monkey family, a sloth with a baby sloth on its belly and a lizard that was eating and pooping at the same time! We decided to walk to a lookout point very close to the end of the park, we are so glad we did because we hadn't managed to see a sloth up close and we really wanted to. So when we reached this lookout point, we were just about to take a photo of the gorgeous scenery, a sloth appeared out of nowhere in a tree right in front of our faces, it was incredible! We then headed to the secret beach within the park which was one of the most beautiful beaches we have ever seen, the sand was white and the water was warm & blue and it had paradise written all over it! We ended up at El Avion for Dinner, a super cool restaurant with great cocktails that you have to go to, the bar is inside an aircraft! Then we got caught in the first storm of the week! We walked back down to our hotel in the pouring rain, and our day was done!
We woke up and got our final nature Air flight to San Jose where we stayed in the most luxurious city hotel – Hotel Grano de Oro. The cocktails were wonderful and the food & service was impeccable! Also the uber friendly Ulises who showed us our room really started the trip off well, he helped us to improve our Spanish whilst making us feel so welcome! We really enjoyed San Jose, the buildings were beautiful, especially the National Theatre and the atmosphere was great – especially the guys selling the fruit and veg from the farms – I mean such a good deal – 7 avocados for $2!!! Crazy!
We then had to say a very sad goodbye to Costa Rica and fly back to Virginia to see Momma & Dadoo and also our babies!! We had another wonderful few days in Fredericksburg, we went out for Dinner with the parents a few times which was great as always, we picked a bushel of crabs over two days and partied with the best of them! We also headed to Uncle Allen's house where he had built an incredible Pizza Oven and has an amazing vegetable garden – I've decided I'm moving in for a weekend next year and cooking everything from the garden!! As a huge bonus we got to see our Cousin, his wife & beautiful baby girl too!
Saying goodbye to Family is always hard, and saying goodbye to our amazing month of vacation is also hard, but thankfully we have an amazing job and we enjoy every day as a family so much that it made the end of vacation much more palatable! I also had this to get back to & my beautiful kitchen & home! If you managed to get through this, I salute you and I look forward to seeing more of you!
Over and Out, The Greens x