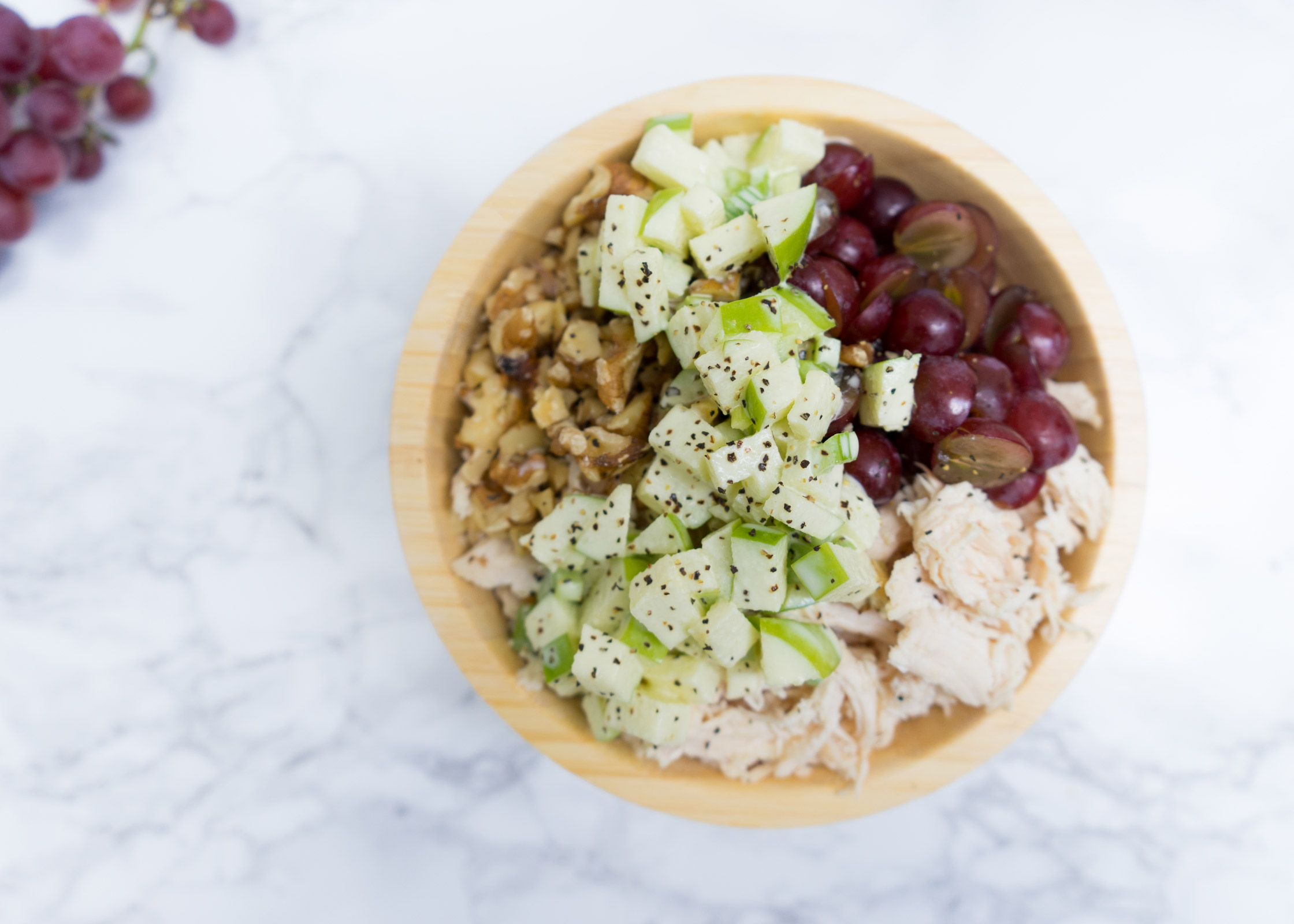 Good Afternoon All! 🙋
If you haven't noticed, we're on a bit of a theme this week!
All things Homemade avocado oil mayo & all things chicken salad! When you have a good base, making amazing, healthy & fun meals is EASY. We made all of our chicken breasts on Sunday and had delicious chicken salad variations all week for quick lunches! You've already seen our curried mango chicken salad this week and in at number two is this delicious and crazy fresh apple & grape chicken salad.
The curried chicken salad provides a warmth and this one provides a freshness. The apples give it a crisp and refreshing bite, the walnuts give it ism crunch and the grapes are in there for a hint of fresh sweetness. The flavors are so balanced and will leave you feeling clean and satisfied upon finishing.
This salad can be served on a bed of greens, with extra sauce/dressing on the side. Allen prefers it served on a toasted english muffin or hawaiian roll, which is another fabulous way to enjoy! There is also the option to add it to a bowl of fresh veggies or a spiraled salad for a kick of protein! Any way you like to enjoy it is perfect!
It is really starting to heat up in New York now and walking into the park on the weekends brings such joy! Everyone laying out their blankets and picnic rugs, setting up their spots early in the mornings ready for a day or family and friends fun! If you can imagine it, its the largest area (ever) packed with hundreds of people doing everything from playing fun outdoor games, nursing babies, playing with pups, eating, drinking and sunbathing! It is such a fun sight and you can't help but soak in all the happiness of a hot summer weekend.
We have a plan to picnic this weekend and one thing thats definitely coming with us is Chicken Salad! And probably this Corn Salad, a pitcher of these blackberry lime spritzers and maybe a touch of this homemade Hummus too!
If you're picnicking this weekend, let us know your all time favorite items to take! We can't wait to hear!
The Greens 💚
Apple & Grape Chicken Salad
2017-06-19 11:55:40
Ingredients
3-4 small chicken breasts
Ghee or Butter
Salt & Pepper
1 green apple - diced
1 cup grapes - halved
1 cup walnuts, roughly chopped
For the Sauce
1/2 cup homemade avocado mayo (link in post)
1/3 cup greek yogurt or any plain yogurt
1 tbsp. lemon juice
1 tsp. honey
Salt & Pepper
Instructions
Preheat your oven to 400 F
Rinse and dry your chicken breasts
Brush all sides with Butter or Ghee and sprinkle with salt and pepper
Place on a parchment lined baking sheet for 25 minutes in the oven.
Whilst chicken is baking, mix all sauce ingredients together in a large bowl
Remove chicken from oven and pull apart with forks.
Add pulled chicken to sauce along with the apple, grape & walnut pieces.
Stir, season to taste with salt and pepper and serve!
IVGreenhouse - Exploring Food http://www.ivgreenhouse.com/