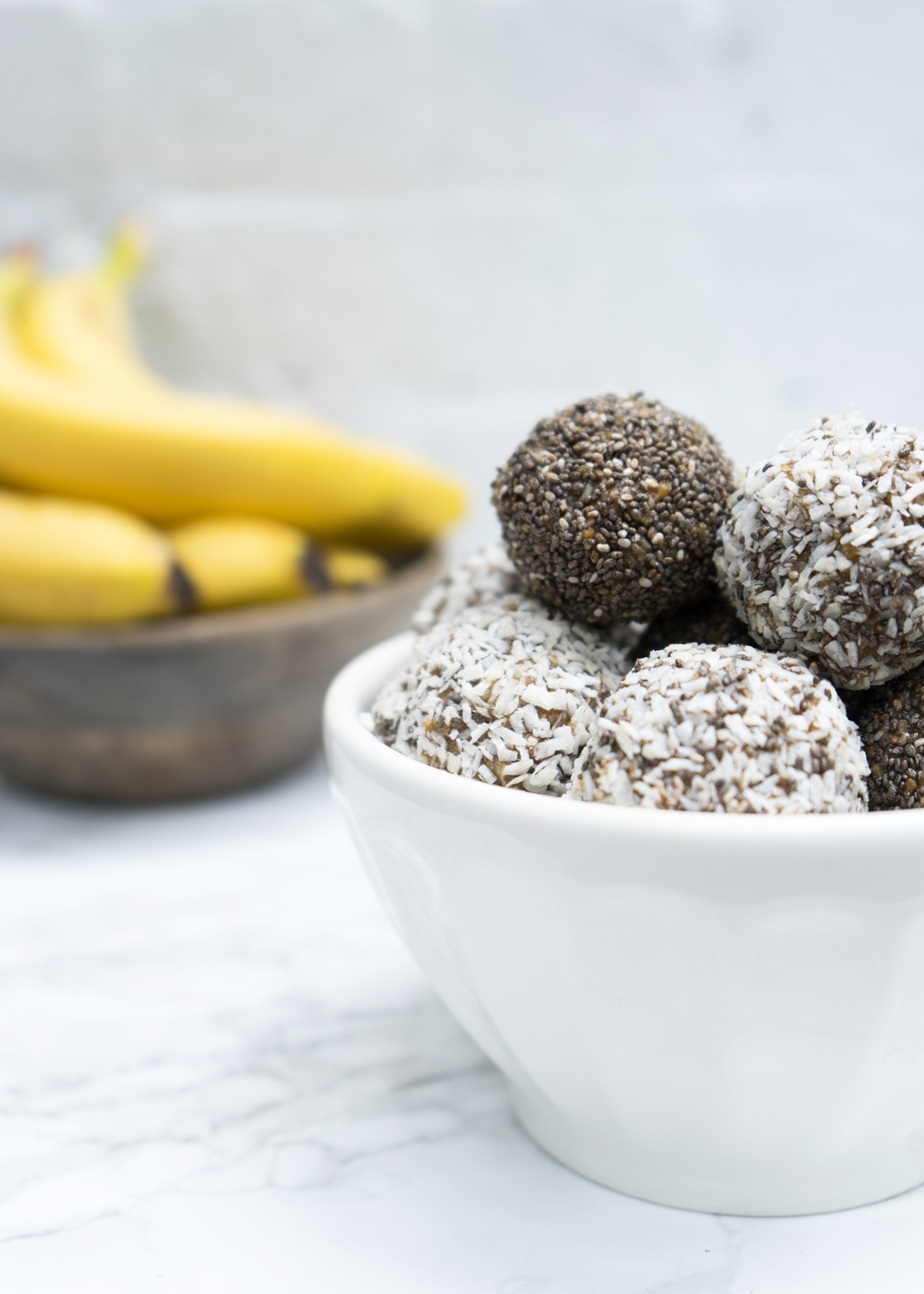 These Almond Banana Balls are SUCH an amazing snack with SO. MANY. BENEFITS 🍌
With just five ingredients, these may be the simplest balls on the block (😂). Seriously though, Power balls, energy balls, bliss balls…whatever you like to call them, are truly amazing. They might just be my favorite type of snack. They are easy and quick to make and perfect to store in the fridge ready to grab for pretty much any occasion.
I don't think I have left the house in the last few months without either one of these balls or one of the original recipe balls from last year. They are perfect for an energy boost during the midday slump (which for me is about 2 PM – 4 PM 😴). They are just the best grab and go snack out there in my opinion.
So let's talk about these almond banana balls specifically. Starting with a base of homemade almond butter, which is definitely my favorite type of nut butter to make at the moment. Plus, whizzing almonds in a food processor for about 3 minutes is my idea of a super easy recipe! Adding in a ripe banana which is an amazing source of potassium, vitamin C, antioxidants and a little magnesium too! Adding in the trusty chia seeds too at this point. I spoke about the wonders of Chia Seeds in this post about my first flavored chia pudding, but just to recap…chia seeds are the bomb! They are full of energy boosting properties and so much protein, omega 3 and 6 & the dietary fiber that our bodies need on a daily basis.
Follow these ingredients with some dates which are another natural energy booster and some shredded coconut which has a high fiber content and is full of electrolytes that are perfect pre or post workout. This ball may just be the perfect energy boosting, recovery helping, digestive aiding snack out there! So, no excuses, make a batch and let me know what you think! I think they're so good we will be making some more variations of these balls of energy very soon!
Making them on a Weekend is the BEST, you then have amazing little bites ready so that no one in your family gets Hangry!! 💚
Banana Balls
2017-06-13 17:18:07
Ingredients
1 Ripe banana
8 pitted medjool dates
0.5 cup shredded coconut
0.25 cup & 1 tbsp. Chia Seeds
1 cup almonds
Instructions
Place the cup of almonds in your food processor and blend until smooth (basically almond butter) - about 3-4 minutes. You may have to scrape the sides once or twice.
Add in all other ingredients and blend until well combined.
Once combined shape into balls and roll in either more chia seeds or more coconut!
Place in the refrigerator for a couple of hours at least. (We prefer them the next day when they've had chance to harden a little bit - so if you like the sound of that, do them the night before and let chill overnight.
Once chilled you can store in any airtight container.
Notes
If you have trouble rolling, place the mixture in the fridge for about 15 minutes and then try again!
IVGreenhouse - Exploring Food http://www.ivgreenhouse.com/